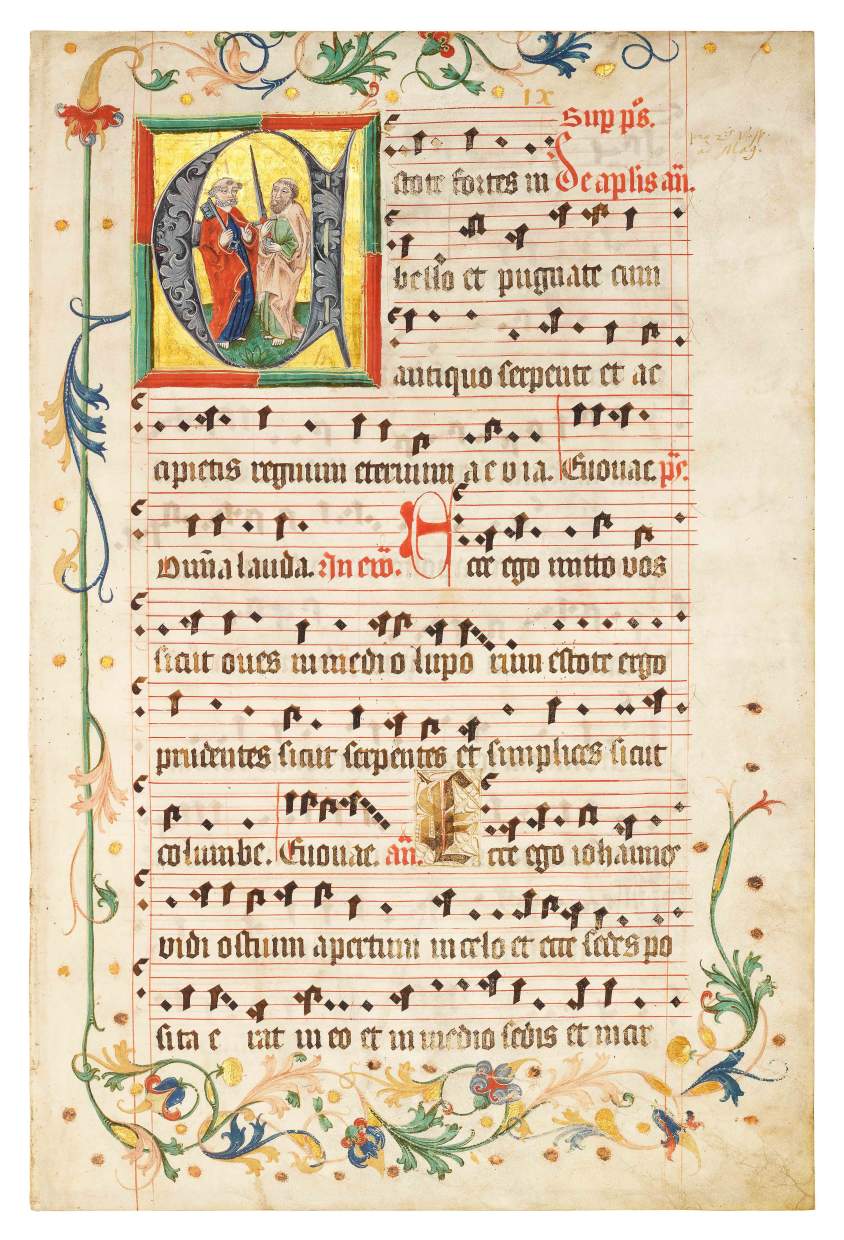 Close
1
/
1

Saints Peter and Paul
Germany, perhaps Augsburg (?)
,
c. 1470-1490
Historiated initial 'E' from an illuminated antiphonary written in Latin on vellum
This work is now sold.
%3Cdiv%20class%3D%22title%22%3E%3Cem%3ESaints%20Peter%20and%20Paul%3C/em%3E%2C%20c.%201470-1490%3C/div%3E%0D%3Cdiv%20class%3D%22medium%22%3ESingle%20leaf%2C%20tempera%2C%20ink%20and%20gold%20leaf%20on%20vellum%3C/div%3E%0D%3Cdiv%20class%3D%22dimensions%22%3ELeaf%3A%20approximately%20570%20x%20380%20mm%3B%20Initial%3A%20130%20x%20120%20mm%3C/div%3E
'Be strong in war, and fight the serpent of old'
Overview
This work is now sold.
This wonderful leaf was once part of a large choir book, its text a popular chant sung at the Feast of Peter and Paul (29 June) and its Octave (6 July). It is part of the Commune Apostolorum, and its five-line staves, along with its decoration, probably belong to the early 16th century.
The initial E frames Peter and Paul together, adorned with dark foliage and a grinning mask on the left. St. Peter holds his key, swathed by a bright red cloak, and St Paul holds the sword of the Spirit, symbolising God's word. It is said that both of these saints were martyred on the same day, and so they are presented here with a strong, proud chant to match their identity as 'warriors' of the faith.
Back to list