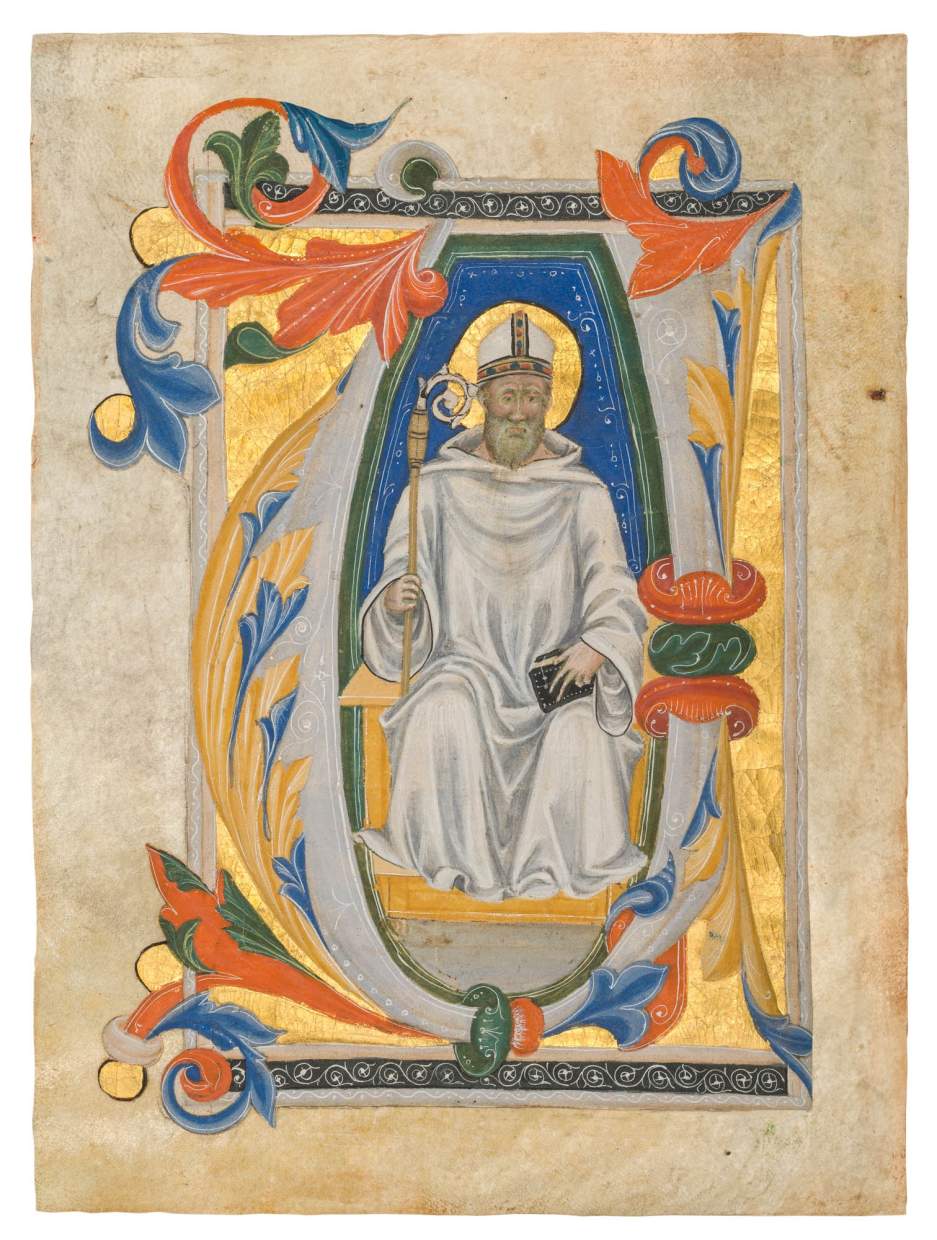 Close
1
/
1

The Venerable Saint Benedict
Italy, Tuscany (Florence?)
,
1400
This large, handsome initial V likely came from a leaf referring to St. Benedict, possibly opening with the words 'venerabilis vir'.
€ 58'000.00 (VAT not included)
%3Cdiv%20class%3D%22title%22%3E%3Cem%3EThe%20Venerable%20Saint%20Benedict%3C/em%3E%2C%201400%3C/div%3E%0D%3Cdiv%20class%3D%22medium%22%3EHistoriated%20initial%20V%20from%20an%20illuminated%20choir%20book%20in%20Latin%20on%20vellum%20-%20cutting%20with%20tendrils%3C/div%3E%0D%3Cdiv%20class%3D%22dimensions%22%3E297%20x%20168%20mm%3C/div%3E
Benedict as a Bishop Saint, painted in a Tuscan Style
Overview
The style of this sensitively illuminated historiated initial V, showing us the venerable St. Benedict, is unusual but the foliage and other decorations point to a probable Florentine origin. The facial features of Benedict are not as idealised as Tuscan and Florentine painting is, however. His nose is rather broad, his narrow-set eyes gaze with melancholy, and his furrowed forehead suggests concern or worry.
The Abbot is dressed in a long white robe – the hooded habit of the Ordo Sancti Benedicti, which Benedict of Nursia founded in 529 on the Monte Cassino. In his right hand, he carries a bishop's staff, in his left, he holds a black book, probably symbolising the Benedictine Rule. On his head, he carries a white mitre adorned with braids in gold, blue, and red.
Interested in learning more about miniatures? Read our blog The Life of a Miniature, or in our spotlight, Mesmerizing Miniatures.
Back to list