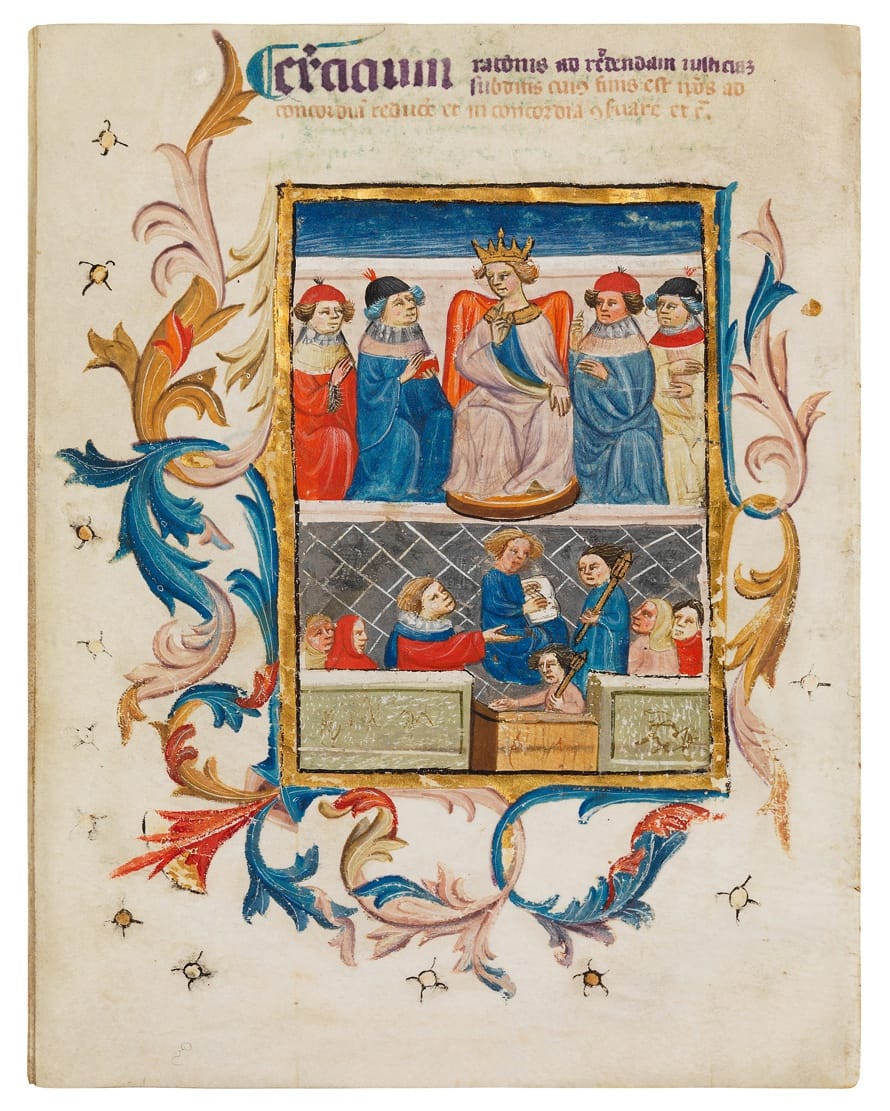 Close
1
/
8








Compendium for Juan II, King of Castile and Leon
This compendium of texts, as a 'mirror of princes' offers instruction on the ways a king should govern. It was made for Juan II of Castile (1405-1454) in or after the 19th year of his reign.
%3Cdiv%20class%3D%22title%22%3E%3Cem%3ECompendium%20for%20Juan%20II%2C%20King%20of%20Castile%20and%20Leon%3C%2Fem%3E%2C%20c.%201425%3C%2Fdiv%3E%0D%3Cdiv%20class%3D%22medium%22%3EIlluminated%20manuscript%20on%20vellum.%3C%2Fdiv%3E%0D%3Cdiv%20class%3D%22dimensions%22%3E185%20x%20140%20mm.%20%E2%80%93%2063%20leaves%20%28incompl.%29.%20With%207%20full-page%20miniatures%2C%201%20large%20historiated%20initial%2C%201%20historiated%20border%2C%20large%20ornamental%20initials.%3C%2Fdiv%3E
New discovery of a compendium of King Juan II of Castile and Leon including a spectacular map of the known world
Overview
See our video presentation of this manuscript here.
This is a unique and completely unknown manuscript containing a combination of educational texts made for the young king of Castile and Leon, Juan II (1405-1454), presumably in or shortly after the 19th year of his reign, c. 1425. Perhaps also for the heir, Enrique IV, born in 1425; with creative miniatures and an unknown, provocative map of the world. As the anonymous author addresses the king directly and speaks of injustice inflicted upon him, the present manuscript offers a challenge for historians to unravel the author's identity. The miniatures present the king in his role as supreme law-giver, governor, military leader and example of chivalric conduct. They show the means of royal identity by which a king is defined. As such it may also provide a portrayal of the monarch for the next generations. A detailed mappa mundi informs the ruler about Spain's neighbours and its place in the world. The fascinating, intriguing circular disc that shows the world as it was known at that time, presents the three continents of the habitable world oriented with East to the top. Half of the circle is filled with water - possibly insinuating that there is still a lot to discover. It is a hitherto unknown map and experts have yet to place it within the cartographic tradition. The circular map of half land and half water inviting seafaring, predates Columbus' explorations by more than half a century.
Back to list