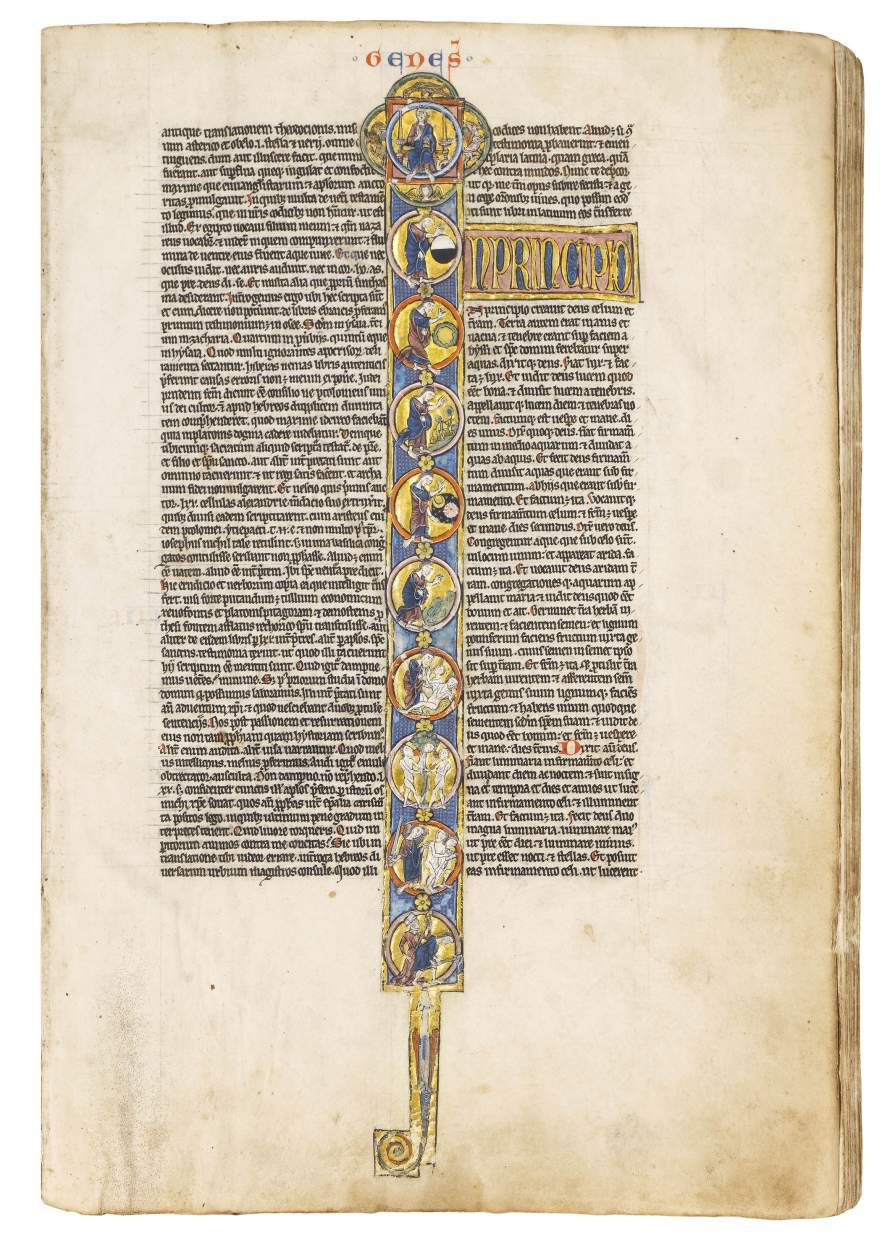 Close
1
/
6






Biblia Latina
workshop of the Bible Moralisée
,
France, Paris
,
c. 1220-1230
With an exceptional illustration cycle.
%3Cdiv%20class%3D%22artist%22%3E%3Cspan%20class%3D%22artist%22%3E%3Cstrong%3Eworkshop%20of%20the%20Bible%20Moralis%C3%A9e%3C%2Fstrong%3E%3C%2Fspan%3E%3C%2Fdiv%3E%0D%3Cdiv%20class%3D%22title%22%3E%3Cem%3EBiblia%20Latina%3C%2Fem%3E%2C%20c.%201220-1230%3C%2Fdiv%3E%0D%3Cdiv%20class%3D%22medium%22%3EIlluminated%20manuscript%20on%20vellum.%3C%2Fdiv%3E%0D%3Cdiv%20class%3D%22dimensions%22%3E292%20x%20197%20mm%20%E2%80%93%20385%20leaves%2C%2081%20historiated%20initials%2C%20and%2059%20decorated%20initials.%3C%2Fdiv%3E
A long lost complete Paris Bible from the Bible moralisée atelier
Overview
Until the early or mid 13th century, the contents of Bibles varied considerably in different respects, including the choice and order of the biblical books etc. The rapid growth of the University of Paris as well as the emergence of the activities of Dominican and Franciscan preachers during that time, however, necessitated a standardized text of the Bible. Before it took its final shape by about 1230, a great number of these Bibles had been copied since c. 1200 – including the present manuscript – prefiguring that new version in an experimental phase. In cooperation with the theologian masters at the Paris schools, professional workshops provided the means for regulating and standardizing the Bible texts into a one volume version that later came to be known as the 'Paris Bible'. Our book with its exceptional and extensive illustration cycle represents a state of transition in the development of text and design, as well as in illumination and size.
Each separate Bible book is opened by a superb historiated initial. The exceptional illustration, especially an outstanding cycle for the Pauline epistles, in this manuscript is of minute elaborateness and can be compared with that in the famous Bible Moralisée (Vienna, ÖNB, Ms. 2554). The lush decoration of the book presupposes an important donor or a prestigious destination. This book had been last seen in public in 1949 at the Lucerne exhibition and only re-emerged quite recently.
Back to list