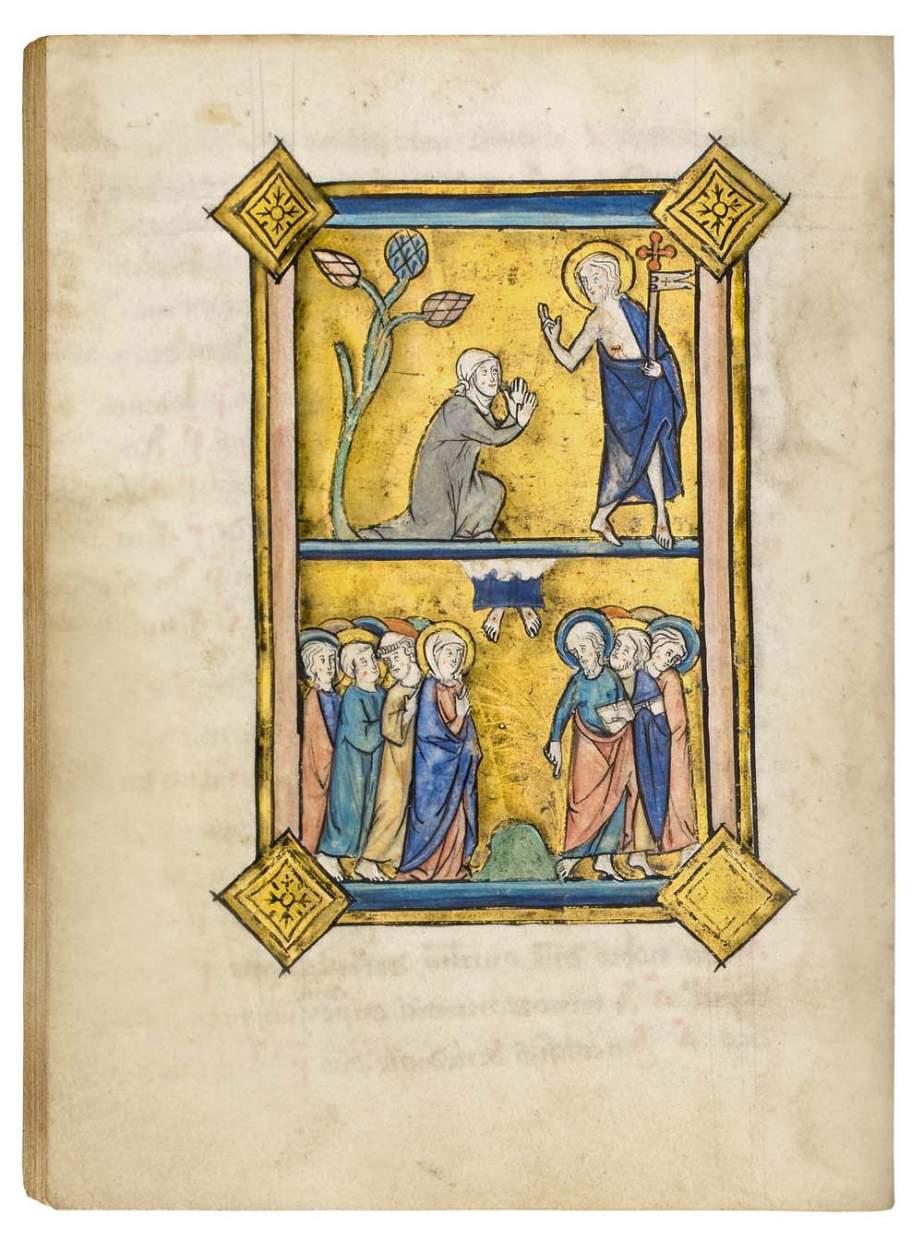 Close
1
/
5





Donaueschingen Psalter and Book of Hours
Brabant, Brussels (?)
,
c. 1250-75
This lavishly illuminated codex belongs to the intermediate period in the development of the Psalter and the Book of Hours when the offices around the Hours of the Virgin were gradually becoming more important than the Psalter itself.
%3Cdiv%20class%3D%22title%22%3E%3Cem%3EDonaueschingen%20Psalter%20and%20Book%20of%20Hours%3C%2Fem%3E%2C%20c.%201250-75%3C%2Fdiv%3E%0D%3Cdiv%20class%3D%22medium%22%3EIlluminated%20manuscript%20on%20vellum.%3C%2Fdiv%3E%0D%3Cdiv%20class%3D%22dimensions%22%3E131%20x%2095%20mm.%20%E2%80%93%20316%20leaves.%20With%2013%20historiated%20initials%2C%2012%20calendar%20illustrations%20and%207%20full-page%20miniatures%20%28in%20two%20registers%29.%3C%2Fdiv%3E
Overview
Seven exquisite full-page miniatures on burnished gold - each divided into two registers - precede the text of this rare and remarkable Brabantine Psalter-Hours. Although the main subject of the sequence is the Passion of Christ, it is introduced by the debate that Jesus and the devil had in the wilderness when Christ resisted Satan's various temptations. The next scene seems somewhat confusing for the Last Supper with the twelve disciples should introduce the Passion cycle but here the painter prefers a different banquet: the one in Bethany with Magdalene anointing and drying Christ's feet. This extraordinary accentuation could be explained by the fact that the manuscript was commissioned for an institution that was closely associated with the saint. Interestingly the book was later adapted for Augustinian use in Cologne, possibly the convent of the Albas Dominas (White Women) of St. Mary Magdalene.
Apart from these rich full-page miniatures the Psalter has twelve scenes that accompany the calendar, which includes many Mosan feasts and celebrates Gudule of Brussels, Gummarus of Lierre, and Waldetrudis of Mons. Moreover, thirteen large historiated initials - also on gold ground - mostly with scenes of martyrdom, mark the incipits of the psalms and the offices. The models for the illuminations are inspired by Flemish compositions whereas the style points to a Hainault workshop.
In the 19th century, one of the bibliophile Princes of Fürstenberg acquired the book for the Court Library at Donaueschingen.
Back to list