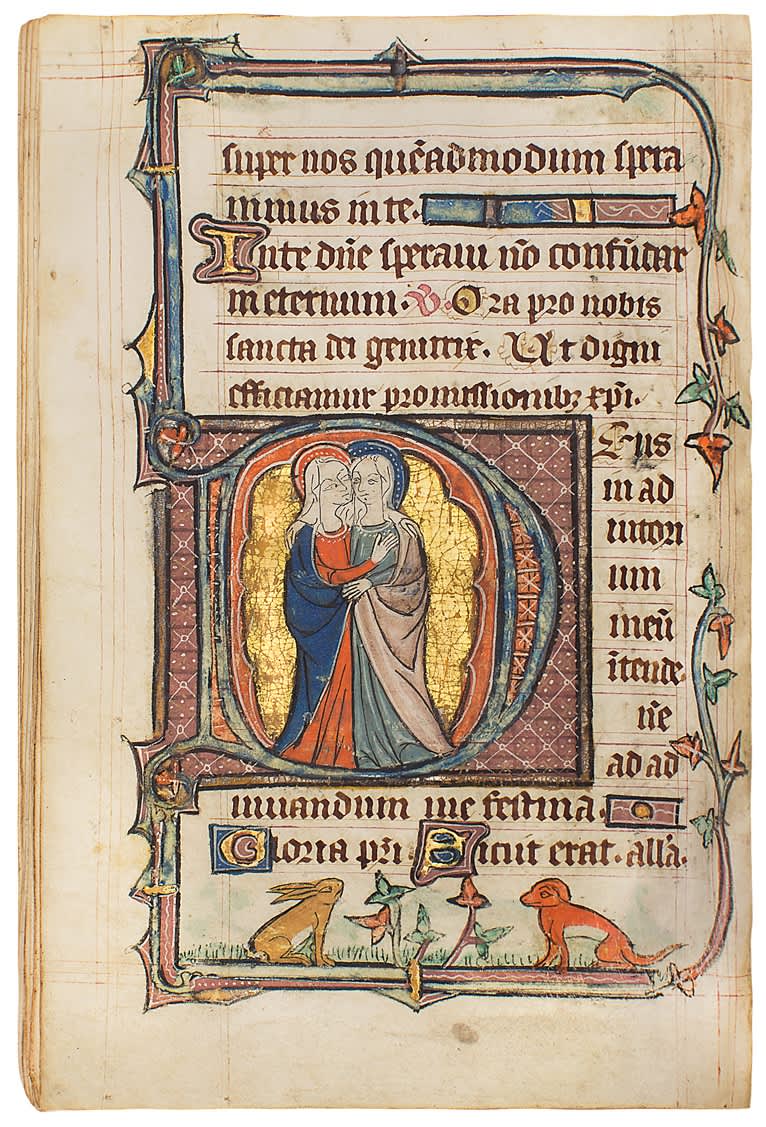 Close
1
/
12












Beauchamp-Corbet Stundenbuch für den Gebrauch von Sarum
Milemete-Gruppe
,
England, London
,
1328
Dieses reich illuminierte Stundenbuch war wohl ein Hochzeitsgeschenk für Beatrice Beauchamp (und Witwe Corbet, gest. 1347). Mit den zahlreichen Wappen sind die familiären Verbindungen der Beauchamp-Corbet sichtbar und erinnerten Beatrice während ihrer Gebete daran, ihre Familie in Ehren zu halten.
Price on request.
%3Cdiv%20class%3D%22artist%22%3E%3Cspan%20class%3D%22artist%22%3E%3Cstrong%3EMilemete%20workshop%3C%2Fstrong%3E%3C%2Fspan%3E%3C%2Fdiv%3E%0D%3Cdiv%20class%3D%22title%22%3E%3Cem%3EBeauchamp-Corbet%20Book%20of%20Hours%2C%20use%20of%20Sarum%3C%2Fem%3E%2C%201328%3C%2Fdiv%3E%0D%3Cdiv%20class%3D%22signed_and_dated%22%3E1328%3C%2Fdiv%3E%0D%3Cdiv%20class%3D%22medium%22%3EIlluminated%20manuscript%20on%20vellum.%3C%2Fdiv%3E%0D%3Cdiv%20class%3D%22dimensions%22%3E165%20x%20110%20mm.%20%E2%80%93%20195%20leaves.%20With%2039%20historiated%20initials%20and%20most%20pages%20with%20border%20decoration%2C%20including%2015%20coats%20of%20arms.%20%3C%2Fdiv%3E
Dynastic pride and preservation in an early English Book of Hours
Overview
Dieses Stundenbuch ist reich mit historisierten Initialen und Bas-de-page-Szenen geschmückt, darunter befinden sich mehrere Figuren, die Schilde mit den Wappen der Familie Beauchamp-Corbet und verwandter Familien halten.
Englische Stundenbücher sind sehr selten, vor allem im Vergleich zu Frankreich. Das Beauchamp Stundenbuch ist das einzige bekannte Exemplar seiner Art im Handel.
Die zwei oder drei Buchmaler, die dieses Buch ausgestattet haben, gehören zur sogenannten Milemete-Gruppe, die in den 1320er Jahren in London tätig war. Diese Werkstatt wurde nach einer Schrift Walters von Milemete für Edward III. benannt. Unsere Handschrift ist vergleichbar mit dem Stundenbuch der Hawisia De Bois. Der Hauptkünstler in beiden Manuskripten ist die Hand II der Milemete-Handschrift und wird auch "De Bois Meister" genannt.
Back to list