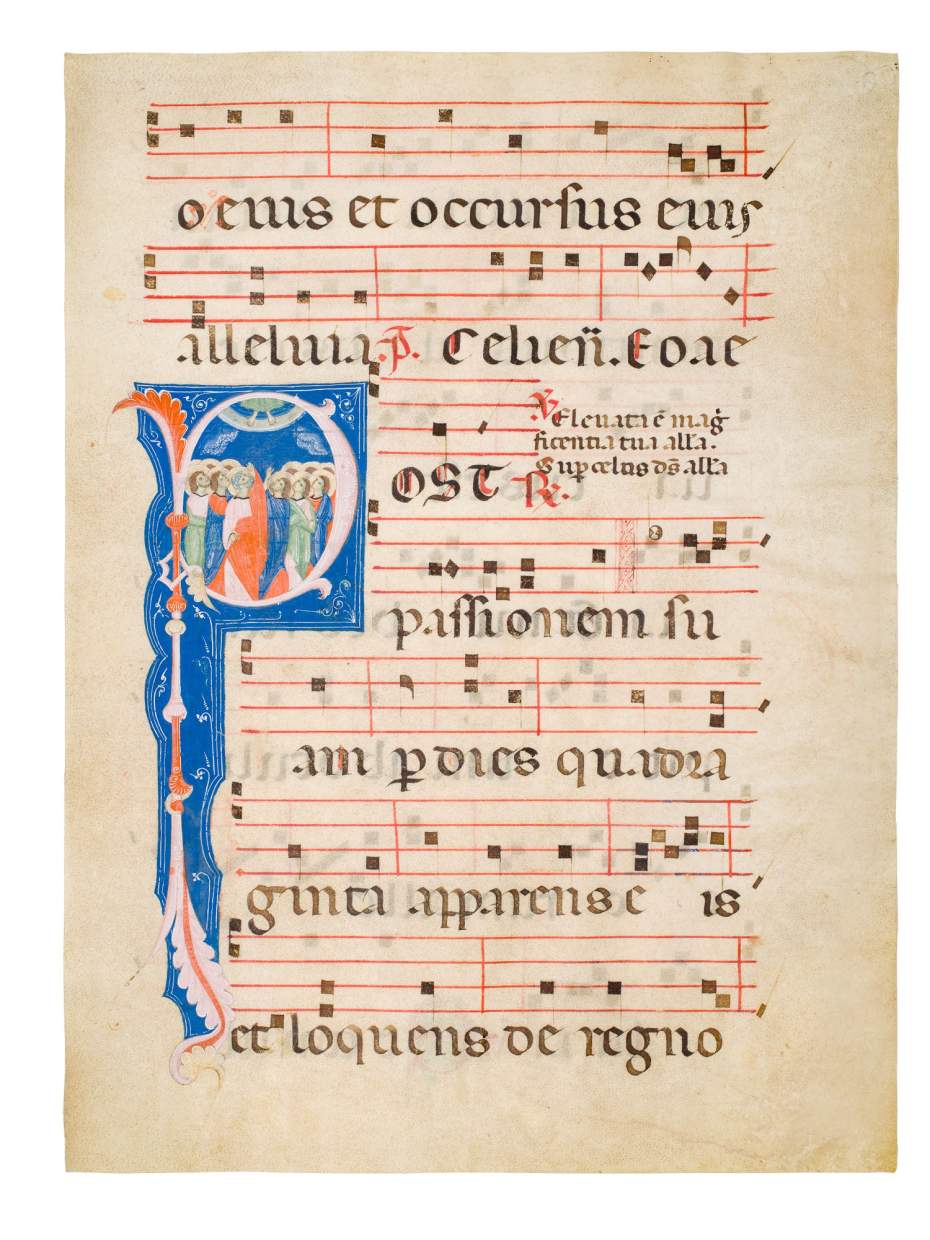 Close
1
/
1

The Ascension on a refined leaf of an Italian Gradual
An Artist close to the Master of Imola
,
Italy, Emilia-Romagna, Imola
,
c. 1270-1280
Historiated initial P. On both recto and verso, 7 four-line staves (31 mm high) in red with square music notation and clef indicated, accompanied by 7 lines of text written in Latin, in a fine, large, and smaller "Littera formata rotunda" in brown ink, with rubrics in red.
€ 38'000.00 (VAT not included)
%3Cdiv%20class%3D%22artist%22%3E%3Cspan%20class%3D%22artist%22%3E%3Cstrong%3EAn%20Artist%20close%20to%20the%20Master%20of%20Imola%3C%2Fstrong%3E%3C%2Fspan%3E%3C%2Fdiv%3E%0D%3Cdiv%20class%3D%22title%22%3E%3Cem%3EThe%20Ascension%20on%20a%20refined%20leaf%20of%20an%20Italian%20Gradual%20%3C%2Fem%3E%2C%20c.%201270-1280%3C%2Fdiv%3E%0D%3Cdiv%20class%3D%22medium%22%3EIlluminated%20vellum%3C%2Fdiv%3E%0D%3Cdiv%20class%3D%22dimensions%22%3ELeaf%3A%20461%20x%20330%20mm%2C%20initial%3A%2085%20x%2060%20mm.%20%E2%80%93%20Written%20space%3A%20c.%20396%20x%20c.%20255%20mm.%3C%2Fdiv%3E
An artist with a distinctive style
Overview
While the palette of this illumination, dominated by dark blue, orange-red, green, and pale rose, points to Bologna's Primo Stile, the refinement of this work suggests an individual artistic character which coincides with the works for Imola's cathedral. Thus, perhaps the artist was the Master of Imola, named after a choir book of the local cathedral.
The historiated initial P introduces the responsory for the Feast of the Ascension of Christ, called Ascension, or Holy Thursday. This feast, celebrated on the fortieth day after Easter, commemorates the belief in the physical ascension of Jesus into heaven, as related by Mark 16:19, Luke 24:51, and Acts 1:2. A group of apostles stand in a isocephalic grouping, halos overlapping, looking up towards the sky. Only Christ's feet and the hem of his tunic can be spotted as the Saviour disappears into heaven.
Back to list