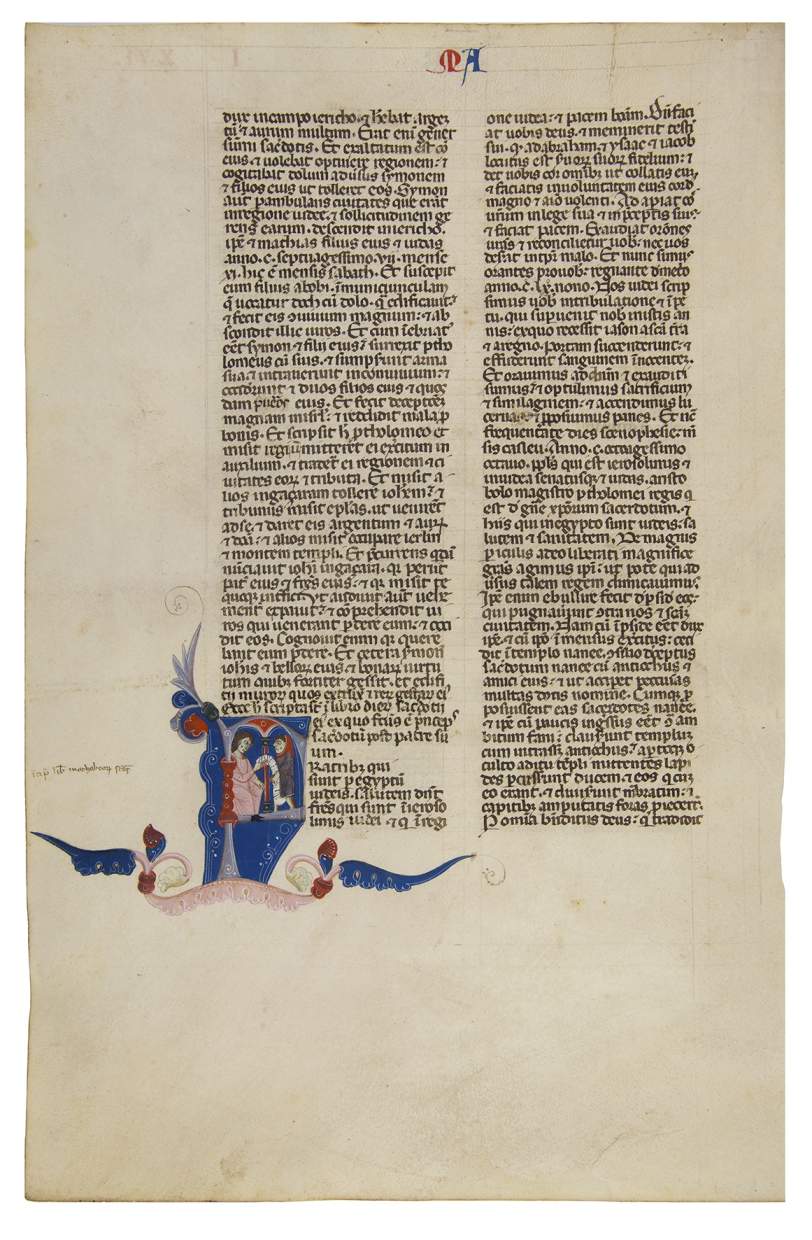 Close
1
/
2


Letter of the Jews of Jerusalem to those in Egypt
One of the Masters of the Primo Stile Bolognese
,
Italy, Bologna
,
c. 1270
€ 9'000.00 (VAT not included)
Historiated initial F on a leaf from a Bible, Maccabees 2:1, on vellum, illuminated by one of the Masters of the Primo Stile Bolognese.
€ 9'000.00 (VAT not included)
%3Cdiv%20class%3D%22artist%22%3E%3Cspan%20class%3D%22artist%22%3E%3Cstrong%3EOne%20of%20the%20Masters%20of%20the%20Primo%20Stile%20Bolognese%3C%2Fstrong%3E%3C%2Fspan%3E%3C%2Fdiv%3E%0D%3Cdiv%20class%3D%22title%22%3E%3Cem%3ELetter%20of%20the%20Jews%20of%20Jerusalem%20to%20those%20in%20Egypt%3C%2Fem%3E%2C%20c.%201270%3C%2Fdiv%3E%0D%3Cdiv%20class%3D%22medium%22%3ETempera%2C%20ink%2C%20and%20gold%20on%20vellum%3C%2Fdiv%3E%0D%3Cdiv%20class%3D%22dimensions%22%3E354%20x%20231%20mm%3B%20initial%3A%2050%20x%2035%20mm.%20Text%20justification%3A%20225%20x%20145%20mm.%202%20columns%2C%20ruled%20in%20blind%20into%202%20columns%20with%2050%20lines.%20%3C%2Fdiv%3E%3Cdiv%20class%3D%22price%22%3E%E2%82%AC%209%27000.00%20%28VAT%20not%20included%29%3C%2Fdiv%3E
One of seven companion leaves, four of which are available at Dr. Jörn Günther Rare Books
Overview
Despite its beautiful decoration, this leaf was from a Bible manuscript intended for study, created in the flourishing university city of Bologna. The text on this leaf comes from I Maccabees 15:23 - 16.24. The rubric title of II Maccabees was never added, but the instructions on what to add there are still visible in the left margin: "Incipit liber Machabeorum secundus".
In the historiated initial F that decorates this leaf, a man dressed in a pink robe hands a scroll to another man. The style, with the figures' green undertones and well-lined faces, is indicative of an exciting trend in Italian illumination, influenced by Byzantine art. The creators of these leaves appear to belong to the generation of Bolognese masters who, in the second half of the 13th century, designed the Primo Stile Bolognese.
Back to list