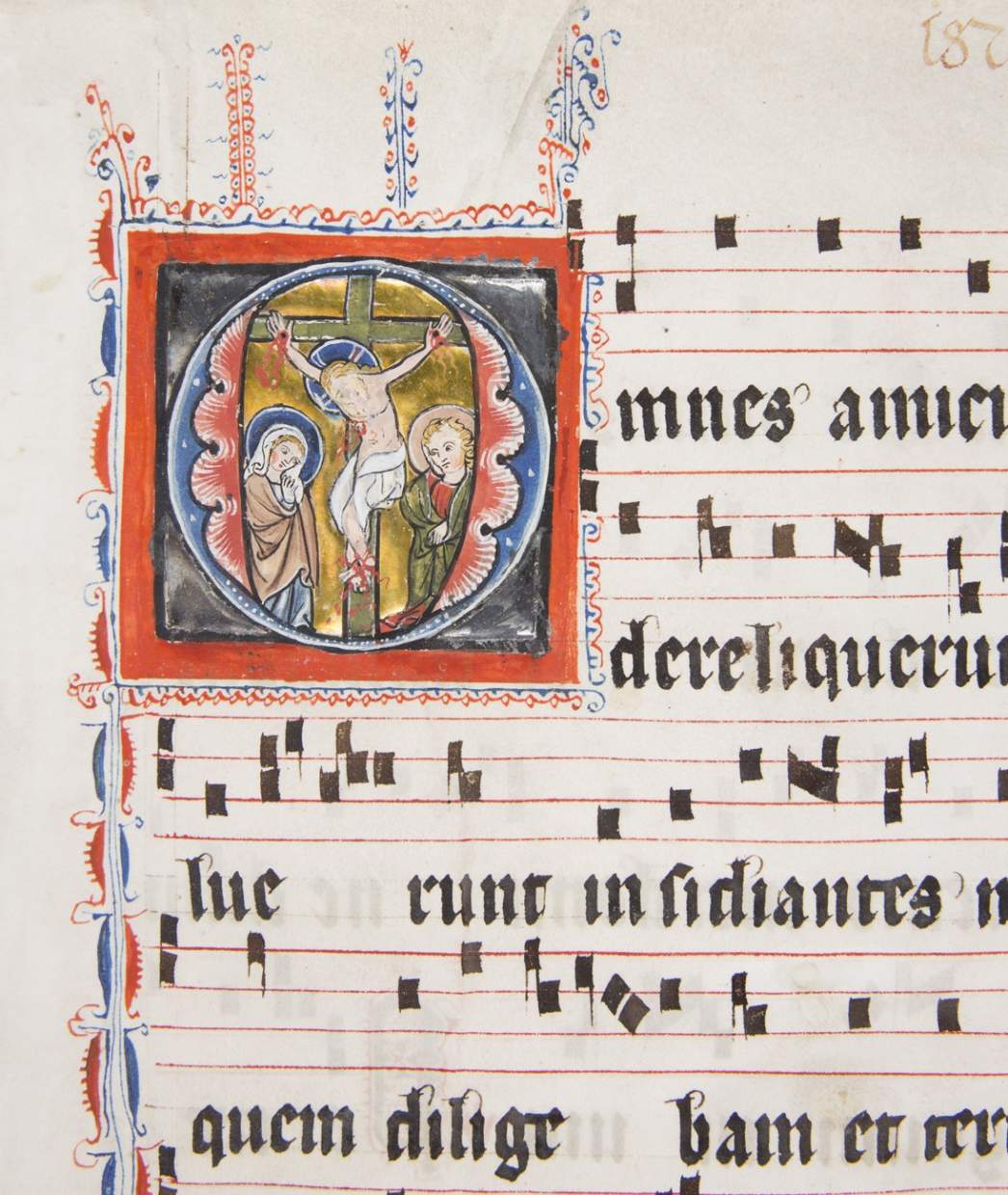 Close
1
/
3



Sadness and Salvation: Crucifixion from an Antiphonal
Regensburg workshop
,
Southern Germany, Regensburg
,
c. 1300-1310
This historiated initial 'O' opens the mournful lyrics: 'Omnes amici mei dereliquerunt me, et praevaluerunt insidiantes mihi – All my friends have forsaken me, and my enemies have prevailed against me'. The present leaf comes from a codex of at least 324 large vellum leaves.
€27'000.00 (VAT not included)
%3Cdiv%20class%3D%22artist%22%3E%3Cspan%20class%3D%22artist%22%3E%3Cstrong%3ERegensburg%20workshop%3C/strong%3E%3C/span%3E%3C/div%3E%0D%3Cdiv%20class%3D%22title%22%3E%3Cem%3ESadness%20and%20Salvation%3A%20Crucifixion%20from%20an%20Antiphonal%3C/em%3E%2C%20c.%201300-1310%3C/div%3E%0D%3Cdiv%20class%3D%22medium%22%3EIlluminated%20vellum%20leaf%3C/div%3E%0D%3Cdiv%20class%3D%22dimensions%22%3E453%20x%20366%20mm%3B%20initial%3A%2078%20x%2081%20mm%3C/div%3E
A mournful image of grief, including St John and the praying Virgin
Overview
One of a total of 20 (possibly 21) leaves from this particular Antiphonal, the present miniature is an emotional scene executed with precision. The style of the painting, demonstrated by these innocent figures with red cheeks and earnest expressions, has been termed the "sweet new style", here combined with a softer, Regensburg variation of the so-called Zackenstil.
The workshop responsible for this miniature and those of the companion leaves consisted of several painters.. As the application of colours outlined in solid black contouring is strongly reminiscent of medieval stained glass, this suggests that the same artists may have worked as designers of glass-windows.
Interested in learning more about miniatures? Click here for our blogpost on the Life of a Miniature

Back to list