Artworks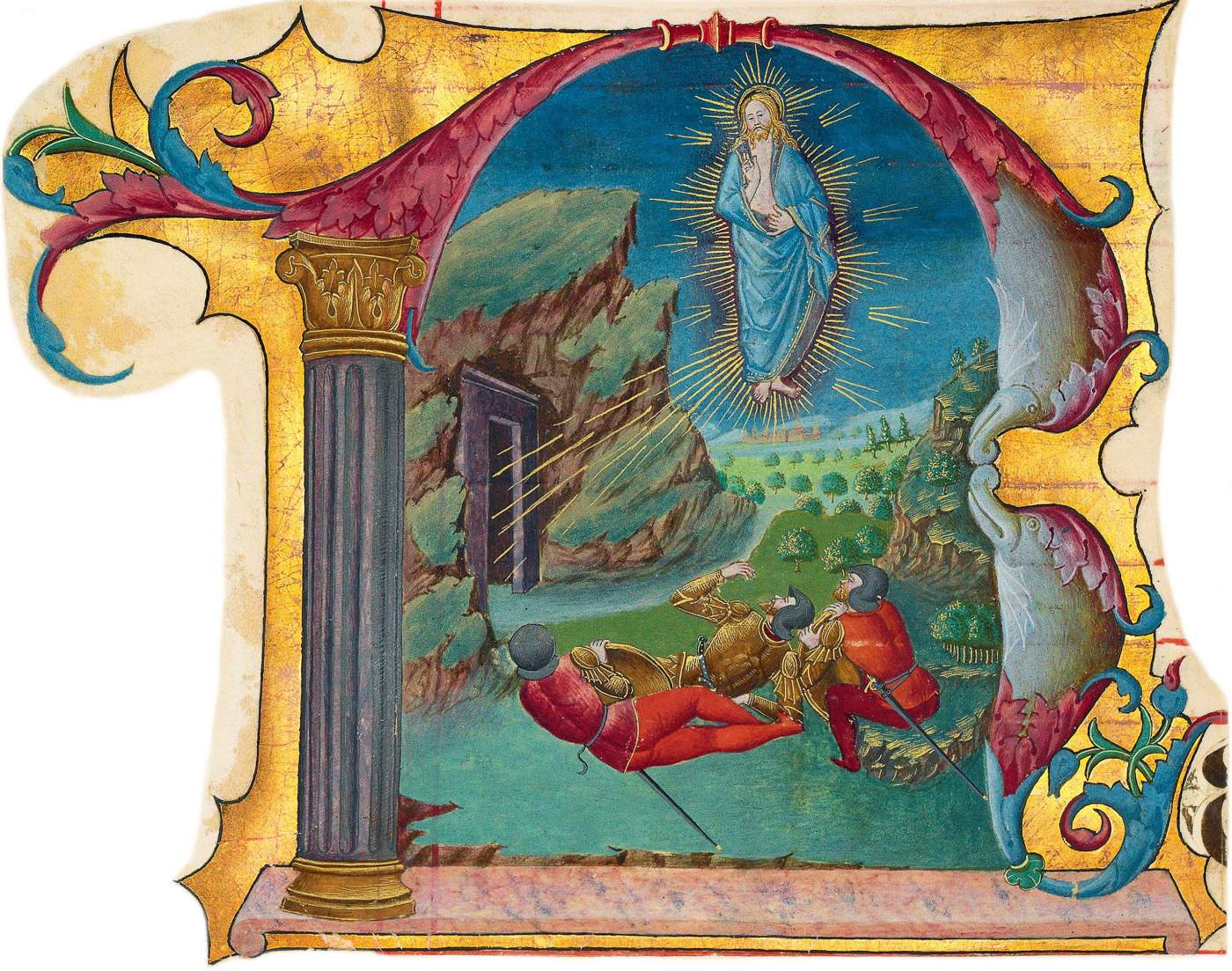 Close
1
/
1

Radiant Resurrection
Master of the Birago Hours
,
Italy, Brescia or Milan
,
1460-1470
Historiated initial R from a Gradual, illuminated by the Master of the Birago Hours
Price € 34'000,- (VAT not included).
%3Cdiv%20class%3D%22artist%22%3E%3Cspan%20class%3D%22artist%22%3E%3Cstrong%3EMaster%20of%20the%20Birago%20Hours%3C/strong%3E%3C/span%3E%3C/div%3E%0D%3Cdiv%20class%3D%22title%22%3E%3Cem%3ERadiant%20Resurrection%3C/em%3E%2C%201460-1470%3C/div%3E%0D%3Cdiv%20class%3D%22medium%22%3EMiniature%3B%20tempera%20and%20gold%20on%20vellum%3C/div%3E%0D%3Cdiv%20class%3D%22dimensions%22%3E173%20x%20218%20mm%3C/div%3E
The mystery of Easter in golden glory
Overview
The lavishly decorated letter R, composed of a Corinthian column and two dolphins rubbing noses, forms the frame for this powerful narration of the mystery of Easter. Having risen from his tomb inside a rocky formation (left), Christ hovers halfway between heaven and earth in golden glory, illuminating the nocturnal landscape. Astonished and not yet fully awake, two soldiers witness the miracle in the middle of the night, while a third soldier is fast asleep. The dark, strong palette enhances the solemn atmosphere of this mystical event.
The miniature is attributed to the Master of the Birago Hours, an artist in the circle of the prolific Giovan Pietro Birago (d. Milan 1513). Birago's activities are known since 1471 when he illuminated choirbooks for the cathedral of Santa Maria Maggiore in Brescia. In the 1480s, he worked for leading Venetian families, and around 1490, he entered the service of the Sforza in Milan. Here, he made his finest work in the Sforza Hours for Bona of Savoy (London, BL, ms. Add. 34294). The artist of our leaf collaborated on the so-called Birago Hours (Comites Latentes collection, Geneva) as well as the Gonzaga Book of Hours (New York, Morgan Library, M. 454). The style of our miniature dates from about 1470.
Read more about this artwork in our Spotlight, and in our blog post.
Back to list