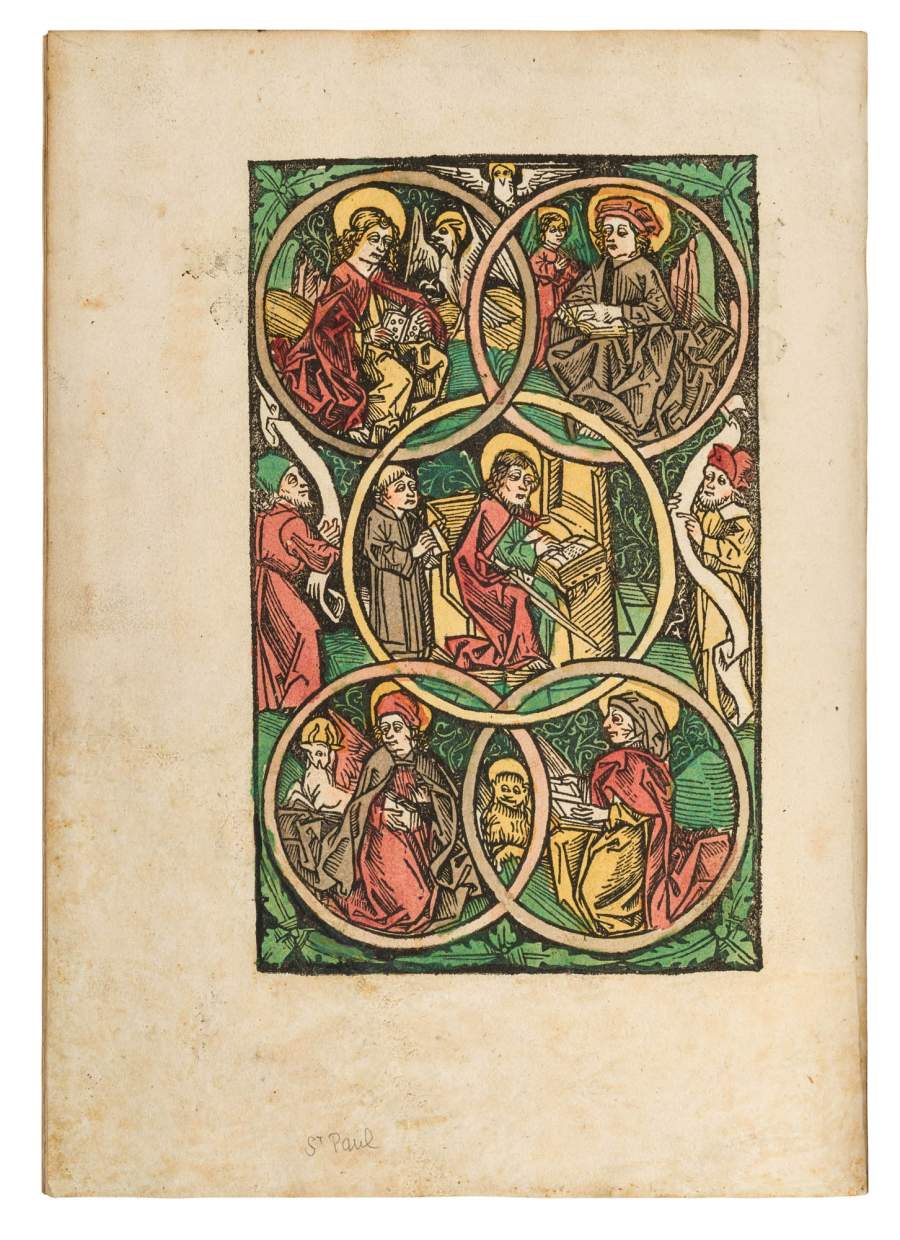 Close
1
/
10










Speculum Humanae – a rare gem from Peter Berger's Augsburg press
Augsburg
,
Peter Berger
,
1489
A wonderfully preserved copy of the "Speculum Humanae Salvationis (German): Das ist der spiegel menschlicher behaltnuß mit den Ewa(n)gelie(n) vnd Epistele(n) durch dz gancz Jar" (Fifth German Edition) in fine contemporary colouring survives in a near contemporary blind-stamped binding. It was issued from Peter Berger's Augsburg press, the publications of which are generally very rare. Berger was originally a book dealer, who in 1491 married the printer Anna Rüger(in), a member of the Schönsperger printing family. This version of the Speculum was certainly inspired by Peter Drach's 1481-1482 edition from Speyer and is richly illustrated with 279 fine woodcuts.
%3Cdiv%20class%3D%22title%22%3E%3Cem%3ESpeculum%20Humanae%20%E2%80%93%20a%20rare%20gem%20from%20Peter%20Berger%27s%20Augsburg%20press%3C%2Fem%3E%2C%201489%3C%2Fdiv%3E%0D%3Cdiv%20class%3D%22medium%22%3EIncunable%2C%20woodcuts%20in%20contemporary%20colouring%20on%20paper.%20Binding%3A%20early%2016th-century%20blindstamped%20German%20pigskin%20binding%20on%20bevelled%20wooden%20boards%3B%20the%20inner%20rectangle%20with%20black-tinted%20stamps%3B%20two%20brass%20clasps.%3C%2Fdiv%3E%0D%3Cdiv%20class%3D%22dimensions%22%3E236%20leaves%2C%20complete.%20279%20coloured%20woodcuts%20%3C%2Fdiv%3E%3Cdiv%20class%3D%22price%22%3ESold%3C%2Fdiv%3E
Richly illustrated, from a book dealer's press
Overview
This work is now sold.
In the preface of this Speculum, the author announces that the text is intended for the education of all people, especially laypeople, in matters of theology. He equates his text with a massive oak tree which must be felled to make more room in a monastery's yard, describing how a variety of craftsman might take pieces of the tree for their own benefit - the builder takes the trunk, for instance, and the scribe takes the oak apples to make his ink.
The full-page frontispiece illustrates St. Paul surrounded by the writing Evangelists with their symbols and two prophets holding scrolls. This cut had been used before in Schönsperger's Plenarium of 1483. The printer of our edition, Peter Berger, is not as well-known as his colleagues Günther Zainer and Anton Sorg. Berger was originally a book seller and eventually issued some publications of his own between 1486-1490. In 1491, he was married to one of the first female printers in Augsburg, Anna Rüger(in) from the famous Schönsperger dynasty.
Back to list