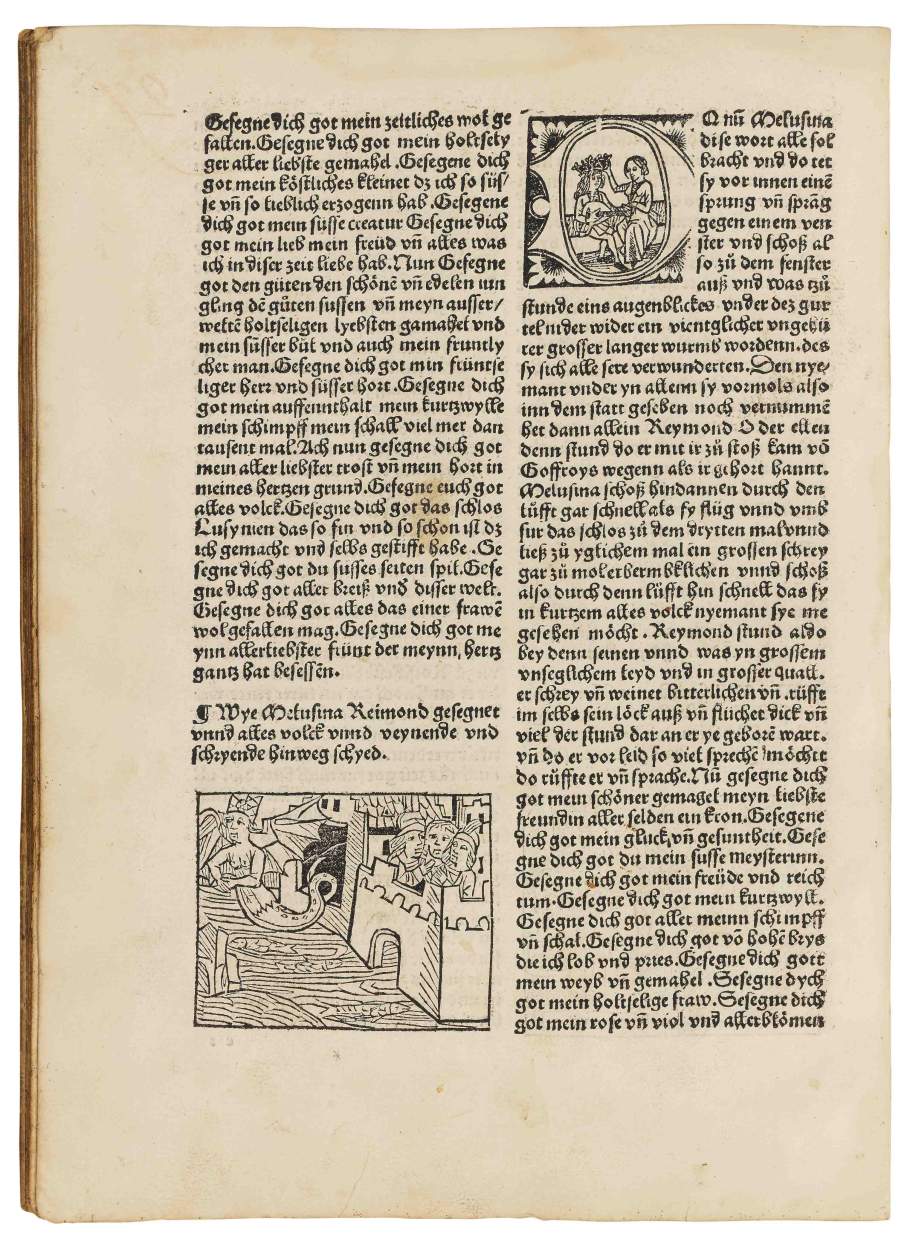 Close
1
/
6






The Legend of Melusine and Raymond
Heidelberg
,
Heinrich Knoblochtzer
,
1491
The tenth edition in German of Thüring von Ringoltingen's translation of Couldrette's 'Melusine', including sixty-nine woodcut initials by the press of Heinrich Knoblochtzer. 'Melosine geschicht Mit den figuren (Von einer frowen genannt Melusina)' was printed on 13 December 1491.
This work is now sold.
%3Cdiv%20class%3D%22title%22%3E%3Cem%3EThe%20Legend%20of%20Melusine%20and%20Raymond%20%3C%2Fem%3E%2C%201491%3C%2Fdiv%3E%0D%3Cdiv%20class%3D%22medium%22%3E69%20woodcut%20initials%20and%2067%20woodcut%20illustrations.%20Binding%3A%20Blind-tooled%20brown%20calf%20over%20pasteboard%20%2816th-century%3F%29%2C%20label%20on%20spine%3A%20%E2%80%9CMELOSINA%E2%80%9D.%20Binding%20worn.%20%3C%2Fdiv%3E%0D%3Cdiv%20class%3D%22dimensions%22%3E276%20x%20198%20mm%2C%2038%20leaves%2C%2067%20woodcut%20illustrations%3C%2Fdiv%3E
A French tale of glory and misfortune
Overview
This work is now sold.
The tenth edition of the German translation of Couldrette's novel in verse, the German Melusina was very popular. The present edition is the first with a real title page and presents the story of Melusine and Raymond with sixty-seven column-wide woodcuts alongside charming illustrated initials.
The story has its origin in southern France, around the year 1200. Originally used as a founding legend by the House of Lusignan, whose coat of arms bears a mermaid, this narrative describes the union of a human, Raymond, and a supernatural being, Melusine. The couple have ten extraordinary children and much of the story concerns the children's adventurous and knightly deeds, but the narrative culminates in the sad breakdown of Raymond and Melusine's relationship. Raymond goes back on his promise to never peek at his wife while she bathes and thus sees Melusine in her true form, as half woman, half snake, and his disgust ends their union.
Thüring's German translation focuses far more on moral and courtly aspects of the story than French editions, reaching a wider audience and priming it for many adaptations by the likes of Hans Sachs and Goethe.
See this item in our catalogues, Heroes and Heroines and Timeless Treasures.
Back to list