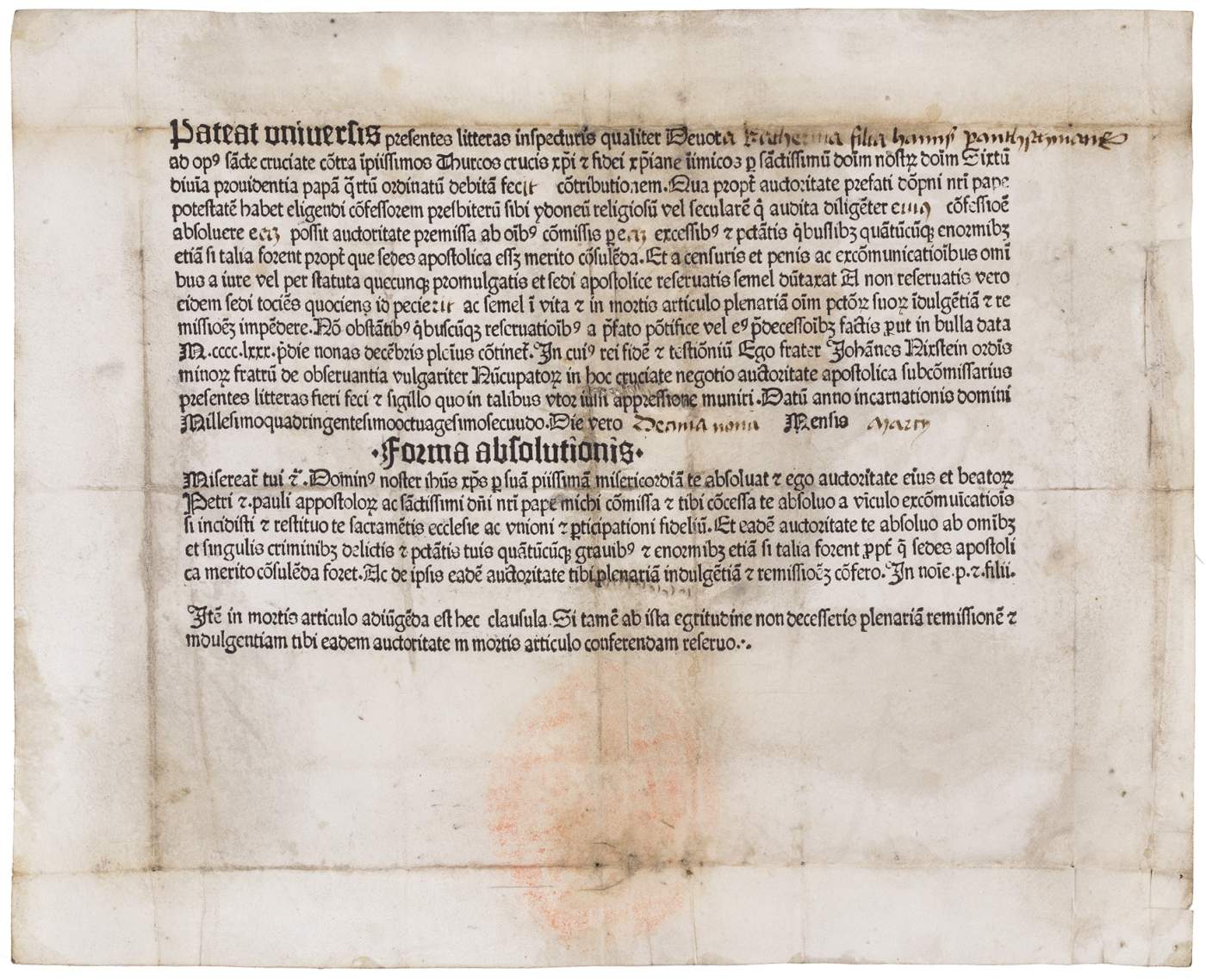 Close
1
/
1

Indulgence from Pope Sixtus IV
Germany, perhaps Zwickau
,
Printer of Nixstein
,
1482
Letter of indulgence promoting the war against the Turks.
This work has been sold.
%3Cdiv%20class%3D%22title%22%3E%3Cem%3EIndulgence%20from%20Pope%20Sixtus%20IV%3C/em%3E%2C%201482%3C/div%3E%0D%3Cdiv%20class%3D%22medium%22%3ESingle-sheet%20print%20on%20vellum.%3C/div%3E%0D%3Cdiv%20class%3D%22dimensions%22%3Ec.%20220%20x%20270%20mm.%20Printed%20on%20vellum%20on%20one%20side%20only.%20%3C/div%3E
One of only two copies printed on vellum
Overview
To grant indulgence by letters was a common practice of the Roman Catholic Church in the late Middle Ages before the Reformation. After confession or other good works agreeable to God, the faithful gained remission from temporal punishment for their sins. Letters of indulgence were sold in large quantities on various occasions.
The present indulgence was issued on 9 August 1480 by Pope Sixtus IV to raise money to resist the threat of the Turks. In Germany, the Franciscans, under general-commissary Emerich of Kemel, were predominant in distributing this indulgence letter. The Franciscan monk Johannes Nixstein was preacher at Leipzig. He is cited in the letter as sub-commissary and was responsible for the sale of this indulgence in Central Germany. Four editions with his name are known. Two were printed in Magdeburg by Bartholomaeus Ghotan c. 1480. The others were by the printer of the present leaf, both with the printed date 1482: one printed on vellum (the present edition), the other, with slight variants in typesetting, on paper.
The indulgence is also remarkable for typographic reasons. There are spaces left for the name of the contributor, the day, and the month to be supplied. Moreover, five words within the text are left unfinished to complete the correct endings by hand (singular, plural). Such letters were the first printed forms. Indeed the name of the contributor and date of issue as well as all female singular forms are filled in the respective spaces of the present form. This copy was issued to katherina filia hannß panthschman...(?), that is, Katherine, daughter of Hans Bantzschmann, on 19 March 1482.
Read more about this book in our Spotlight.
Back to list