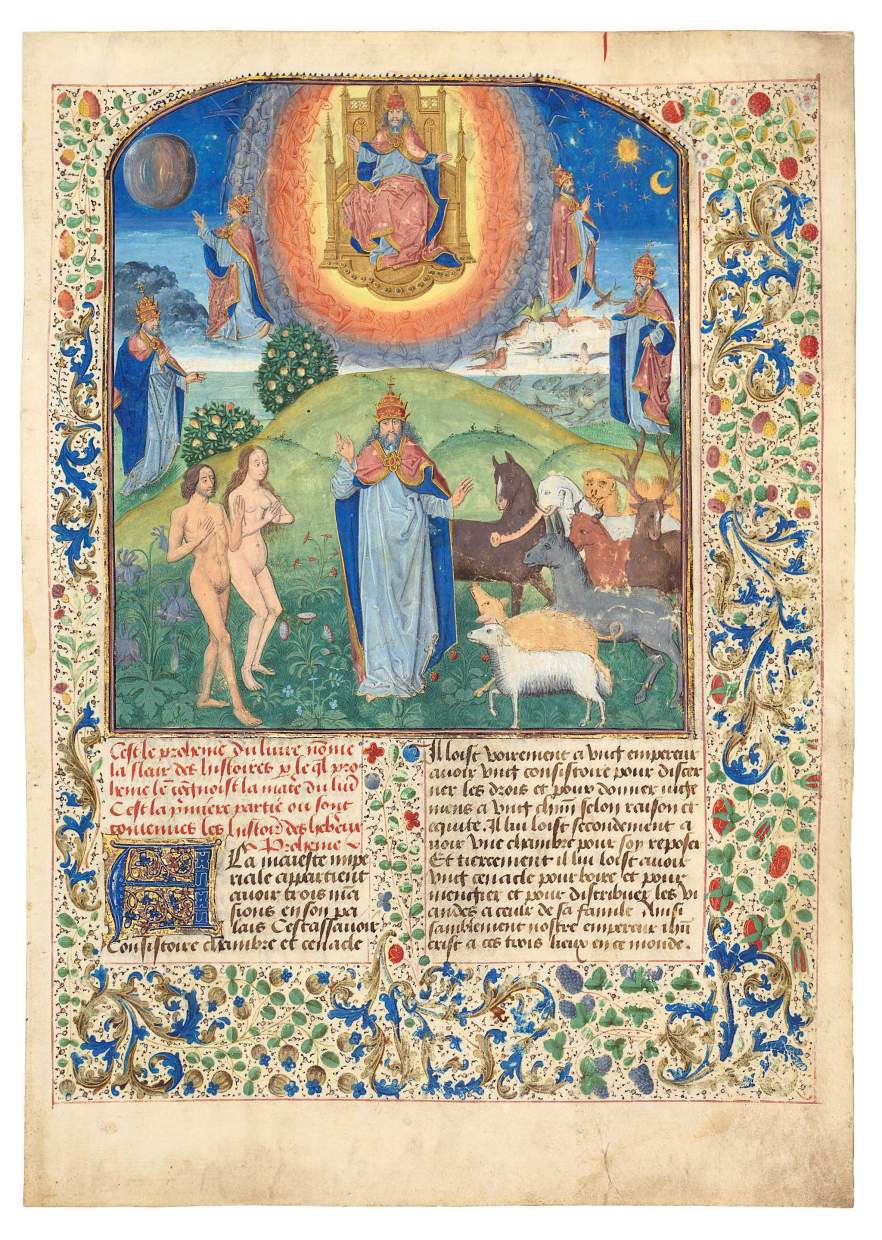 Close
1
/
1

Creation, a Remarkable Miniature
Flanders, Ghent or Bruges
,
c. 1475
Frontispiece of a manuscript of Jean Mansel's 'Fleur des Histoires', depicting the history of Creation. The text is a combination of history and literary romance made for the Burgundian court as a response to the 'Grandes Chroniques de France'.
This work has been sold.
%3Cdiv%20class%3D%22title%22%3E%3Cem%3ECreation%2C%20a%20Remarkable%20Miniature%3C/em%3E%2C%20c.%201475%3C/div%3E%0D%3Cdiv%20class%3D%22medium%22%3EIlluminated%20miniature%20on%20vellum%3C/div%3E%0D%3Cdiv%20class%3D%22dimensions%22%3E377-380%20x%20266%20mm%3C/div%3E%3Cdiv%20class%3D%22price%22%3ESold%3C/div%3E
Overview
This wonderful leaf cannot firmly be attributed to the hand of the miniaturist Loyset Liédet, though the treatment of the animals and landscape do suggest he is the artist. Liédet was a townsman of Jean Mansel, and possibly apprenticed to Simon Marmion (c. 1425-1485), one of the most prominent figures of Flemish illumination and head of a prolific workshop.
The text for which this miniautre is the frontispiece is the Fleur des Histoires, a collation of universal history extending from the Creation through to the events of the Middle Ages, The author, Jean Mansel from Hesdin (c. 1400-1473/74), was the son of a Burgundian magistrate and was himself a ducal servant. He ends the first version of the text with the reign of Charles VI, King of France (d. 1422), and ends the second version with the reign of Charles VII (c. 1461).
This work is now in the Tuliba Collection.
Back to list