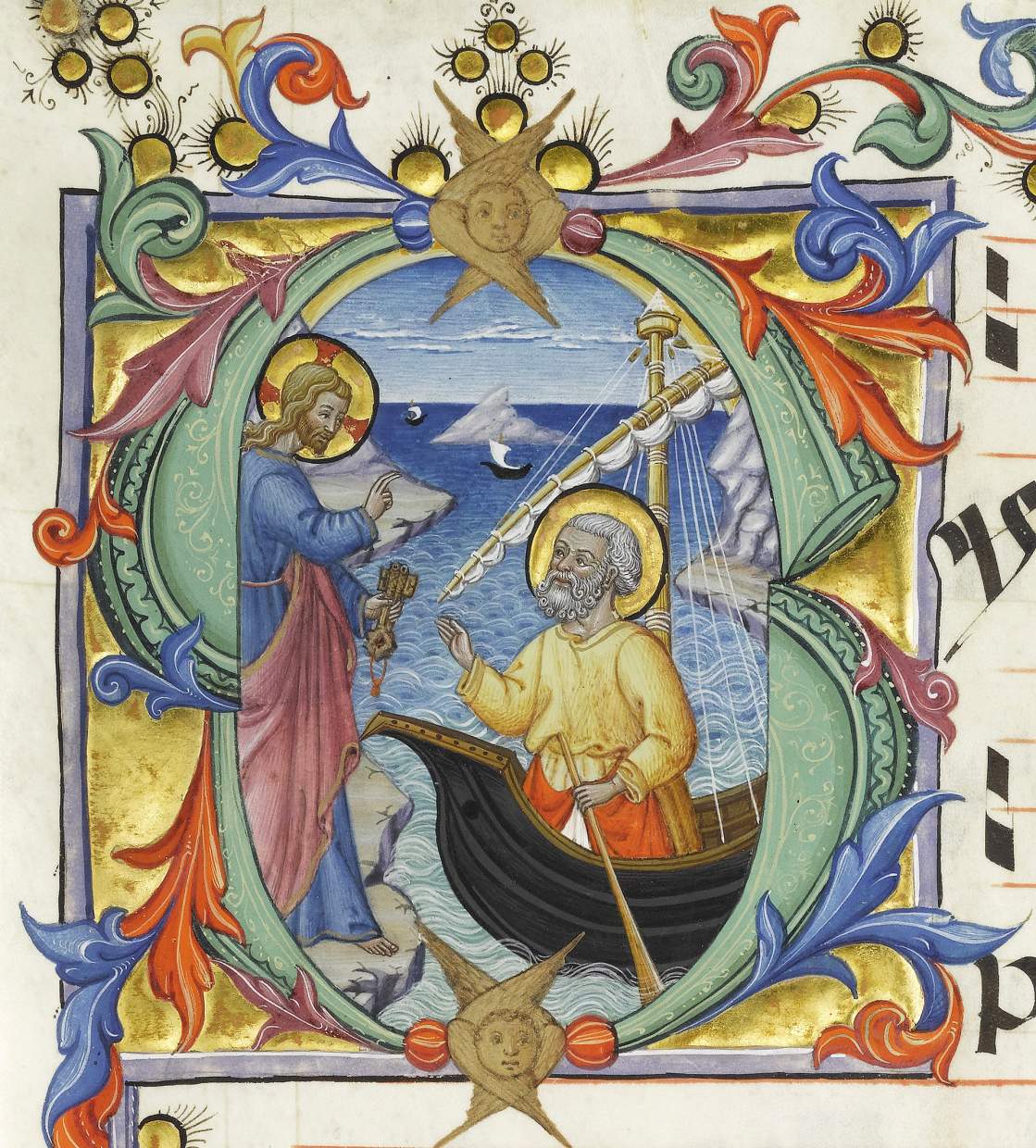 Close
1
/
3



Christ calling Peter
Pellegrino di Mariano Rossini
,
Italy, Siena
,
1471
Lively scene in an initial S on a leaf from a large Antiphonal, with full border decoration and the combined arms of the Spedale di Santa Maria di Scala and Niccolò Ricoveri at Siena.
This work has been sold.
%3Cdiv%20class%3D%22artist%22%3E%3Cspan%20class%3D%22artist%22%3E%3Cstrong%3EPellegrino%20di%20Mariano%20Rossini%3C/strong%3E%3C/span%3E%3C/div%3E%0D%3Cdiv%20class%3D%22title%22%3E%3Cem%3EChrist%20calling%20Peter%3C/em%3E%2C%201471%3C/div%3E%0D%3Cdiv%20class%3D%22signed_and_dated%22%3Edated%20within%20the%20wreath%20on%20lower%20border%3A%201471%3C/div%3E%0D%3Cdiv%20class%3D%22medium%22%3EMiniature%3A%20ink%2C%20tempera%2C%20and%20gold%20on%20vellum%3C/div%3E%0D%3Cdiv%20class%3D%22dimensions%22%3ELeaf%3A%20530%20x%20380%20mm%2C%20initial%3A%20170%20x%20170%20mm%20%3C/div%3E
Pellegrino di Mariano, flaunting his artistic maturity
Overview
By leaving out the central part of the letter S, the illuminator created an oval opening for a view as seen through a 'window'. The articulate illustration with full border decoration is painted on a burnished gold ground in saturated, strong, and vivid colours. The artist, Pellegrino di Mariano Rossini (documented 1449-1492), was a book illuminator and panel painter who learned his trade by Giovanni di Paolo, one of Siena's best artists. In Siena, the celebrated Tuscan city of Duccio (d. 1319) and Simone Martini (d. 1344), and once rival in art to Florence, Pellegrino collaborated on illuminating choir books with contemporaries such as Sano di Pietro, Liberale da Verona and others. The light blue sky and the green of the surrounding initial are colour associations of the elements of nature. Pellegrino's direct and colourful style was much sought after and pleasing to commissioners. The lower border partly preserves the coat of arms of the Hospital of Santa Maria della Scala (partly discernable), combined with that of of Niccolò Ricoveri, the hospital's rector who had commissioned the new set of choir books.
Read more about this artwork in our Spotlight on Italy, and in our Spotlight on miniatures.
Back to list