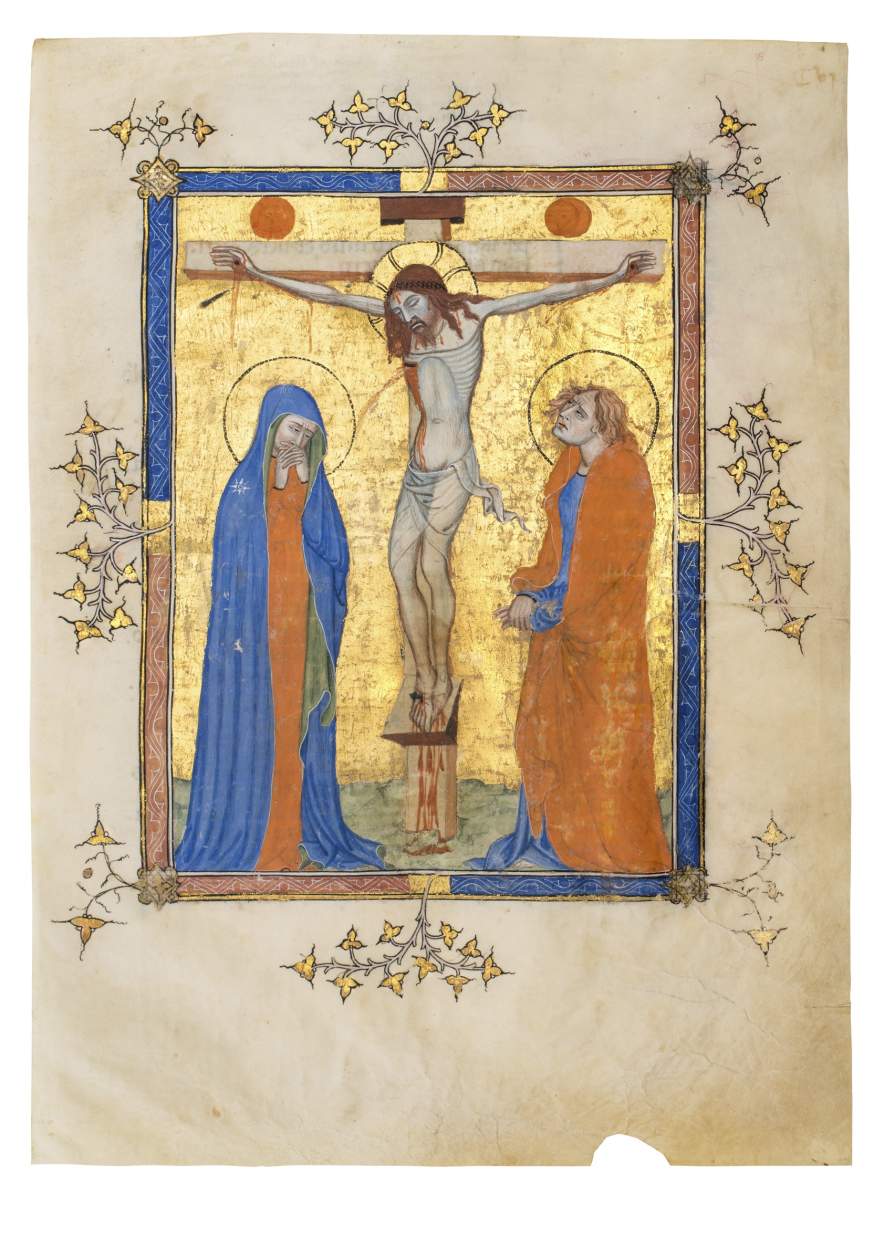 Close
1
/
1

Crucifixion from Catalonia
Catalonia, Barcelona
,
c. 1370-1380
A fine Canon miniature from a Missal: Christ on the Cross, flanked by the Virgin Mary and St. John.
This work has been sold.
%3Cdiv%20class%3D%22title%22%3E%3Cem%3ECrucifixion%20from%20Catalonia%3C/em%3E%2C%20c.%201370-1380%3C/div%3E%0D%3Cdiv%20class%3D%22medium%22%3EMiniature%3A%20tempera%20and%20gold%20on%20vellum%3C/div%3E%0D%3Cdiv%20class%3D%22dimensions%22%3ELeaf%3A%20327%20x%20233%20mm%2C%20miniature%3A%20210%20x%20160%20mm%3C/div%3E
Overview
This large, arresting miniature with its beautifully drawn, expressive, and sorrowful figures once opened the Canon of the Mass, beginning with the words Te igitur… on the verso of the leaf. Its stylistic elements of both the script and the penwork initial, with its flamboyant flourishing, are found in Catalan manuscripts. The miniature's composition and treatment of figures and drapery, together with its French-style border of ivy-leaf sprays and corner medallions, are comparable to a Crucifixion in a Missal for Catalan use, possibly made for the abbey of Sant Pere de Roda in Northern Catalonia (Barcelona, A.C.A, Sant Cugat 29, f. 92v). This and another Missal (ms. Sant Cugat 14) have been associated with manuscripts copied and illuminated for use by Juan Fernandez de Heredia (c. 1310-1396), who had been Grand Master of the Knights Hospitaller at Rhodes, but mainly lived in Avignon since 1382. He is known as a wealthy and learned patron.
Back to list