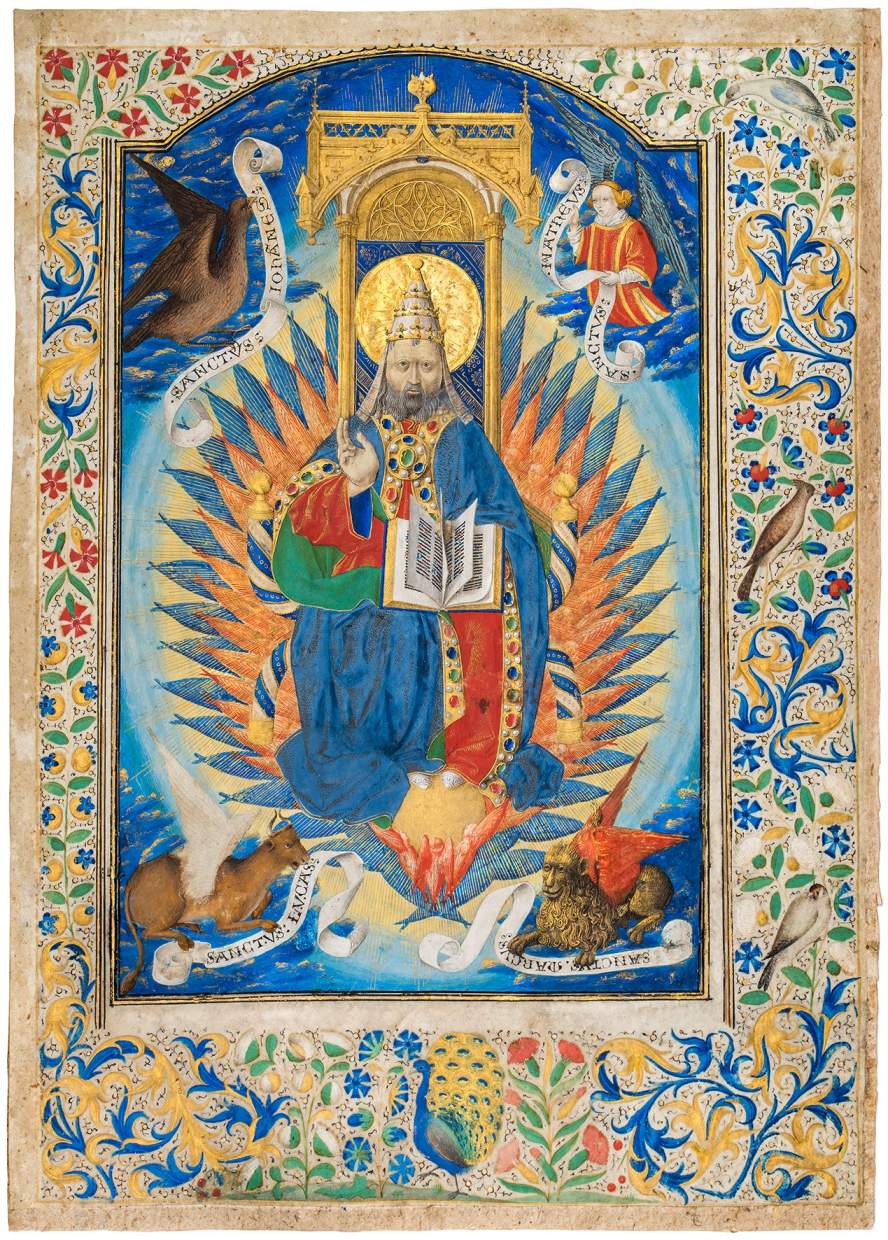 Close
1
/
1

God in Majesty seated in heaven
follower of the Jouvenel Group
,
France, Angers
,
c. 1460
God in heaven is accompanied by the symbols of the Evangelists. A spectacular and refined example of French manuscript painting around 1460-1470 on a leaf from a Missal.
This work has been sold.
%3Cdiv%20class%3D%22artist%22%3E%3Cspan%20class%3D%22artist%22%3E%3Cstrong%3Efollower%20of%20the%20Jouvenel%20Group%3C/strong%3E%3C/span%3E%3C/div%3E%0D%3Cdiv%20class%3D%22title%22%3E%3Cem%3EGod%20in%20Majesty%20seated%20in%20heaven%3C/em%3E%2C%20c.%201460%3C/div%3E%0D%3Cdiv%20class%3D%22medium%22%3EMiniature%3A%20tempera%20and%20gold%20on%20vellum%3C/div%3E%0D%3Cdiv%20class%3D%22dimensions%22%3ELeaf%3A%20260%20x%20183%20mm%2C%20miniature%3A%20210%20x%20130%20mm%3C/div%3E
Overview
This impressive composition of God in Majesty by a very talented artist was painted after a classic prototype. The iconography as interpreted by Jan van Eyck became one of the most important depictions of the late Middle Ages. In his Ghent Altarpiece, he presented God, crowned with a tiara and in a strict en face view. The motif was frequently used in French Missals for the introductory miniature of the Canon of the Mass. In the present miniature, God's heavenly throne is additionally surrounded by a rich and iridescent mandorla of seraphim. His feet rest on a golden globe; his fine white shoes with pointed tips are decorated with thin blue lines and possibly letters. The elaborately sculptured back of the throne ends in a Gothic canopy, covered with a fine, thin layer of gold. God blesses the world with his right hand, while he presents an open book with his left: two fingers have slipped between the pages and he lifts three of the leaves as if to mark a certain passage of the text. This gesture lends a graceful and transient moment to the otherwise static and self-contained figure. The colours are lustrous, vivid, and rich.
Read more about this artwork in our Spotlight.
Back to list