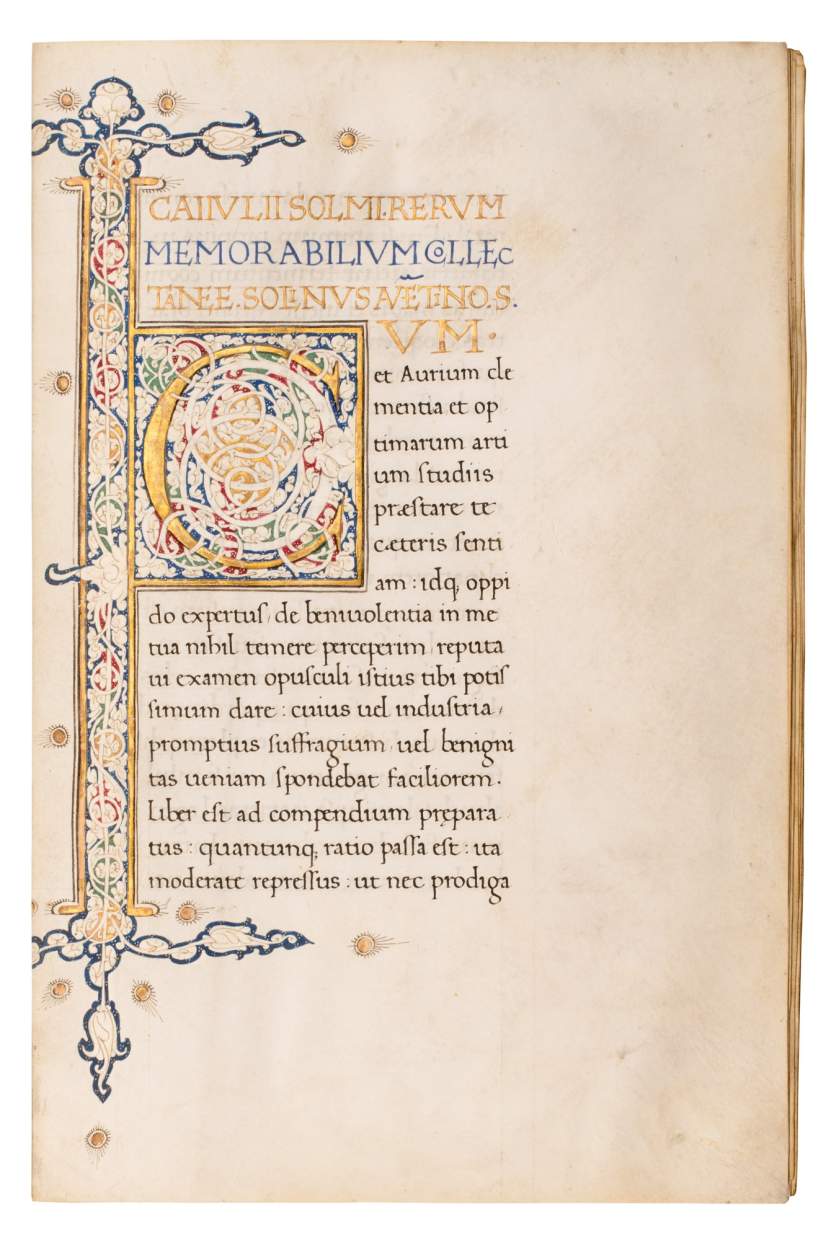 Close
1
/
3



The Wonders of the World from the Library of the King of Naples
Giovanni Marco Cinico (scribe), Cola Rapicano (illuminator)
,
Italy, Naples
,
1475
The 'Collectanea rerum memorabilium' or 'Polyhistor' – A humanist manuscript from the library of the Kings of Aragon in Naples: the scribe and the illuminator created an extremely fine and beautiful book, written with elegance from beginning to end, sparing no luxurious material.
%3Cdiv%20class%3D%22artist%22%3E%3Cspan%20class%3D%22artist%22%3E%3Cstrong%3EGiovanni%20Marco%20Cinico%20%28scribe%29%2C%20Cola%20Rapicano%20%28illuminator%29%3C%2Fstrong%3E%3C%2Fspan%3E%3C%2Fdiv%3E%0D%3Cdiv%20class%3D%22title%22%3E%3Cem%3EThe%20Wonders%20of%20the%20World%20from%20the%20Library%20of%20the%20King%20of%20Naples%3C%2Fem%3E%2C%201475%3C%2Fdiv%3E%0D%3Cdiv%20class%3D%22medium%22%3EIlluminated%20manuscript%20on%20vellum.%3C%2Fdiv%3E%0D%3Cdiv%20class%3D%22dimensions%22%3E243%20x%20165%20mm.%20%E2%80%93%20189%20leaves%2C%2051%20large%20white%20vine%20initials%2C%202%20leaves%20surrounded%20by%20foliate%20borders%2C%20one%20with%20the%20coat%20of%20arms%20of%20Ferdinand%20I%20of%20Aragon%2C%20King%20of%20Naples%3C%2Fdiv%3E%3Cdiv%20class%3D%22price%22%3ESold%3C%2Fdiv%3E
Solinus' collection of 'memorable things', also known as 'On the wonders of the World'
Overview
This work is now sold.
In this compilation of geographical knowledge, the 3rd-century Roman author Solinus successfully bridged popular and didactic literature. Without sparing material, the scribe and illuminator together created an extremely fine and beautiful book. Though at times delivering a more elegant than accurate text, Giovanni Marco Cinico was a highly appreciated copyist who became the royal 'writer' and librarian at the Aragonese court in Naples. In various projects, he collaborated with Cola Rapicano, the official illuminator in Naples from 1451 to 1488. He added the illumination of large white vine initials and the full-borders on the opening page, including peacocks, rabbits, and putti holding the coat of arms of Ferdinand I of Aragon, King of Naples. Two roundels formed of dolphins contain as of yet unexplained symbolic emblems: an erupting sun set on water (perhaps referring to the author's name?) and a wooden instrument, possibly a nautical cross staff, encircled by a text-scroll, inscribed: "extremos aboresser" (to shrink back from, to dislike extremes or free from extremes). The instrument is first described by the Provencal-Jewish mathematician, Levi ben Gershom (also known as Gersonides, 1288-1344) and is known also as balastella or fore-staff (see for this our coming blog).
The Collectanea of 'memorable things' is also known as the De mirabilibus mundi (wonders of the world), and, more straightforwardly, as Polyhistor. It was written by Caius Iulius Solinus, a Roman grammarian, compiler, and geographer, who was active in the 3rd century. Given his dedication of the book to Adventus, the Roman consul in 218, his work can likely be dated to the first decade of the 3rd century. The text is a catalogue of curiosities in the form of a compact history of the ancient world, borrowing mostly from Pliny's encyclopaedic Naturalis Historia (d. 79 AD) and Pomponius Mela's De situ orbis (c. 43 AD). It begins with the origin of Rome and goes as far as describing features of India but also includes the Canary Islands (Canaria plena canaribus, in the Atlantic Ocean before the coast of Mauretania), which had been known since Antiquity.
The book proved extremely popular throughout late Antiquity, the Middle Ages, and the Renaissance. The success of this work was enormous and Solinus was long seen as 'the chief Latin geographer'. Many 4th- and 5th- century travellers' tales derive from his texts. Given the importance of this work over many centuries, the neglect it received in modern times is surprising and undeserved. Each chapter of the present manuscript is preceded by intricate white vine initials – Florentine in inspiration but Neapolitan in execution, and characteristic of Cola's style. The hooded-eyed, angular-buttocked little putti in the borders of the opening leaf of the text are clearly related to those in his other works.
Read more about this manuscript in our blog post on the devices, and in our series of blog posts on travelling.
Back to list