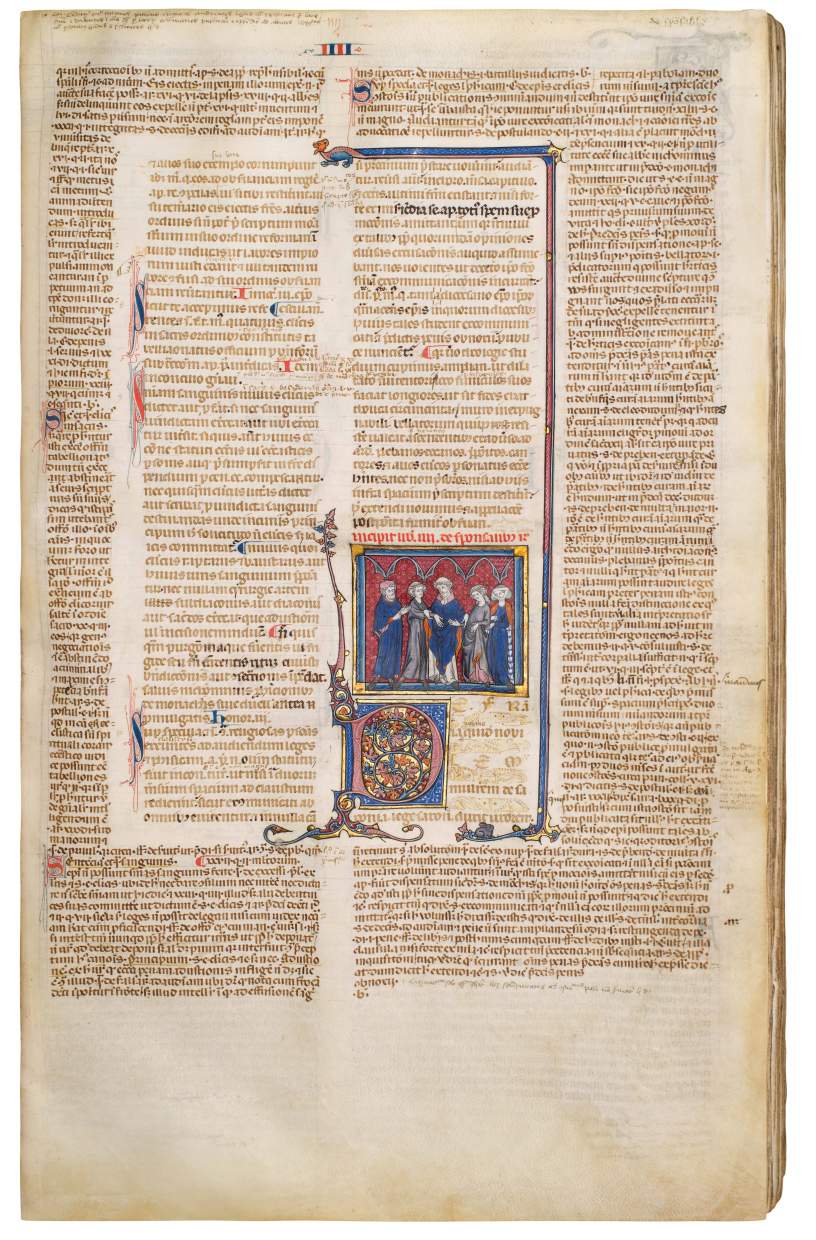 Close
1
/
12












Fascinating Illumination in this Comprehensive Compilation of Canon Law
Workshop of Maître Honoré
,
France, Paris
,
1281-1300
This legal codex includes: Gregory IX, "Decretales", edited by Raymond of Peñafort, with the "Glossa ordinaria" of Bernard of Parma – Gregory X, "Constitutiones novissimae", with the gloss of Johannes Garsias Hispanus, and seven further legal texts. With five miniatures by Maître Honoré, and decorated throughout in his workshop..
This work is now sold.
%3Cdiv%20class%3D%22artist%22%3E%3Cspan%20class%3D%22artist%22%3E%3Cstrong%3EWorkshop%20of%20Ma%C3%AEtre%20Honor%C3%A9%3C%2Fstrong%3E%3C%2Fspan%3E%3C%2Fdiv%3E%0D%3Cdiv%20class%3D%22title%22%3E%3Cem%3EFascinating%20Illumination%20in%20this%20Comprehensive%20Compilation%20of%20Canon%20Law%3C%2Fem%3E%2C%201281-1300%3C%2Fdiv%3E%0D%3Cdiv%20class%3D%22medium%22%3EIlluminated%20manuscript%20on%20vellum.%3C%2Fdiv%3E%0D%3Cdiv%20class%3D%22dimensions%22%3E440%20x%20270%20mm.%20%E2%80%93%20283%20leaves.%20With%20five%20column-wide%20miniatures%20in%20colours%20and%20gold%2C%20three%20historiated%20initials%20and%20eight%20large%20foliate%20initials.%3C%2Fdiv%3E
Grand and imposing: illuminated by Maître Honoré
Overview
This work is now sold.

See our video presentation of this manuscript here.
Imposing legal codices were mainly used for study and education, but the high quality of decoration of this book suggests this was an important and expensive commission. It was possibly ordered by a high-ranking cleric for personal use or it was made as a special gift. It was copied in the university milieu of Paris and then decorated by Maître Honoré who ran the most important Parisian workshop of the time.
The book opens with the Decretales promulgated by Pope Gregory IX in 1234. It was the first official compilation of canon law since the Decretum Gratiani (c. 1140) and consisted of five books. Next follow twelve more treatises; the most recent referring to 1281.
The marvelous miniatures show: f. 1r: Pope in the middle of his counsellors pointing at his book, and: Initial G: Scholar at lectern contemplating his work – f. 65r: Dominican monk and clerics discussing the case of a lady holding a sealed charter, and: Initial D: Scribe writing – f. 123r: Expulsion of a laic from the liturgical space during mass – f.178r: Marriage ceremony by joining right hands – f. 195r: Pope judging the case of an abbot – f. 272r: Initial S, Cardinal at lectern.
These refined miniatures are a joy to the eye! Created in delicate lines, the narratives include the finest details in figures, gestures and attributes. The faces of this illuminator's characters display a typical expression, harmoniously structured with few red or rose tones highlighting lips or cheeks. Features and hair are rendered with fine pen-strokes, while the graceful hands are quite expressive. The artist's shaping of the clothing, with soft folds and subtle shades and covering slender bodies, is remarkable. All of these details indicate the hand of the famous illuminator Maître Honoré and his workshop in Paris. Throughout the codex and until the end, the manuscript contains decorated initials added in the same workshop. The present manuscript is a newly discovered witness of illumination of legal codices that can be associated with Maître Honoré and his collaborators,
Such grand legal codices are exciting objects. Made for use, texts were supplemented, added to, cancelled and deleted. This book belonged to a certain Johannes de Castex who twice added his note of ownership, but lhe may not have been the first owner. Being a canonist, he added a number of sophisticated glosses (comments) in and above the texts and in the margins – among others those by Johannes Andreae, which date to the first quarter of the 14th century. Castex's name indicates that he came from the region of the Langue d'oc, but he remains as of yet unidentified. Possibly he was connected to the Papal Curia that resided in Avignon from 1309. This book is a fascinating testimony to the world of art and law in late 13th century Paris and beyond.
Read more about this manuscript in our Spotlight.
Back to list