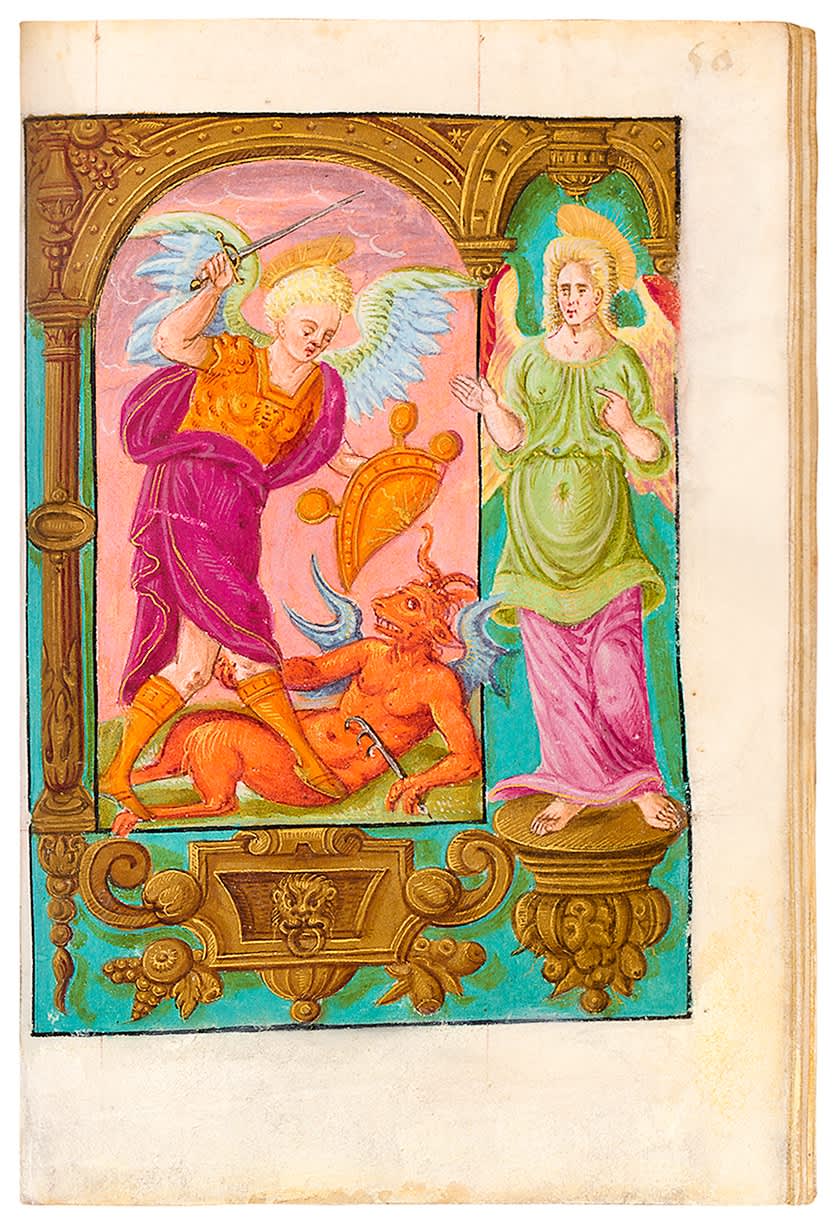 Close
1
/
4




Preparations before Mass for priests as well as lay people
Pieter Engel
,
Flemish Brabant, Heverlee abbey (near Louvain)
,
1582
Made 1582, at Heverlee Abbey (near Louvain) by Petrus Angeli or Pieter (van) Engel(s) perhaps for himself or as a presented 'masterpiece' to illustrate his abilities, made during the lifetime of Philip III of Croy (d. 1595), for the memorial of the Knight of the Golden Fleece depicted on fol. 45.
%3Cdiv%20class%3D%22artist%22%3E%3Cspan%20class%3D%22artist%22%3E%3Cstrong%3EPieter%20Engel%3C%2Fstrong%3E%3C%2Fspan%3E%3C%2Fdiv%3E%0D%3Cdiv%20class%3D%22title%22%3E%3Cem%3EPreparations%20before%20Mass%20for%20priests%20as%20well%20as%20lay%20people%3C%2Fem%3E%2C%201582%3C%2Fdiv%3E%0D%3Cdiv%20class%3D%22signed_and_dated%22%3ESigned%20in%20the%20colophon%20and%20dated%3C%2Fdiv%3E%0D%3Cdiv%20class%3D%22medium%22%3EIlluminated%20manuscript%20on%20vellum.%3C%2Fdiv%3E%0D%3Cdiv%20class%3D%22dimensions%22%3E100%20x%2065%20mm.%20%E2%80%93%2075%20leaves%2C%20with%201%20six-line%20miniature%2C%208%20painted%20heraldic%20representations%2C%201%20historiated%20initial%2C%2034%20ornamented%20frames%2C%2029%20of%20which%20historiated%2C%2016%20full-page%20illuminated%20miniatures.%3C%2Fdiv%3E%3Cdiv%20class%3D%22price%22%3ESold%3C%2Fdiv%3E
Small and most interesting memorial for the Croy family, made at Heverlee
Overview
The contents are best described as a prayer book for the use of a man, probably a priest, perhaps brother Petrus Angeli himself. The texts reflect devotional practices and some of the functions of a priest. It is a comprehensive collection, including about thirty or more prayers, organized – following introductory pages and calendar – with prayers grouped according to their type. These focus on Mass and Communion, on the Virgin Mary, and on the Passion followed by Suffrages to various saints.
The calligrapher and illuminator of the present manuscript, who prepared his texts and painting on mostly quires made of two bifolia, must have been trained professionally and shows himself to be a qualified artisan. He proclaimed his name in the colophon heading the booklet (fol. 6v) as a professed monk at the Celestine abbey at Heverlee: Scripsit et pinxit f[rater] Petrus Angeli professione & ordine coelestinorum prope Lovanium, or: 'written and painted by brother Pieter Engel, professed and of the order of Celestines near Louvain'.
This work is now in the collection of the Universiteitsbibliotheek in Leuven, where it has been fully digitised. Access to the work can also be gained on the FLANDRICA.be site.
Back to list