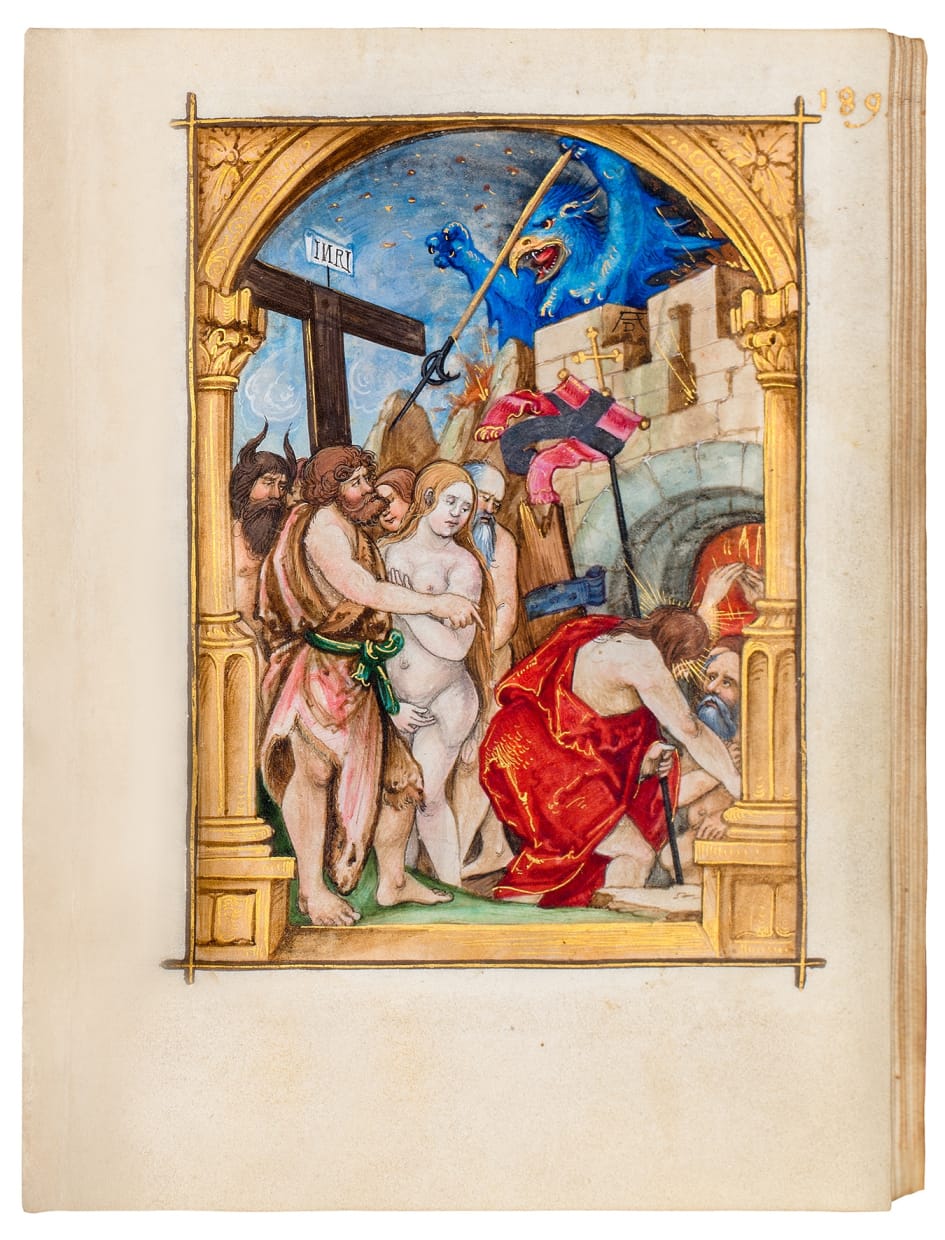 Close
1
/
8








Passio Christi
Nikolaus Glockendon
,
Germany, Nuremberg
,
1521
Bright, colourful manuscript in German, written by the Nuremberg scribe IL and illuminated by Renaissance master Nicholas Glockendon, a friend of Albrecht Dürer who used Dürer's printed Small Passion series for inspiration.
%3Cdiv%20class%3D%22artist%22%3E%3Cspan%20class%3D%22artist%22%3E%3Cstrong%3ENikolaus%20Glockendon%3C%2Fstrong%3E%3C%2Fspan%3E%3C%2Fdiv%3E%0D%3Cdiv%20class%3D%22title%22%3E%3Cem%3EPassio%20Christi%3C%2Fem%3E%2C%201521%3C%2Fdiv%3E%0D%3Cdiv%20class%3D%22signed_and_dated%22%3Edated%201521%3C%2Fdiv%3E%0D%3Cdiv%20class%3D%22medium%22%3EIlluminated%20manuscript%20on%20vellum%3C%2Fdiv%3E%0D%3Cdiv%20class%3D%22dimensions%22%3E134%20x%2094%20mm.%20%E2%80%93%204%20%2B%20201%20leaves.%20With%2023%20full-page%20inserted%20miniatures.%3C%2Fdiv%3E
Glockendon's colourful masterpiece, modelled after Dürer's Small Passion series
Overview
The work of Nikolaus Glockendon of Nuremberg (c. 1490/95-1533/34) is generally considered among the masterpieces of German Renaissance art. He was the foremost German illuminator of his generation, and belonged to a family of Nuremberg artists who – for at least three generations – worked in illuminated manuscripts and other artistic media. His ability as a colourist was famous, achieving 'a sense of celebration through shading, gold highlights, and bright hues'. The significance of his miniatures can be measured in the artistic context of Nuremberg, more specifically of Albrecht Dürer, whose Small Passion series of woodcuts were model for the present miniatures. Compared to Dürer's woodcuts, Nikolaus Glockendon made his figures more corpulent and his rounder faces have softer physiognomies. He applied a wide range of expressive colours and added subtle gradations of shadings and fine hatching. Dürer's trademark signature AD on ten of the miniatures, however, were probably added later in the 16th century.

Back to list