Artworks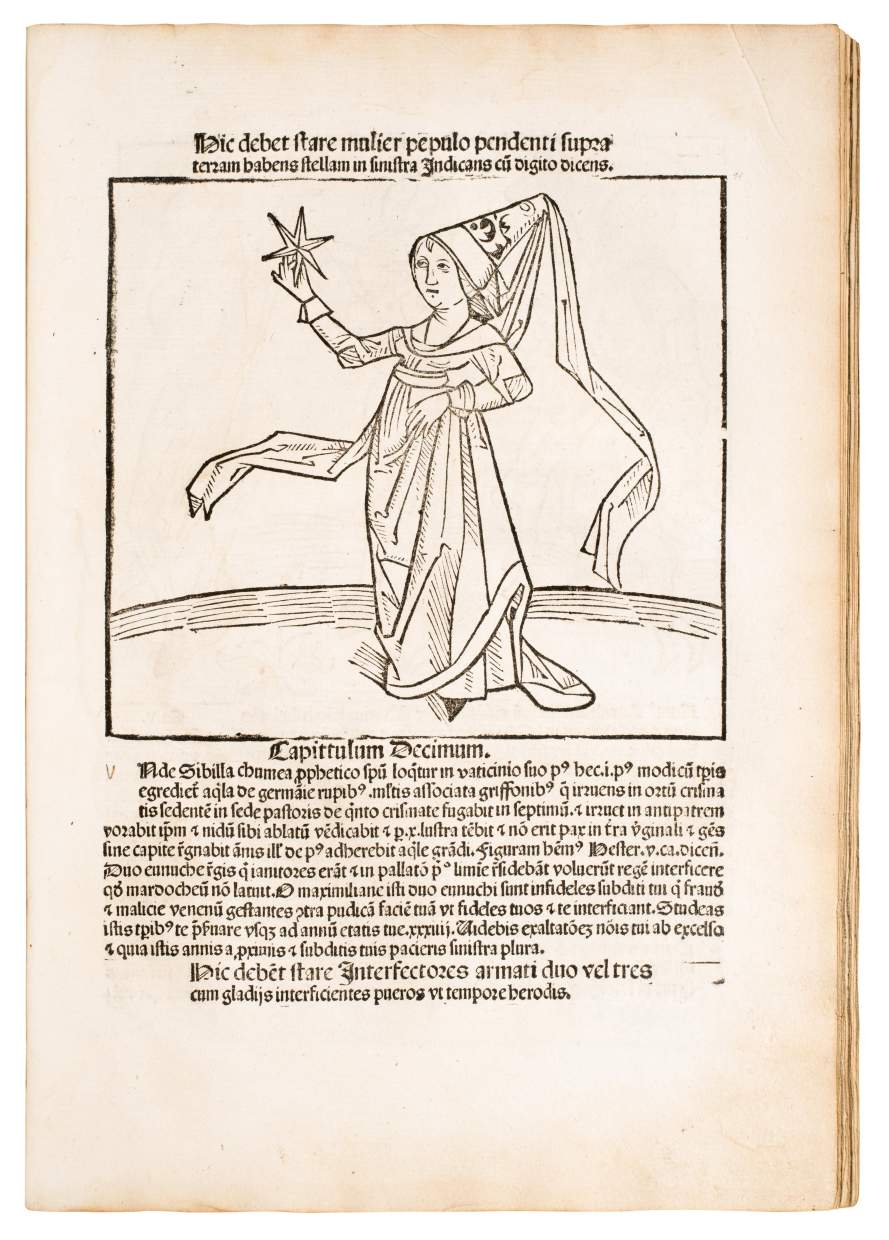 Close
1
/
4




Prognosticatio in Latino
Germany, Heidelberg
,
Heinrich Knoblochtzer
,
after 1 April 1488
The 'Prognisticatio', an astrologico-prophetic treatise, clearly reflects the hopes and fears characteristic of the late Middle Ages.
This work has been sold.
%3Cdiv%20class%3D%22title%22%3E%3Cem%3EPrognosticatio%20in%20Latino%3C/em%3E%2C%20after%201%20April%201488%3C/div%3E%0D%3Cdiv%20class%3D%22medium%22%3EIncunable%2C%20First%20Edition.%3C/div%3E%0D%3Cdiv%20class%3D%22dimensions%22%3E290%20x%20207%20mm.%20-%2038%20leaves%2C%20with%2045%20woodcut%20illustrations.%3C/div%3E
Popular medieval astrological treatise
Overview
The author of the famous Prognisticatio was the astrologer and prophet Johannes Lichtenberger (c. 1440-1503). He began his career with a treatise on a comet visible in 1468, made horoscopes for several princes, and became court astrologer to Emperor Frederick III around the middle of the 1470s.
The present Prognosticato is dated on 1 April 1488 on leaf F8. Lichtenberger made his predictions based particularly on the conjunction of Jupiter and Saturn that happened under the sign of Scorpio in November 1484. Following an elaborate introduction on astrology and prophecy, the three parts of the work deal with the fate of the Church, the Empire and the laity, concerning German politics, clerical reforms, threat of the Turks, failures of morality, and makes predictions up to the year 1576.
The Prognosticatio was highly influential and gained widespread popularity over the centuries. Shortly after the present first edition in Latin, Knoblochtzer printed an edition in German, followed by publications in Mainz using the same woodcuts in 1492.
The attractive woodcuts follow closely the instructions given by Lichtenberger in captions. It was probably his intention that the illustrations of his prophecies should be striking enough to impress the reader. They depict several prophetical authorities as in the first woodcut with five figures who have received divine inspiration: Ptolemy, Aristotle, the Cumaean Sibyl, St. Bridget, and Reinhard the Lollard. Further woodcuts show St. Bridget, Sibyl, Joachim de Fiore, St. Cyril, and also the author. There are woodcuts referring – allegorically or literally – to the content of the prophecies, the three estates in society, conflicts between dioceses, monasterial life, papal reforms, false bishops as well as false prophets, kings and battles, preachers and their audience, symbolic animals and trees, etc.
Read more about this book in our Spotlight.
Back to list