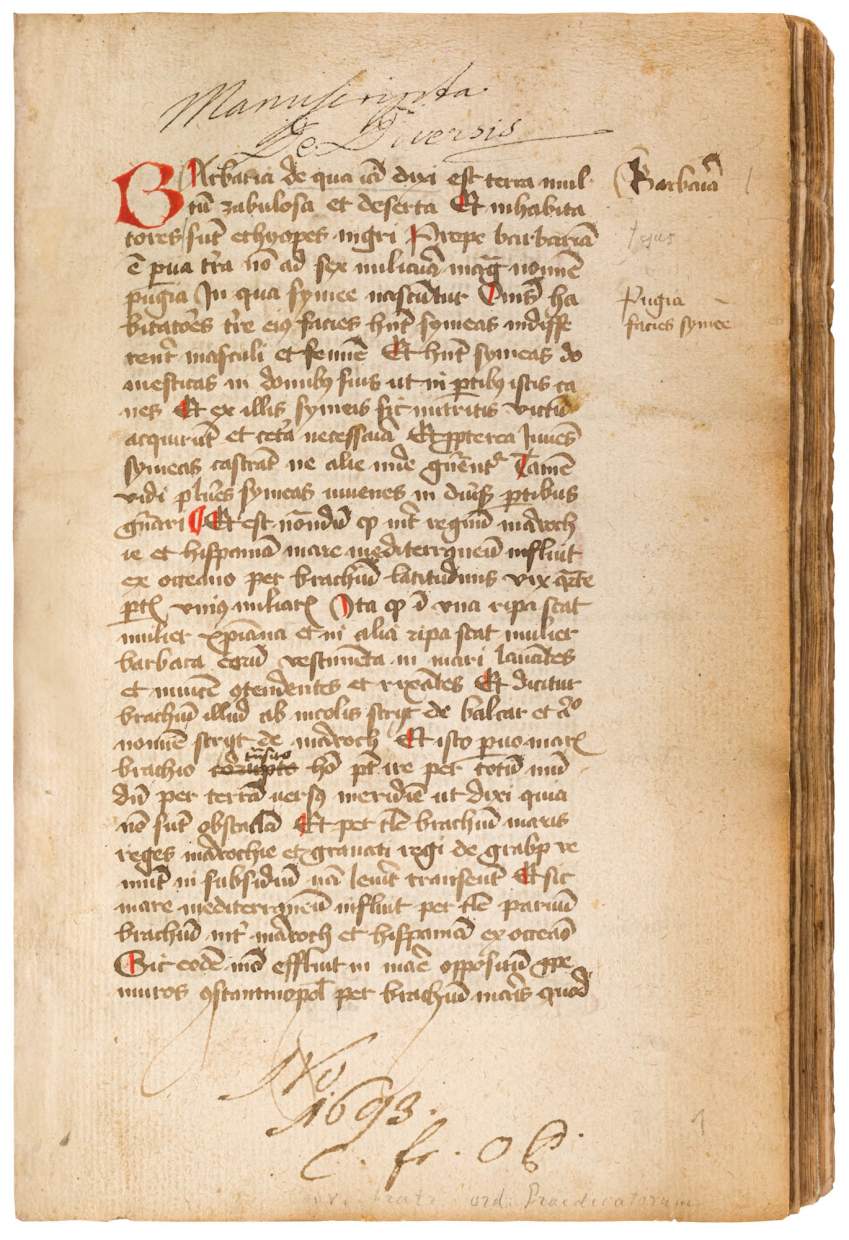 Close
1
/
1

Unique Pilgrim's Guide - De Itinere Terrae Sanctae and others
Frankfurt/Main (?)
,
c. 1470-80 and 16th century
Late medieval Sammelband which once comprised a little more than 100 leaves. The central part of this volume consists of three 14th-century pilgrim texts, written by one hand with numerous abbreviations. Contemporary binding of half-pig leather on oak boards.
€ 85'000.00 (VAT not included)
%3Cdiv%20class%3D%22title%22%3E%3Cem%3EUnique%20Pilgrim%27s%20Guide%20-%20De%20Itinere%20Terrae%20Sanctae%20and%20others%3C/em%3E%2C%20c.%201470-80%20and%2016th%20century%3C/div%3E%0D%3Cdiv%20class%3D%22medium%22%3EManuscript%20in%20Latin%20and%20German%20on%20paper.%3C/div%3E%0D%3Cdiv%20class%3D%22dimensions%22%3Ec.%20210%20x%20140%20mm.%2083%20%28of%20originally%20around%20103%29%20leaves%3C/div%3E
An unusual combination of texts documenting perilous adventures
Overview
This collection of early pilgrim literature has been conveyed in an almost complete copy, with a rare text included which only survives in this manuscript. The volume may have been intended as a pilgrim's guide, with a number of blank pages leaving room for owner's notes. As well as fascinating tales of adventures in unknown lands, the manuscript also includes a calendar of edible winter fish, a recipe for gelatine, and remedies for the Black Death. The first text, De itinere terrae sanctae, documents the author's journey to the Holy Land in 1336-41, visiting Sicily, Rhodes, Cyprus, and Egypt on his way.
A vast number of these travelogues have been "read to shreds" and are gone for good. This compendium had been described in the late 19th century and was long-lost until the present. Luckily, it is still preserved in its original binding.
Back to list