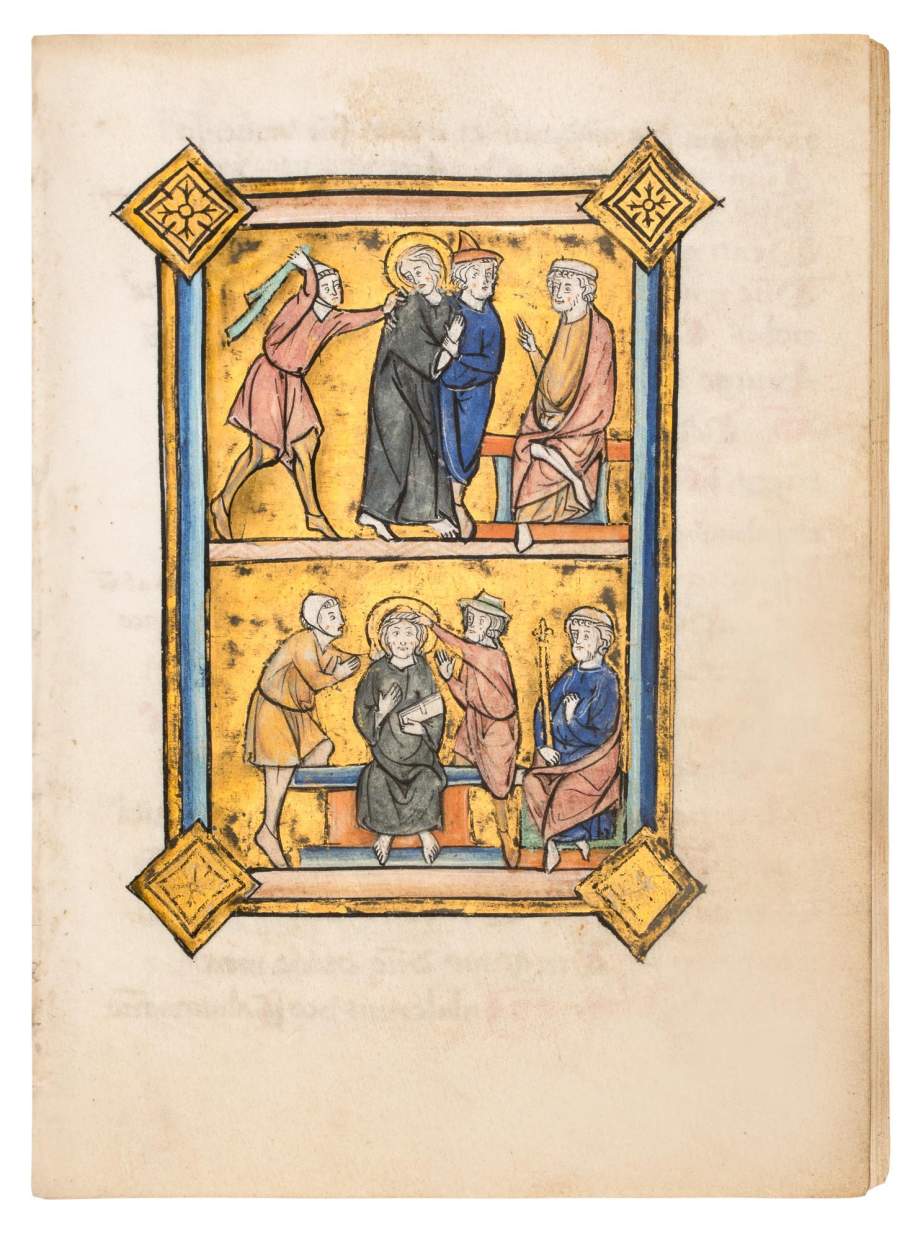 Close
1
/
6






Donaueschinger Psalterstundenbuch
Brabant, Brüssel (?)
,
c. 1250-75
This lavishly illuminated codex belongs to the intermediate period in the development of the Psalter and the Book of Hours when the offices around the Hours of the Virgin were gradually becoming more important than the Psalter itself.
Price on request.
%3Cdiv%20class%3D%22title%22%3E%3Cem%3EDonaueschingen%20Psalter%20and%20Book%20of%20Hours%3C%2Fem%3E%2C%20c.%201250-75%3C%2Fdiv%3E%0D%3Cdiv%20class%3D%22medium%22%3EIlluminated%20manuscript%20on%20vellum.%3C%2Fdiv%3E%0D%3Cdiv%20class%3D%22dimensions%22%3E131%20x%2095%20mm.%20%E2%80%93%20316%20leaves.%20With%2013%20historiated%20initials%2C%2012%20calendar%20illustrations%20and%207%20full-page%20miniatures%20%28in%20two%20registers%29.%3C%2Fdiv%3E
Overview
Diese grosszügig illuminierte Handschrift stammt aus einer Übergangsepoche in der Entwicklung von Psalter und Stundenbuch, als die Stundengebete zum Marienoffizium nach und nach wichtiger wurden als der eigentliche Psalter. Der Kalender in diesem bemerkenswerten Brabanter Psalter-Stundenbuch enthält viele Maasländische Heiligenfeste und feiert Gudula von Brüssel, Gummarus von Lier und Waldetrudis von Mons. Die eleganten Miniaturen zur Passion bestehen jeweils aus zwei Szenen.
Die Handschrift wurde später für Augustinischen Gebrauch in Köln angepasst, möglicherweise das Kloster St. Maria Magdalena zu den Weissen Frauen. Im 19. Jahrhundert erwarb einer der bibliophilen Fürsten von Fürstenberg das Buch für die Hofbibliothek in Donaueschingen.
Back to list