Artworks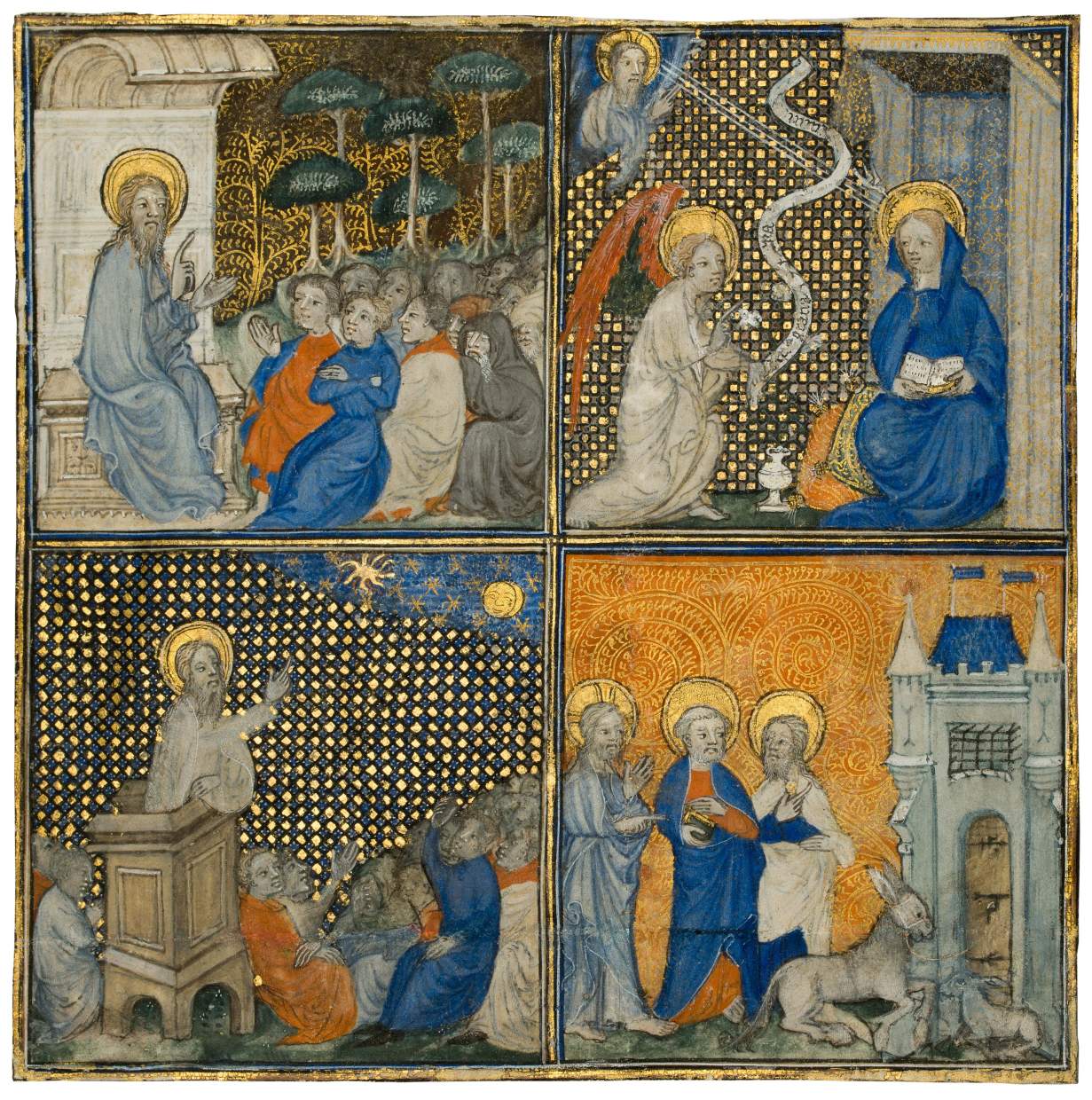 Close
1
/
1

Paulus predigt den Römern und drei weitere Szenen
Meister des Polycratus
,
Frankreich, Paris
,
c. 1380-1390
Vier Szenen aus einem französischen Lektionar: Paulus predigt den Römern – Verkündigung – Paulus predigt den Korinthern – Christus sendet zwei Jünger aus, einen Esel zu holen. Verso: Römerbrief 13, 11-14, französisch.
This work has been sold.
%3Cdiv%20class%3D%22artist%22%3E%3Cspan%20class%3D%22artist%22%3E%3Cstrong%3EMaster%20of%20the%20Polycratus%3C/strong%3E%3C/span%3E%3C/div%3E%0D%3Cdiv%20class%3D%22title%22%3E%3Cem%3EPaul%20preaching%20to%20the%20Romans%20and%20three%20other%20scenes%3C/em%3E%2C%20c.%201380-1390%3C/div%3E%0D%3Cdiv%20class%3D%22medium%22%3EMiniature.%20Tempera%2C%20ink%2C%20gold%20and%20silver%20on%20vellum.%20%3C/div%3E%0D%3Cdiv%20class%3D%22dimensions%22%3E111%20x%20109%20mm%3C/div%3E
Overview
This miniature was part of an illuminated manuscript of the Epîtres et Évangiles de tout l'an, the Gospel Lectionary in the French vernacular, containing the biblical lessons for Sundays and feast days. Such collections of Bible texts were intended for the use by the lettered laity.
The fine illustrations on our leaf can be attributed to the Parisian Master of the Polycraticus named after a manuscript of Jean of Salesbury's Policraticon (BnF, ms. fr. 24287), which was made for Charles V in 1372. This master's earliest activity is documented in 1366, while his last work is datable to 1402. He was a much sought after artist, not only by Charles V and his brother Jean, duke of Berry. His workshop also illuminated manuscripts that were made for the open market.
Back to list