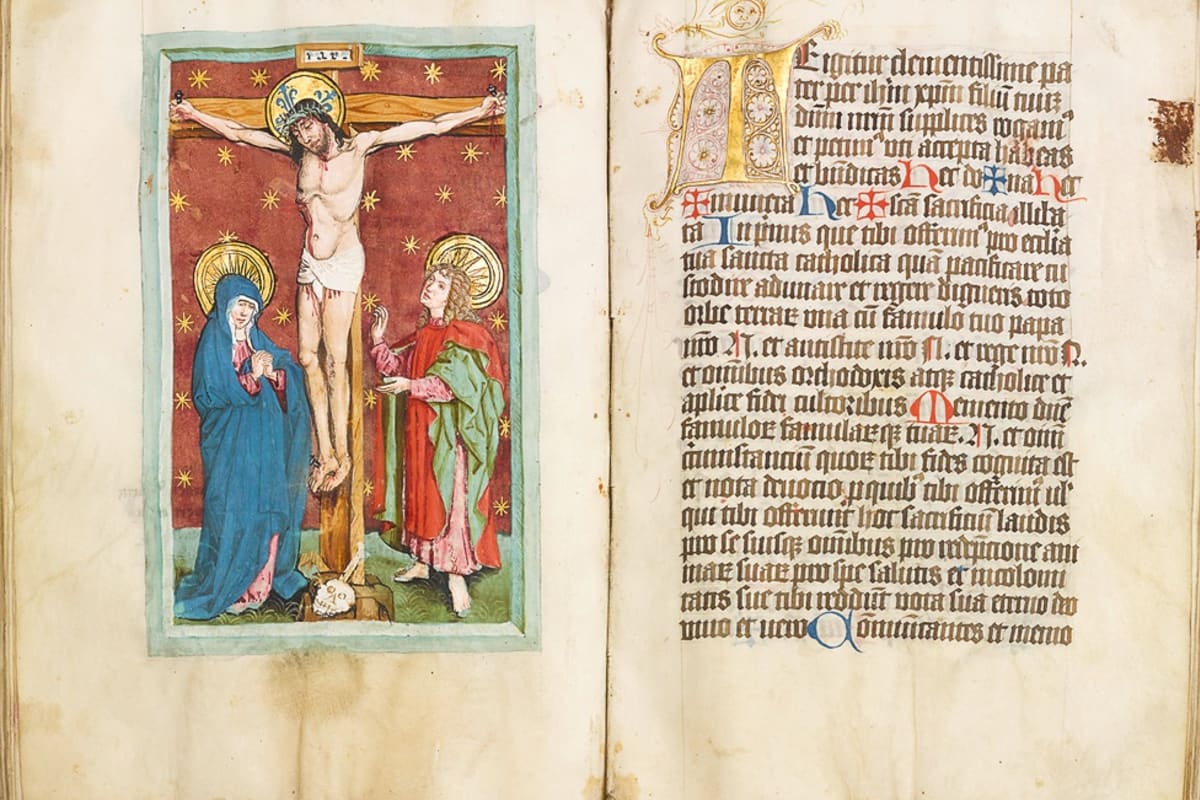 Researching medieval manuscripts is always a challenge and much fun. Over the years, several books came to me when I thought, "oh where could this be from?" In fact, that is the first thing a researcher does: ask questions. Yes, you take notes on the material of the manuscript you describe, you count quires and check leaves to see whether a book is complete. But as soon as you start looking at a manuscript questions come up. And one question leads to another and to more – and always to surprises.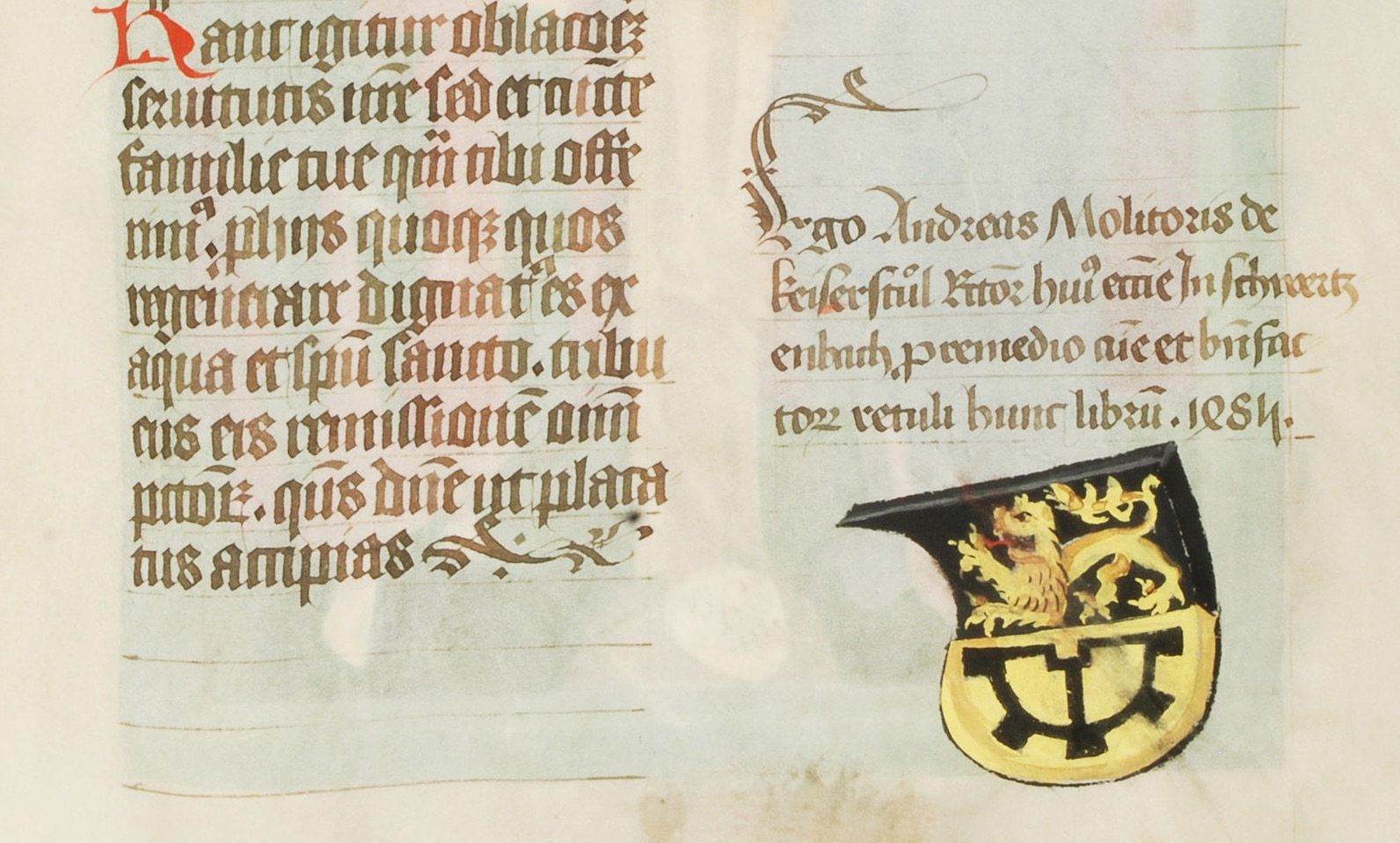 Coat of arms and inscription of the buyer
Missal in Latin, for use of Zürich. Manuscript on vellum. Zürich, dated and signed 1485.
---
When I received this manuscript, I soon noticed it was signed and contained a coat of arms, but nothing else was known of it. In the border on the second page (f. 2v) next to a decorated initial, there is a vignette with the year '1485', another vignette in the lower margin mentions: Johannes (abbreviated) Horwer. So a man named Johannes Horwer dated this book in 1485. Even though signed in gold, it is not a lavishly illuminated book – although it still has a fine, large Crucifixion miniature (345x 245 mm). In fact, the manuscript was damaged on some pages by water and moisture that affected the border decoration. However, as the codex is a Missal – a book used for daily service on the altar in a church – what could one expect? Likely, it was discarded after the Reformation and ended up, forgotten, in an attic. Missals in almost perfect condition hardly exist.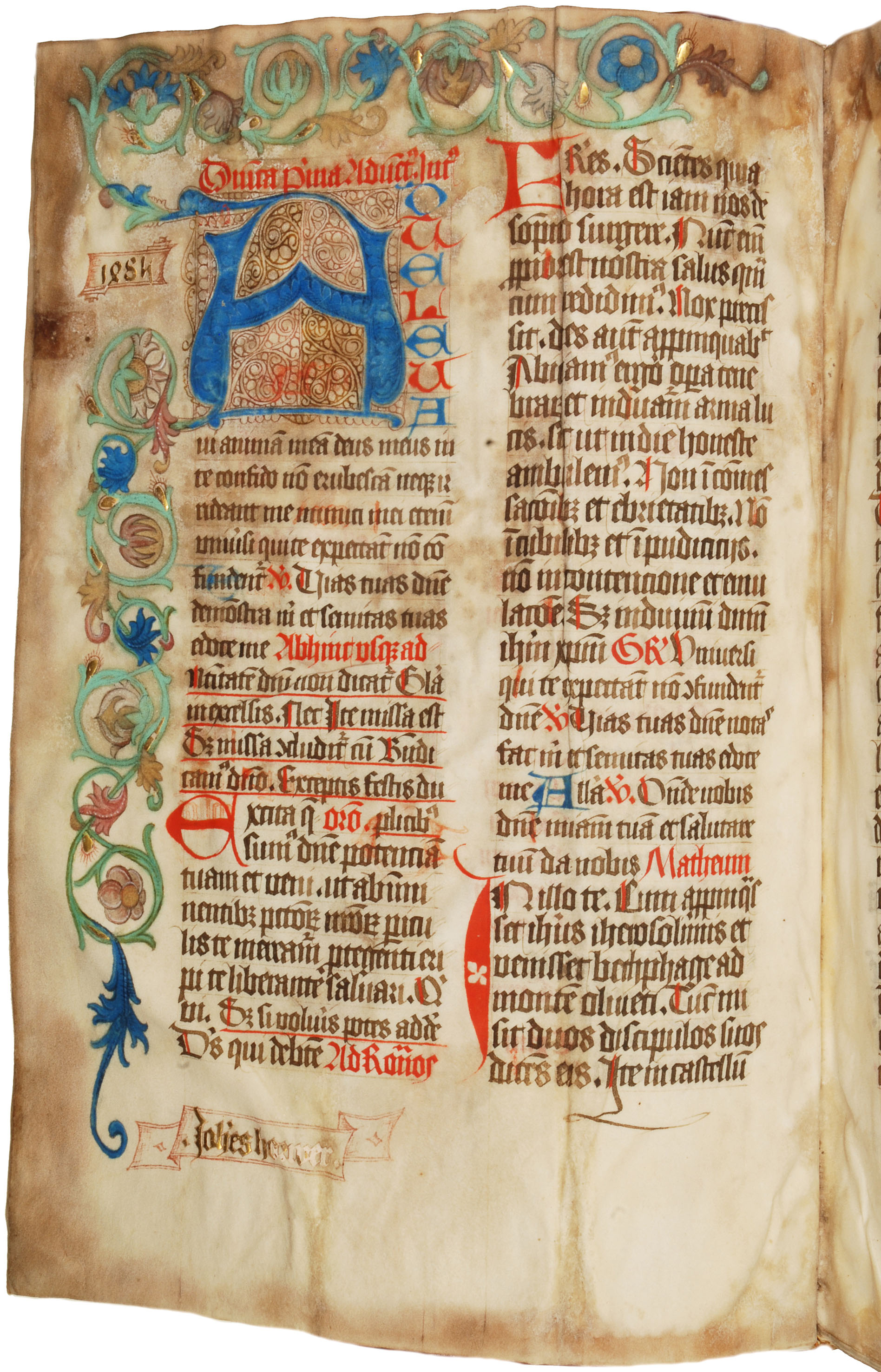 Decorated page with vignettes mentioning the name Johannes Horwer and the year 1485
---
But what was the history of the book signed by Johannes Horwer? Conspicuous in this Missal are texts devoted to saints celebrated in and near Zürich, such as SS. Felix and Regula (ff. 119v-121), supposedly members of the Legion of St. Maurice martyred near Zürich during the Roman persecutions. According to legend, their relics were discovered by Charlemagne, who then built a cathedral in their honour. They became the patron saints of Grossmünster. Zürich is lauded specially: O Thuregum Rome regum regale palacium, "O Zürich royal palace of the kings of Rome" (f. 120), urbs Thuregum famosa (f. 99). Also mentioned is St. Verena, the patron saint of the Zürich Beguines (f. 118v). She had accompanied the Legion but settled in Solothurn, Solodorum transcendit, after which she spent her last days in recluse near Zürich.
The Missal, however, was not made for use in Zürich but for a small parish nearby, as one can read in an inscription (f. 89r): Made for Andreas Molitor of Kaiserstuhl, rector of this church in Schwerzenbach. He b(r)ought the book for the health of his soul and added his coat of arms Per fess sable a lion or passant and or a demi waterwheel sable, so that no-one would forget him. In fact, this coat of arms still adorns the finest house in Kaiserstuhl on the Rhine, where Andreas likely was born.
Coat of arms of Molitor on a house in Kaiserstuhl 'am Hoch Rhein'
---
Since c. 1470 until before 1501, Andreas Molitor or Müller was 'Leutpriester' (= vicarius or subsitute) in Schwerzenbach, east of Zürich and incorporated in the Züricher Stadtstaat since 1402. Unfortunately, the entire town, including the church, was razed during the Old Zürich War in 1444. Restored, it still was a well-financed prebend and a much 'coveted' parish. However, the prebendary rarely took care of pastoral duties himself and appointed a vicarius instead. Such was the position held by 'rector' Andreas Müller or Molitor, who was in Schwerzenbach in lieu of the prebendary Herr Ulrich Fries, called Ammann. Documents mention Molitor in 1470, 1489, and 1493 (but a successor as 'Leutpriester' is cited 28 January 1501). Schwerzenbach adopted the Reformation in 1524, almost forty years after the creation of this manuscript.
Interestingly, it then turned out that Horwer wrote more books! One, I found in a catalogue of a Dutch private collection published in 2013. Horwer and his manuscript were incorrectly identified as Carthusian, but to his signature was added that he was "scriptor" (Heerenberg, Huis Bergh, ms. 15). That manuscript is so close in style and finishing, that we may assume they share a scribe as well as a decorator.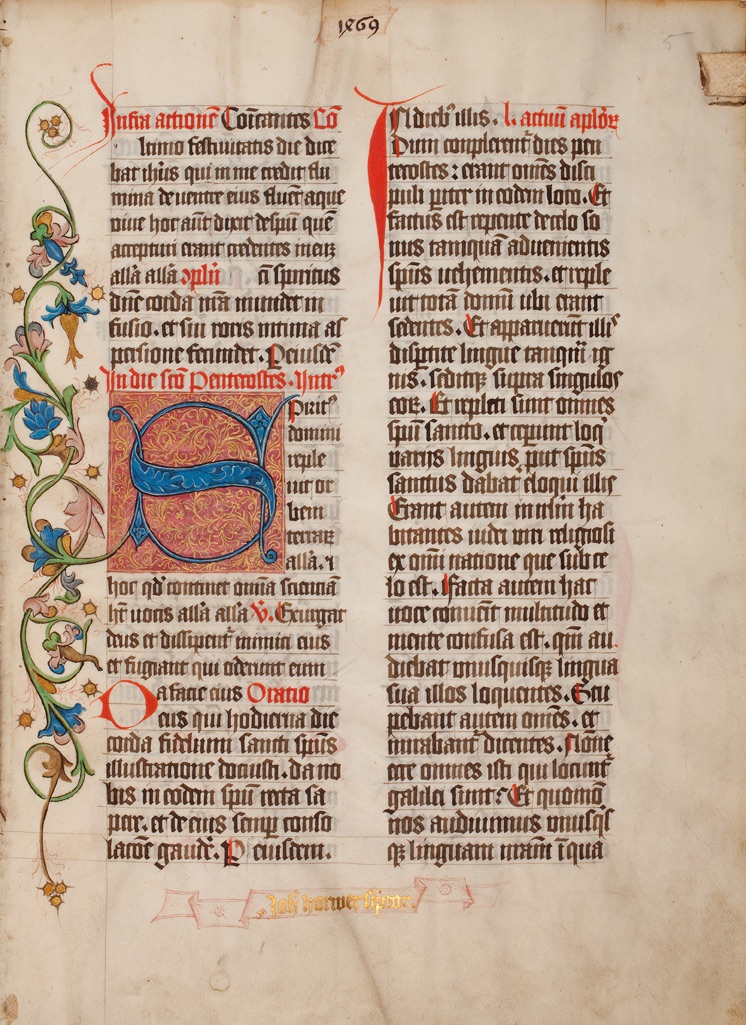 Page from the Horwer manuscript in Huis Bergh, s'Heerenbergh
---
The full-page Crucifixion miniature opening the Canon prayers in our Missal presents an imposing body of Christ, crucified on a tau-cross, flanked by the Virgin Mary and St. John Evangelist. The scene is depicted on a dark red ground filled with golden stars. At the foot of the cross, fixed in brown stone on a green meadow, is a white skull and bone referring to Adam. The faces of Christ and St. John, in addition to the drapery of the garments, flaunt the artist's considerable talent. Gold was used for halos and stars, hatching is in brown and lining in black ink. Some of the blue of the Virgin's robe and the purple background is slightly affected by moisture. The miniature shares so much similarity with the Crucifixion in the Missal now in s'Heerenbergh and copied by Horwer in 1469, that both also seem to be by the same hand. The texts imply that this most likely happened in Zürich.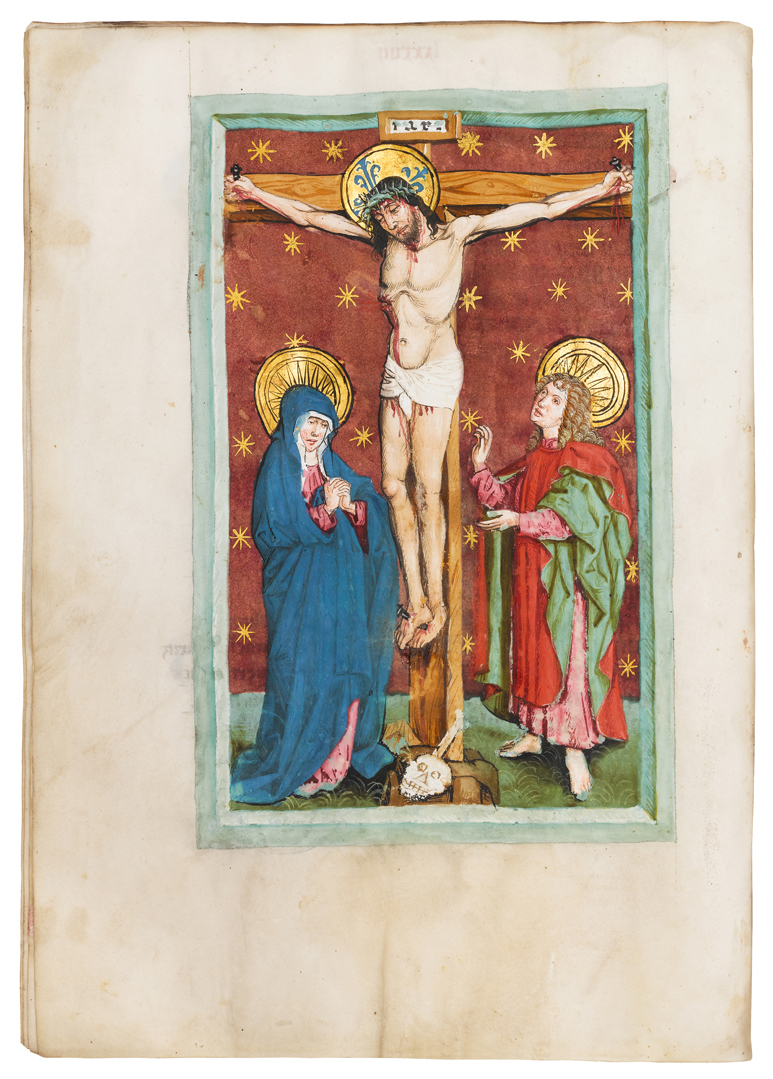 Crucifixion miniature in our Missal, painted in Zürich
---
And then comes in a curious coincidence. Or is it the researcher who continues to be curious and tries to find out more? Low and behold, months later, I found another reference written in Russian, with only one sentence in Latin, published in an article (1926), citing a Johannes Horwer as: "Johannes Horwer von Lichtensteig bürger Zürich" who copied a Gradual in 1475. At that time it was preserved in the State Library in Leningrad. Suddenly, it was then certain that Horwer was a citizen of Zürich and copied at least three books between 1469, 1475, and 1485.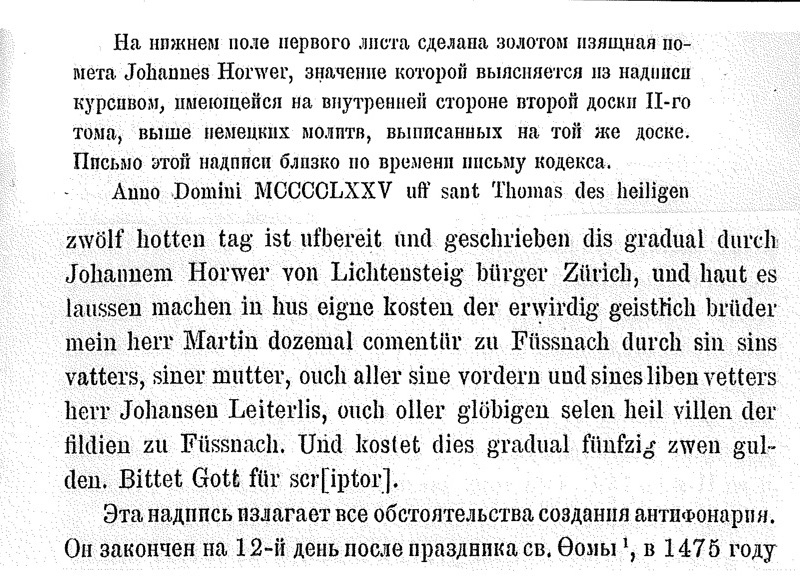 Citation of Horwer as citizen of Zürich in: O. Dobiasch-Roschdestwenskaja, 'Die Satire am Rande der mittelalterlichen Handschriften', in: Analecta Medii Aevi, I,
Leningrad 1925, pp. 49-61.
---
The present signed and dated illuminated Missal available at Dr. Jörn Günther Rare Books is an important addition to the medieval manuscripts made in Switzerland. Likely, Johannes Horwer copied more texts in the years in between. As it is signed, dated, and mentions its patron, our codex is an important historical document. Now, who will find more of Horwer's manuscripts? Please let us know!