The idea of the inverse world – where everyday laws are turned upside down and those who usually have to bow their heads and serve call the shots – reaches back to antiquity. The chasing away of winter, darkness, and evil spirits has been a tradition since ancient times.
But above all, Carnival as we know it today has its origins in the Middle Ages. The festival presents a last boisterous rising up before Lent takes its toll until Easter. Even the various regional names for the feast – Karneval (= carne vale "farewell meat!"), Fas (t) nacht (= the eve of Lent) – show that these days full of indulgence prepare people for the austerities of passiontide.
The feast of Shrovetide (or Mardi Gras) as we know it today, dates back to the 13th century and is based on the teachings of Augustine of Hippo (354-430 AD) in his work De Civitate Dei (The City of God). A famous illuminated manuscript copy of this text is kept in Macon, Bibl. Municipale, Ms. 1. This text was very popular during the Middle Ages and thus has been edited numerous times during the early years of bookprinting. One beautiful copy of this work in an Italian print from 1470 can be found in our collection.

Aurelius Augustinus, De civitate dei. Venice: Joh. & V. de Spira, 1470. Third or fourth edition of Augustine's most important work, the first printed in Venice. (Dr. J. Günther Rare Books)
Carnival stands, therefore, for the opposite, the civitas diaboli – the devil's realm. From the excesses and the lasciviousness that control these periods one can easliy imagine what would happen if the devil gained the upper hand and ruled the world.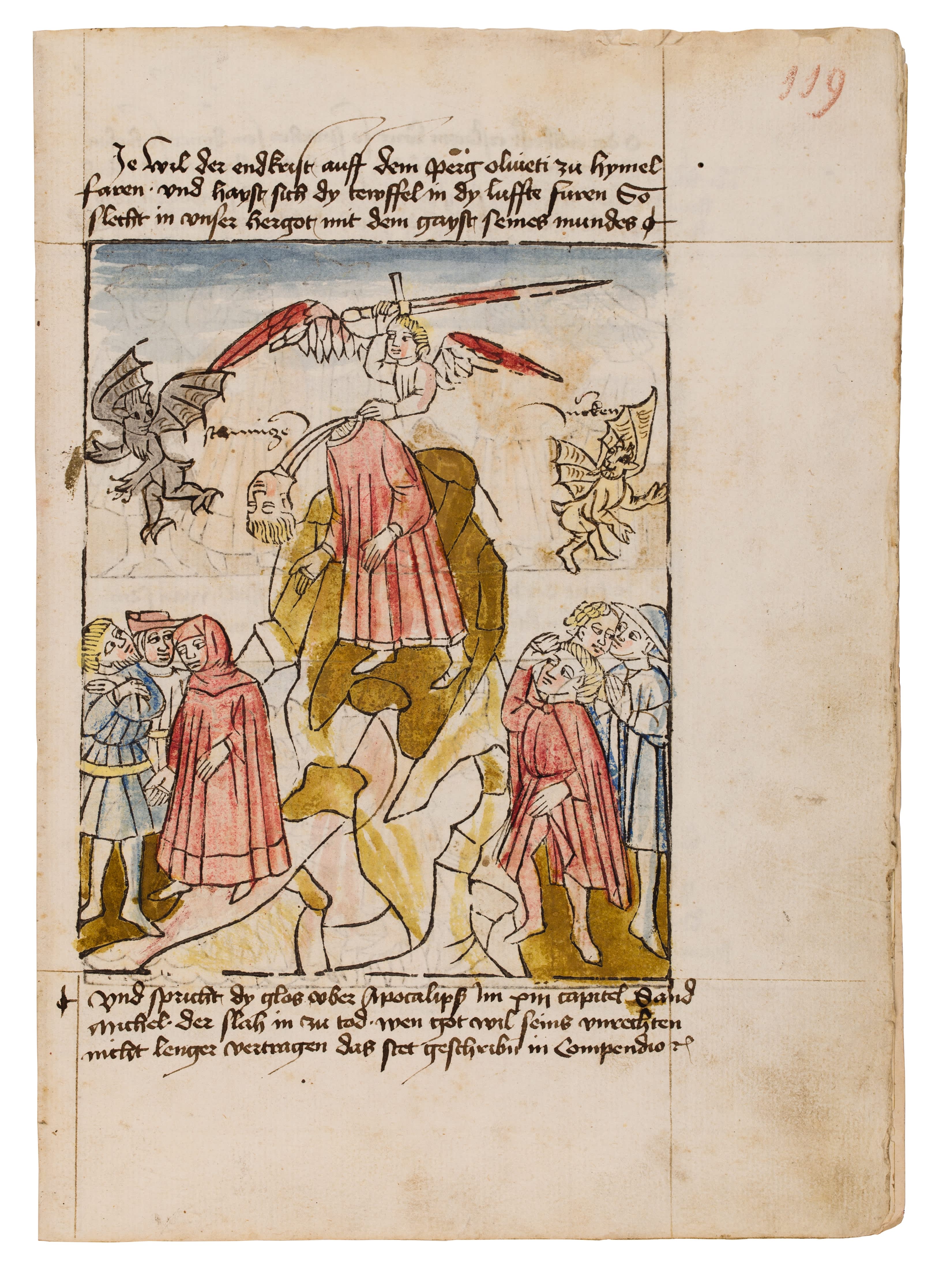 Der Antichrist und die fünfzehn Zeichen vor dem Jüngsten Gericht, Blockbook with manuscript text in German, [Franconia, Nuremberg?, c. 1450 (printing not after 1467)], first edition (Dr. J. Günther, sold)
As we can deduce from this example, the medieval world was strongly determined by polarisation. The bright, good, and exemplary obtrudes more vibrantly when displayed before the dark, evil, and obnoxious. Thus the medieval and Renaissance books in our gallery boast of allusions on this contradiction of the perfect and the deformed, between godliness and sin, devotion and shenanigans.
Hybrid musician from the Hachette Hours,

formerly Dr. J. Günther, now private collection
Mostly the margins were "unlegislated" areas, where the artists' phantasies could unfurl freely. Thus grotesque, scary, but also amusing creatures can be found mainly in the borders. We are reminded of these hybrids between human, animal, or plant that give us the shivers or make us laugh when we walk the streets these days during Fasnacht.
But see for yourself:
"I'm not sure if I am

happy at all with this jockey..."

"Neither am I!"
| | |
| --- | --- |
| | "Life can be so drab sometimes." |
"Seriously? Do you want to

insinuate that you could outrun me?"
A peculiar nightwatchman,

who is not in his best of moods.
| | |
| --- | --- |
| | "Look what I can do!" |
| Oops, perhaps a little too much information...! | |
| | |
| --- | --- |
| | |
| Just monkey business! No further comment! | |
| | |
| --- | --- |
| | "I am so tired of all this nonsense!" |