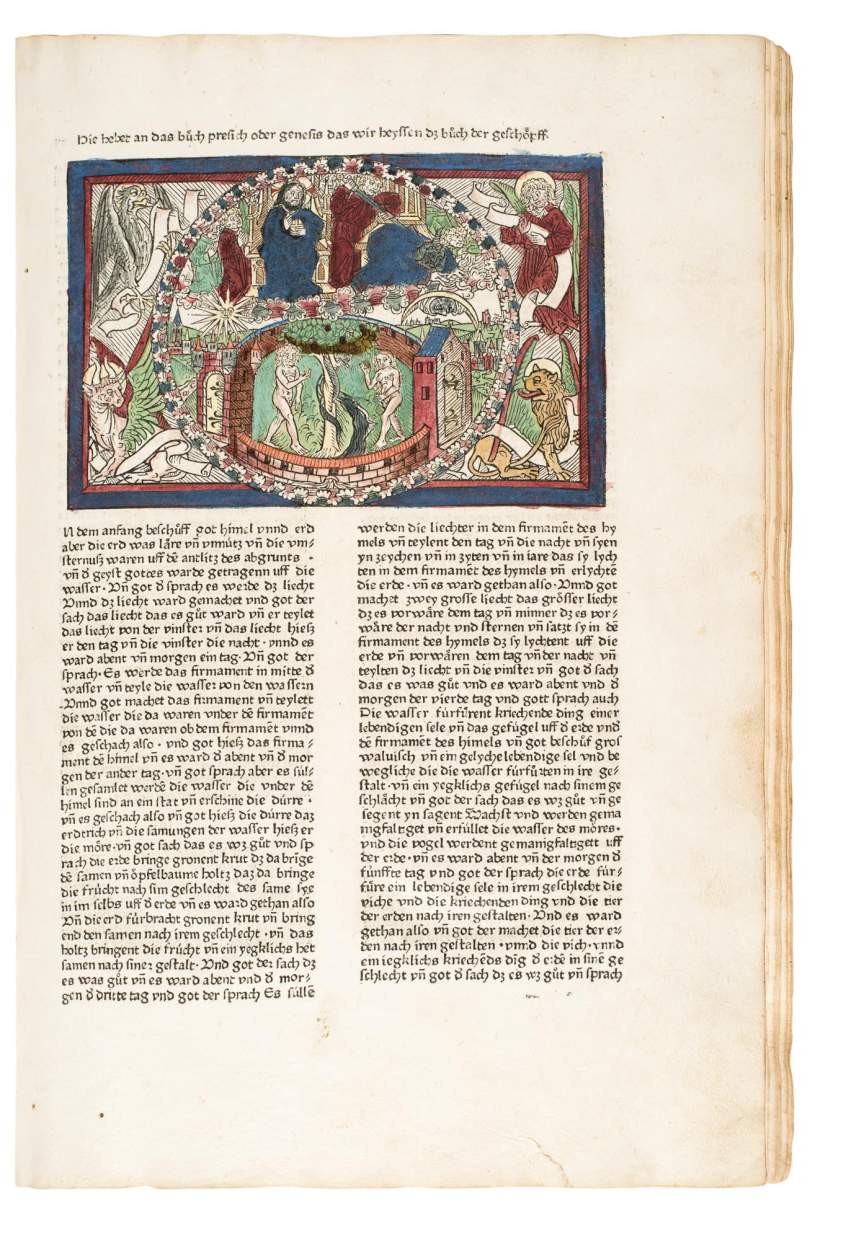 Close
1
/
3



Johann Sensenschmidt's German Bible
Nuremberg
,
Johann Sensenschmidt and Andreas Frisner
,
1476-1478
The fifth (third illustrated) Bible in German. The text still goes back to the first translation printed by Mentelin in Strasbourg in c. 1466. This fantastic edition contains beautifully carved woodcuts with contemporary colouring, all presented within a contemporary binding.
CHF 365'000,- (VAT not included)
%3Cdiv%20class%3D%22title%22%3E%3Cem%3EJohann%20Sensenschmidt%27s%20German%20Bible%3C/em%3E%2C%201476-1478%3C/div%3E%0D%3Cdiv%20class%3D%22medium%22%3EPrinted%20on%20paper.%20%3C/div%3E%0D%3Cdiv%20class%3D%22dimensions%22%3E407%20x%20278%20mm.%20With%201%20large%20woodcut%20and%2073%20historiated%20woodcut%20initials%20%28from%2057%20blocks%29%2C%20all%20with%20contemporary%20colouring.%3C/div%3E
Delicate colouring reveals the structure of the woodcuts
Overview
The large woodcut opens the Book of Genesis (f. 7r, 127 x 183 mm) with a peculiar subject in a sphere: God, witnessing the fall of Lucifer and his allies. Each book opens with a historiated initial. (c. 78 x 83 mm). Each of the seventy-three illustrations are coloured by a contemporary hand, which adds striking detail. The unusual position of the historiated woodcut initials within the text is remarkable. Traditionally the associated word follows at the upper right of an initial, but here the woodcuts occupy the entire width of a column and are set above the following text, even accepting a line break within the first word.
The two volumes are bound by the 'Salve-Master' from Memmingen (active c. 1474-1491). Each volume is bound in contemporary blind-stamped pigskin over wooden boards with two clasps, spine on four raised bands, with headbands of braided leather strips. The book block is unusually bevelled at foot of spine to give space for this headband. The covers are richly decorated with a total of thirty different tools, for example the four Evangelists, Christ's head, the moon's face, an eagle, a leaping dog, an acorn, a leaf, rosettes, stars, etc., and of course a Salve scroll, which gave the master his name.
This edition is extremely rare on the market: We can trace no copy at international auctions for forty years.
For more on Early Printed German Bibles, see this post on the Post-Gutenberg Era.
Back to list