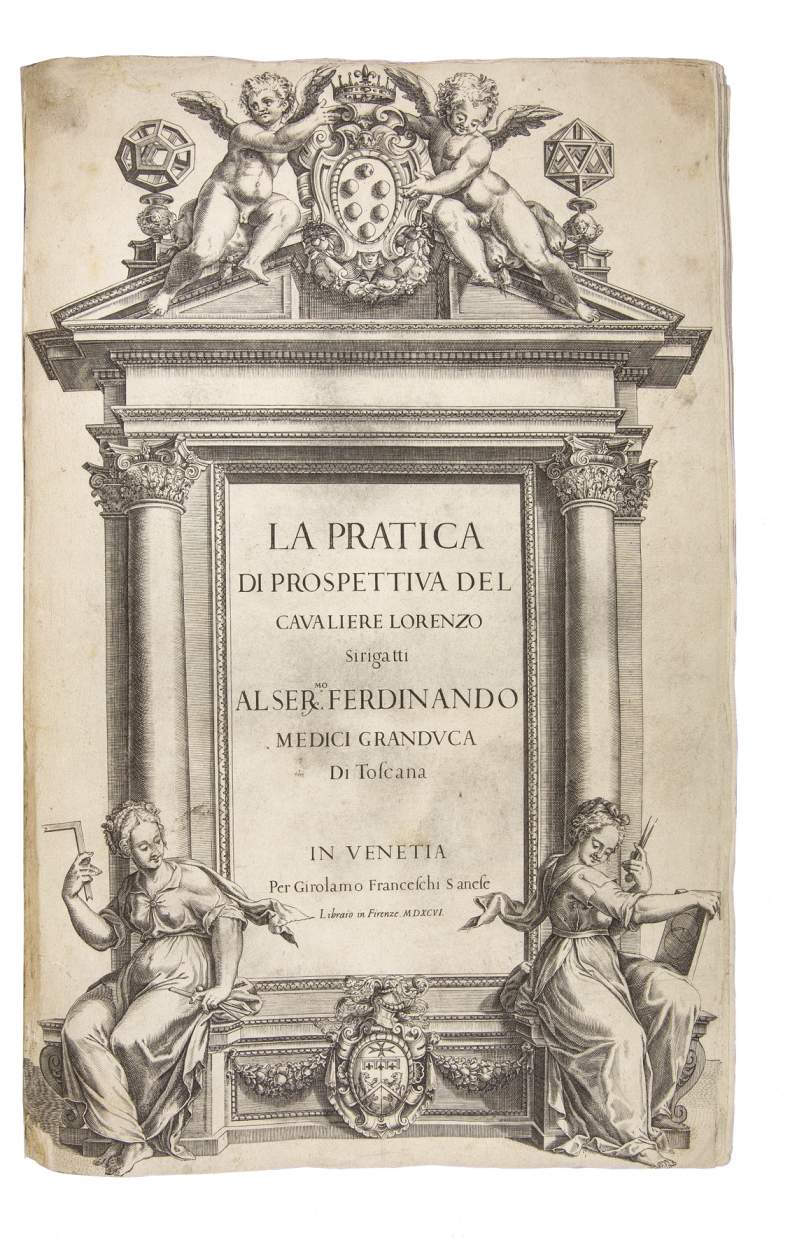 Close
1
/
7







Dedicated to the Medici Duke: The Practice of Perspective
Girolamo Franceschi
,
Venice
,
1596
26'000.00 EUR (VAT not included)
This rare first edition of Sirigatti's celebrated treatise brings the tradition of perspective up to Galileo's time. It was dedicated to Ferdinando de' Medici, grand duke of Tuscany. Each of the forty-three diagrams is accompanied by a textual explanation on the opposite page.
26'000.00 EUR (VAT not included)
%3Cdiv%20class%3D%22artist%22%3E%3Cspan%20class%3D%22artist%22%3E%3Cstrong%3EGirolamo%20Franceschi%3C%2Fstrong%3E%3C%2Fspan%3E%3C%2Fdiv%3E%0D%3Cdiv%20class%3D%22title%22%3E%3Cem%3EDedicated%20to%20the%20Medici%20Duke%3A%20The%20Practice%20of%20Perspective%3C%2Fem%3E%2C%201596%3C%2Fdiv%3E%0D%3Cdiv%20class%3D%22medium%22%3EPrinted%20book%20with%20engraved%20title%20and%2065%20engraved%20plates%20%28including%20half-title%20of%20part%20II%29%2C%20numbered%3C%2Fdiv%3E%0D%3Cdiv%20class%3D%22dimensions%22%3E2%C2%B0%2C%20420%20x%20270%20mm.%20Two%20parts%20in%20one%20volume%2C%2070%20leaves%20in%20total%3C%2Fdiv%3E%3Cdiv%20class%3D%22price%22%3E26%27000.00%20EUR%20%28VAT%20not%20included%29%3C%2Fdiv%3E
The Practice of Perspective became so popular that a second edition was published in 1625
Overview
Lorenzo Sirigatti (1557-1614) was an amateur artist and architect who came from a wealthy Florentine family. He visited Venice in his early years, where he possibly met the humanist and mathematician Daniele Barbaro and may have received his first training on perspective (Barbaro's own La Pratica di perspettiva appeared in 1568/69). He took further lessons in mathematics and perspective in Florence and finally registered in the Accademia del disegno in 1590. The present treatise made him famous.
This manual is enlivened by the clarity and remarkably high quality of its engravings. In the first part, the author offers standard instructions on various perspective constructions with increasing complexity, from simple geometric solids to polyhedrons and complex architectural elements. They include the mathematical conception of stairs, arches, and vaults, a well-proportioned facade, a stage, and examples of how to draw musical instruments in perspective, i.e. the viola and lute (likely based on Dürer).
Sirigatti's treatise was dedicated to Ferdinando de' Medici, grand duke of Tuscany. Some constructions in this current book are based on Giacomo Barozzi da Vignola's Le due regole della prospettiva pratica (1582), which includes some similar images.
Interested in more books on perspective? Click here for our Perspectives brochure.
Back to list