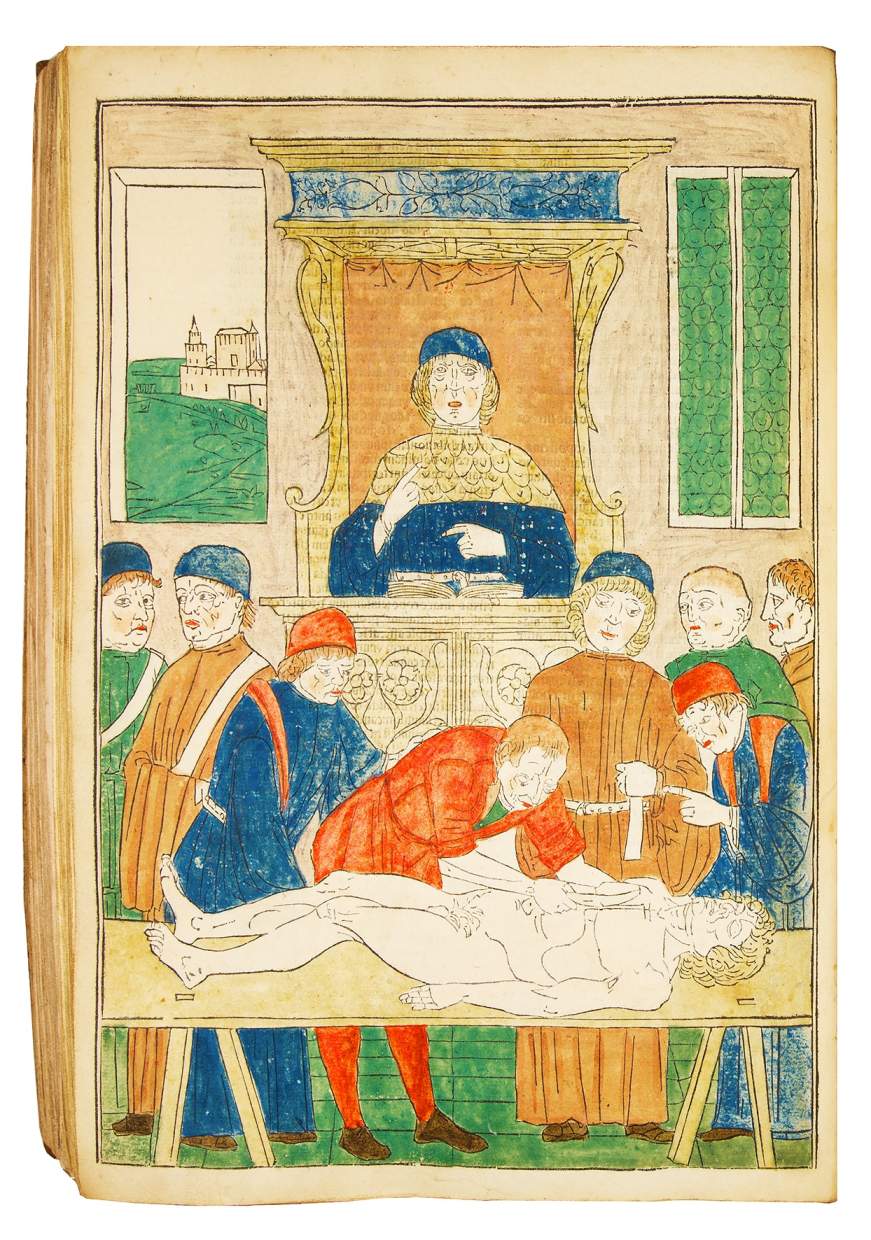 Close
1
/
8








Thrilling Illustrations of Early Medicine, Surgery, and Healing Practices
Johannes et Gregorius de Gregoriis
,
Venice
,
1500
135'000.00 EUR - (VAT not included)
A rare medical compendium from the Buxheim Charterhouse Library. I. Johannes de Ketham. Fasciculus medicinae. Incl. Petrus de Tussingano. Concilium pro peste evitanda; Mundinus. Anatomia; and Rhazes, De aegritudinibus puerorum. Venice: Johannes et Gregorius de Gregoriis, 28 March 1500. Third Latin edition. Bound with: II. Quiricus de Augustis. Lumen Apothecariorum cum certis expositionibus noviter impressum. Venice: Johannes et Gregorius de Gregoriis, 22 September 1495. Second edition
135'000.00 EUR - (VAT not included)
%3Cdiv%20class%3D%22artist%22%3E%3Cspan%20class%3D%22artist%22%3E%3Cstrong%3EJohannes%20et%20Gregorius%20de%20Gregoriis%3C%2Fstrong%3E%3C%2Fspan%3E%3C%2Fdiv%3E%0D%3Cdiv%20class%3D%22title%22%3E%3Cem%3EThrilling%20Illustrations%20of%20Early%20Medicine%2C%20Surgery%2C%20and%20Healing%20Practices%3C%2Fem%3E%2C%201500%3C%2Fdiv%3E%0D%3Cdiv%20class%3D%22medium%22%3EWoodcuts%20on%20paper.%20Binding%3A%20Contemporary%20%28%3F%29%20limp%20vellum%20binding%20made%20from%20a%2015th-century%20manuscript%20vellum%20leaf%3C%2Fdiv%3E%0D%3Cdiv%20class%3D%22dimensions%22%3Ec.%20307%20x%20206%20mm.%20I.%2034%20leaves.%20Rubricated%20throughout%2C%20with%20numerous%20ornamental%20woodcut%20initials%20and%2010%20full-page%20woodcuts%20in%20contemporary%20colouring%20with%20bodies%20coloured%20in%20flesh%20tones.%20%E2%80%93%20II.%2038%20leaves%3C%2Fdiv%3E%3Cdiv%20class%3D%22price%22%3E135%27000.00%20EUR%20-%20%28VAT%20not%20included%29%3C%2Fdiv%3E
15th-century surgery, gruesome injuries, and herbal remedies
Overview
From one of the largest and wealthiest monasteries in Europe, this edition of Ketham's early medical compendium is filled with hand-coloured woodcuts, including an additional autopsy illustration. The Carthusian Charterhouse at Buxheim was so important that in 1548, Buxheim was decreed the only German Imperial Charterhouse under the Hapsburgs. The inscription 'Cartusiae Buxheim' is written on the title woodcut (f. 1r) of this volume.
The 1491 edition of Ketham's Fasiculus medicinae was considered the first printed book to contain anatomical illustrations. These include a uroscopy scene, a doctor treating a plague victim, and a 'wound man', exhibiting the many different ways in which the human body can be injured. Ketham's work covers various medical subjects including surgery, epidemiology, urology, herbal remedies, obstetrics, gynaecology, and anatomy, and, as a professor of medicine in Vienna, he would use these tracts when teaching his students.
Combined with the Lumen Apothecarium, a popular treatise full of herbal and holistic remedies for ailments (as well as a recipe for marzipan), this volume was clearly in the use of a medical professional. Additional, handwritten notes are made in Latin and German on some pages.
This fascinating book was featured in our 2021 brochure, Collecting Culture.
Back to list