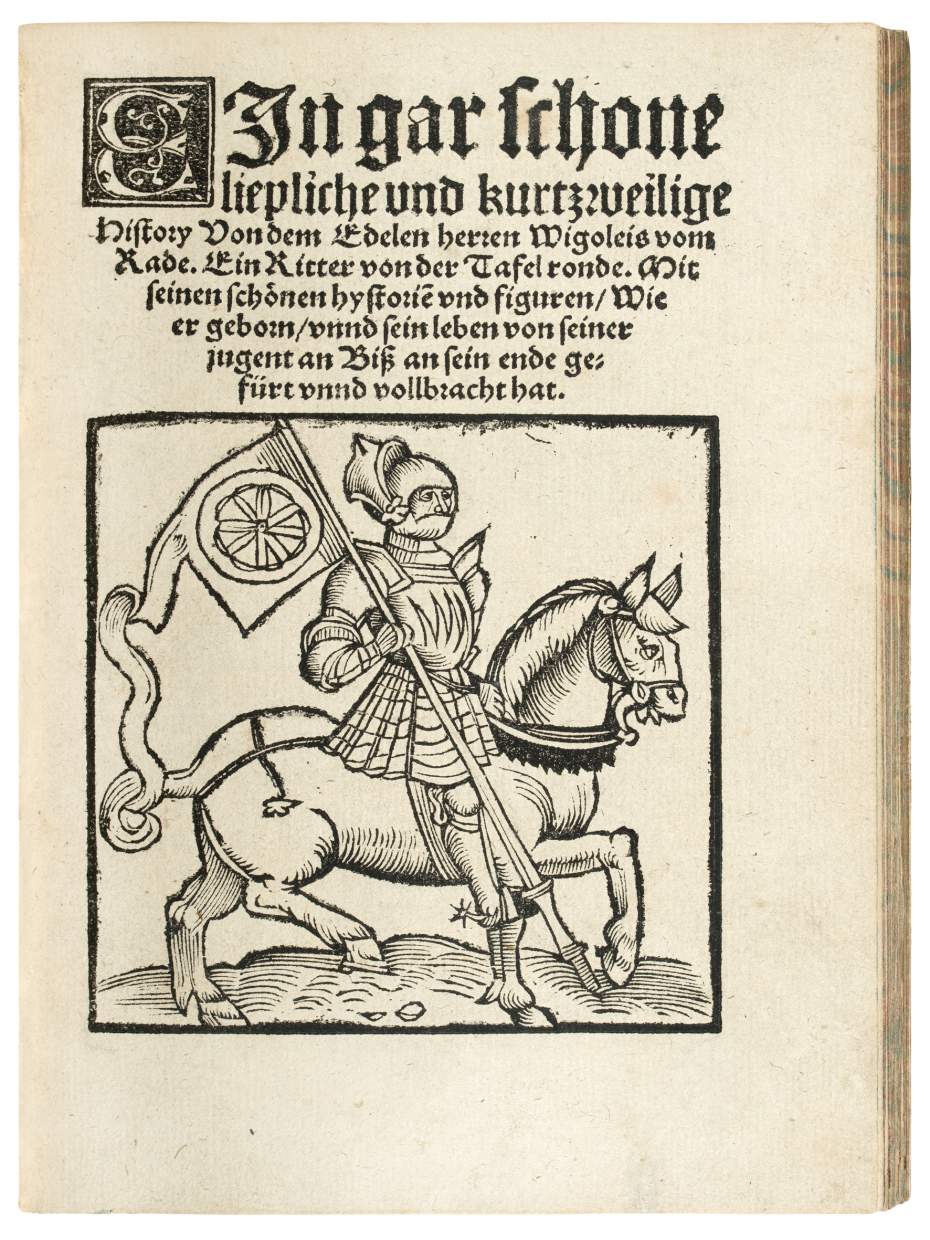 Close
1
/
3



Adventurous Knights: the tale of Wigoleis
Strasbourg
,
Johann Knoblauch
,
1519
€48'000 (VAT not included)
A German novel based on an older, rhymed version of Wigoleis' tale that Wirnt von Gradenberg wrote around 1210-20. Second edition. The anonymous author of the present version asserts that this text has been composed between 1472 and 1483, transformed from verse to prose for his readers.
€48'000 (VAT not included)
%3Cdiv%20class%3D%22title%22%3E%3Cem%3EAdventurous%20Knights%3A%20the%20tale%20of%20Wigoleis%3C%2Fem%3E%2C%201519%3C%2Fdiv%3E%0D%3Cdiv%20class%3D%22medium%22%3EWith%2035%20woodcut%20illustrations%20%28including%20title%20woodcut%2C%20five%20repeats%29.%20%E2%80%93%20Some%20marginal%20tears%20expertly%20restored%2C%20washed%20and%20pressed.%20%E2%80%93%2019th%20-century%20dark%20red%20blind-stamped%20morocco%2C%205%20raised%20bands%20on%20spine%2C%20gilt%20title%20in%20second%2Fthird%20compartment%2C%20covers%20decorated%20in%20a%20style%20reminiscent%20of%2016th-century%20bindings%2C%20cover%20edges%20gilt%2C%20dark%20blue%20morocco%20pastedowns%20also%20with%20blind-stamped%20borders%2C%20marbled%20flyleaves%2C%20edges%20marbled%20and%20gilt%2C%20signed%20Chambolle-Duru%20%5Bassociated%20bookbinders%20Ren%C3%A9-Victor%20Chambolle%20and%20Hippolyte%20Duru%2C%20Paris%5D.%3C%2Fdiv%3E%0D%3Cdiv%20class%3D%22dimensions%22%3E180%20x%20129mm%2C%2055%20leaves%3C%2Fdiv%3E%3Cdiv%20class%3D%22price%22%3E%E2%82%AC48%27000%20%28VAT%20not%20included%29%3C%2Fdiv%3E
Adventures at the court of King Arthur
Overview
The hero of this story, Wigoleis, is the son of Gawein (here called Gabon), King Arthur's nephew and Knight of the Round Table. The story is multi-faceted: when King Gabon is beaten in a fight by King Floreys, given supernatural powers by a magic belt, Gabon transfers to Floreys magical kingdom and cannot return home to King Arthur's court without the same belt. Wigoleis, in a quest for his father, takes the belt and embarks on a series of adventures and trials the young knight must overcome. In assisting the banished Queen Amena, Wigoleis frees the kingdom, meets his father, and wins the hand of Amena's daughter, Larie.
This epic poem by Wirnt von Grafenberg was a huge success in late medieval literature, and the narrative clearly captured the attention of the later prose readers. The woodcuts are all connected to the tale, yet appear to be drawn in an earlier style. The title and the preface show the same woodcut: Wigoleis, the knight, on horseback with his banner bearing his personal sign, the wheel. He looks rather stiff and uncomfortable in his armour, as knights often do.
The illustrations were especially designed for this edition. Their large number – almost one woodcut for each opening – elevate the booklet to the rank of a highly entertaining piece of literature – as desirable today as it certainly was at the time of its emergence.
See this item in our catalogue, Heroes and Heroines.
Back to list