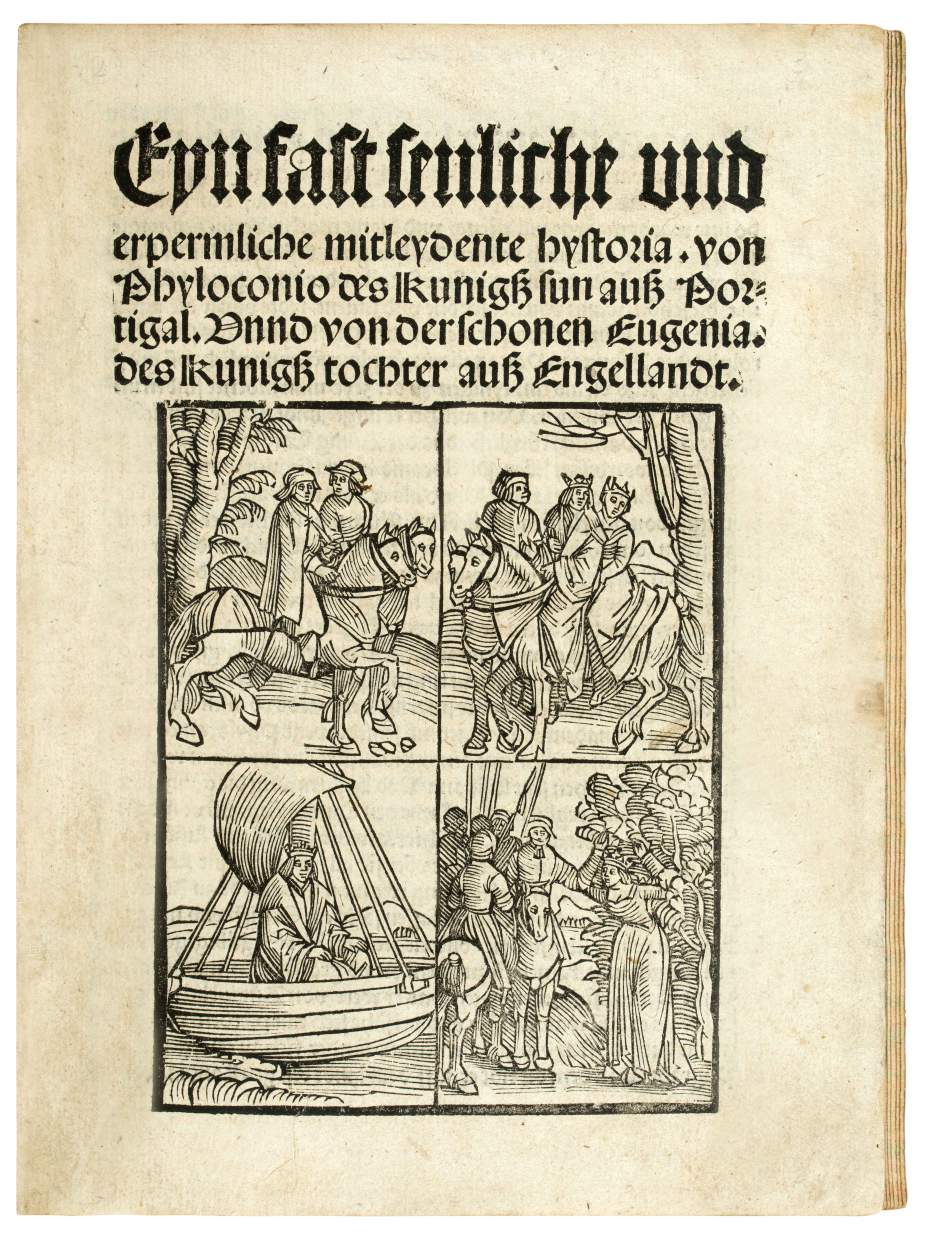 Close
1
/
1

A Bird and a Ring: Arienti's Magelone in German
Translated by Peter Wernher
,
Nuremberg
,
Jobst Gutknecht
,
1515
The first German edition of the popular story of Magelone, based on a French prose romance and traced thematically back to the 'One Thousand and One Nights'.
€25'000 (VAT not included)
%3Cdiv%20class%3D%22artist%22%3E%3Cspan%20class%3D%22artist%22%3E%3Cstrong%3ETranslated%20by%20Peter%20Wernher%3C%2Fstrong%3E%3C%2Fspan%3E%3C%2Fdiv%3E%0D%3Cdiv%20class%3D%22title%22%3E%3Cem%3EA%20Bird%20and%20a%20Ring%3A%20Arienti%27s%20Magelone%20in%20German%3C%2Fem%3E%2C%201515%3C%2Fdiv%3E%0D%3Cdiv%20class%3D%22medium%22%3E1%20nearly%20full-page%20title%20woodcut%20with%204%20illustrations%2C%20on%20paper.%20Formerly%20part%20of%20a%20Sammelband%2C%20with%20trace%20of%20a%20leather%20tab.%20Almost%20uncut%20%28t%C3%A9moins%29.%20%E2%80%93%20Modern%20limp%20vellum%20binding%20using%20old%20material%20%28vellum%20and%20paper%29.%3Cbr%20%2F%3E%0A%3C%2Fdiv%3E%0D%3Cdiv%20class%3D%22dimensions%22%3E200%20x%20145%20mm%2C%208%20leaves%3C%2Fdiv%3E
A ring stolen by a falcon tears two lovers apart
Overview
This is a German translation of the Italian variant of the story of Magelone and Peter of Provence, published by Arienti in 1483 from his Le Porretane - based on Boccaccio's Decameron. Thus, in addition to a wealth of intertextuality, the present edition's characters also have different names.
Phyloconio is the son of the King of Portugal who hears of the legendary beauty of Eugenia, daughter of the King of England, and, on his father's death, sets out to find her. His mother gives him a precious ring that he in turn gives to Eugenia, but the ring is stolen by a bird (here a falcon), which causes the dramatic separation of the lovers; this motif appears in all known versions of the story. On his hunt for the falcon, the hero is captured by pirates on the sea. Eugenia is captured by robbers and sold to Spanish merchants, who bring her to Portugal. After seven years, Phyloconio is liberated from the pirates and comes back to the court in Portugal, and finally the queen recognizes him as her son. Having heard of Phyloconio's return, Eugenia, now a servant, reveals herself and the reunited lovers marry and reconcile with their parents.
This extremely rare little booklet is accompanied by a startlingly modern-feeling title woodcut, where dramatic scenes from the narrative are depicted.
See this item in our catalogue, Heroes and Heroines.
Back to list