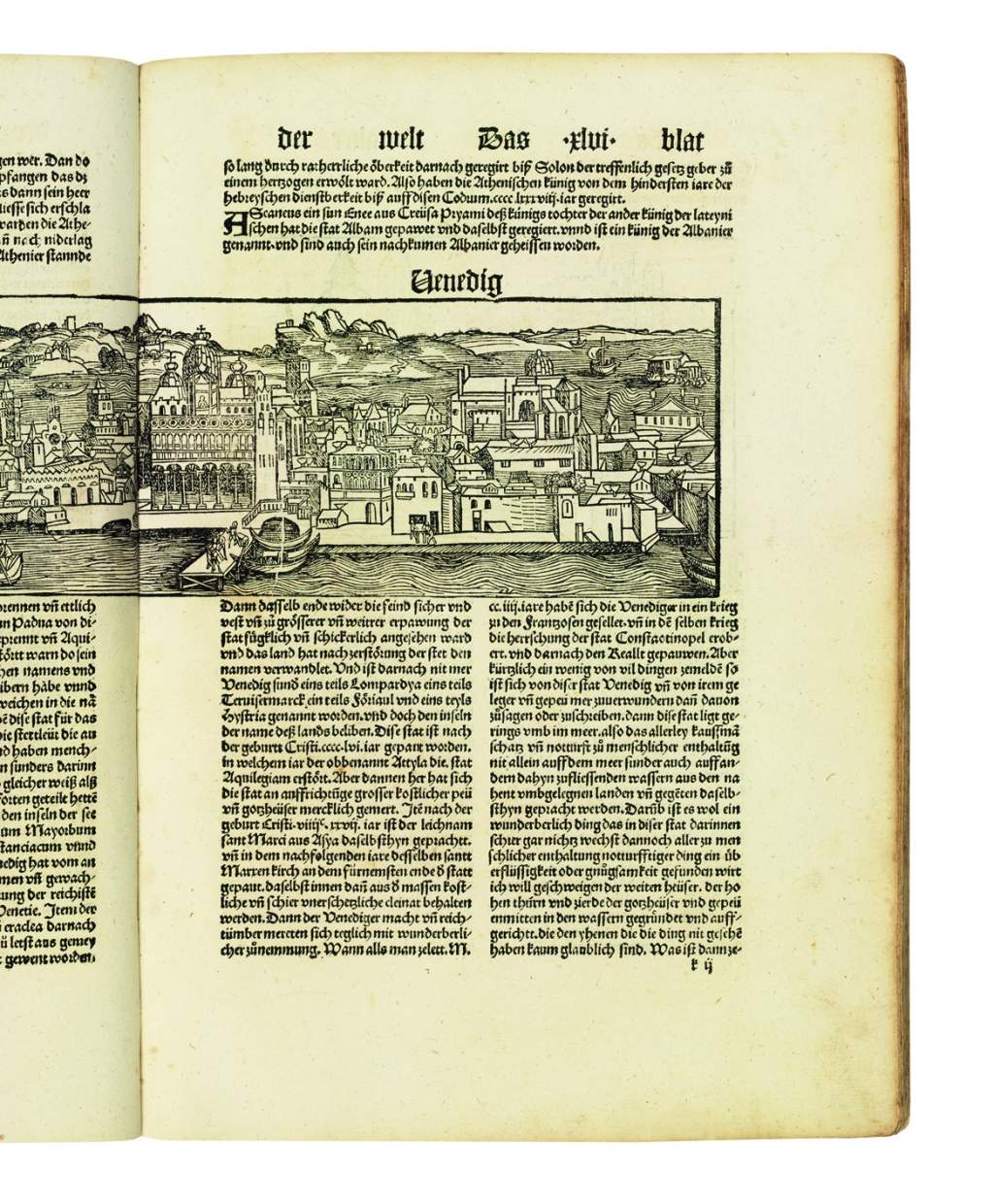 Close
1
/
3



The 'Small' Nuremberg Chronicle Bound with the First Chronicle of the Swiss Confederation
Michael Wolgemut, Wilhelm Pleydenwurff and the Master DS, Master of the Verardus
,
Augsburg and Basel
,
Johann Schönsperger and Michael Furter
,
1500 and 1507
These two richly illustrated chronicles are bound together in a contemporary pigskin binding, their extensive woodcuts displaying Biblical scenes, maps and monsters.
€ 85'000.00 (VAT not included)
%3Cdiv%20class%3D%22artist%22%3E%3Cspan%20class%3D%22artist%22%3E%3Cstrong%3EMichael%20Wolgemut%2C%20Wilhelm%20Pleydenwurff%20and%20the%20Master%20DS%2C%20Master%20of%20the%20Verardus%3C/strong%3E%3C/span%3E%3C/div%3E%0D%3Cdiv%20class%3D%22title%22%3E%3Cem%3EThe%20%27Small%27%20Nuremberg%20Chronicle%20Bound%20with%20the%20First%20Chronicle%20of%20the%20Swiss%20Confederation%3C/em%3E%2C%201500%20and%201507%3C/div%3E%0D%3Cdiv%20class%3D%22medium%22%3ETwo%20early%20printed%20texts%2C%20Schedel%20%28Third%20German%20Edition%29%20and%20Etterlin%20%28First%20edition%2C%20second%20issue%29%20bound%20together%20in%20contemporary%20blind-stamped%20pigskin%20binding%20over%20massive%20bevelled%20wooden%20boards%2C%20four%20raised%20bands.%20One%20of%20two%20clasps%20is%20still%20intact.%20%3C/div%3E%0D%3Cdiv%20class%3D%22dimensions%22%3E310%20x%20215%20mm%2C%20I.%20332%20leaves%2C%20c.%202000%20woodcuts%2C%20II.%20133%20leaves%2C%2028%20woodcuts.%3C/div%3E
Two Important Chronicles United in a Contemporary Binding
Overview
The first text in this binding, Schedel's Nuremberg Chronicle, spans history from the creation of the World to the Last Judgement. The original edition was especially famous for its city views and maps, including Augsburg, Basel, Rome and Vienna, as well as a map of Europe and a Ptolemaic world map. Compared to the first edition's double-page views, the 'Small Schedel' editions printed by Schönsperger, such as the present copy, are far easier to handle and of greater rarity.
The following text, Etterlin's Kronica, is the first chronical to treat the Swiss Confederation as a whole, and as Etterlin himself was an adherent of the mayor of Lucerne, Ludwig Seiler, he was able to observe internal affairs well. Etterlin reports as an eyewitness at the battles of Murten, Grandson, and Nancy and the grand illustrations make this book one of the most important and finest Swiss books of the period.
See this item in our brochure Precious and Precise.
Back to list