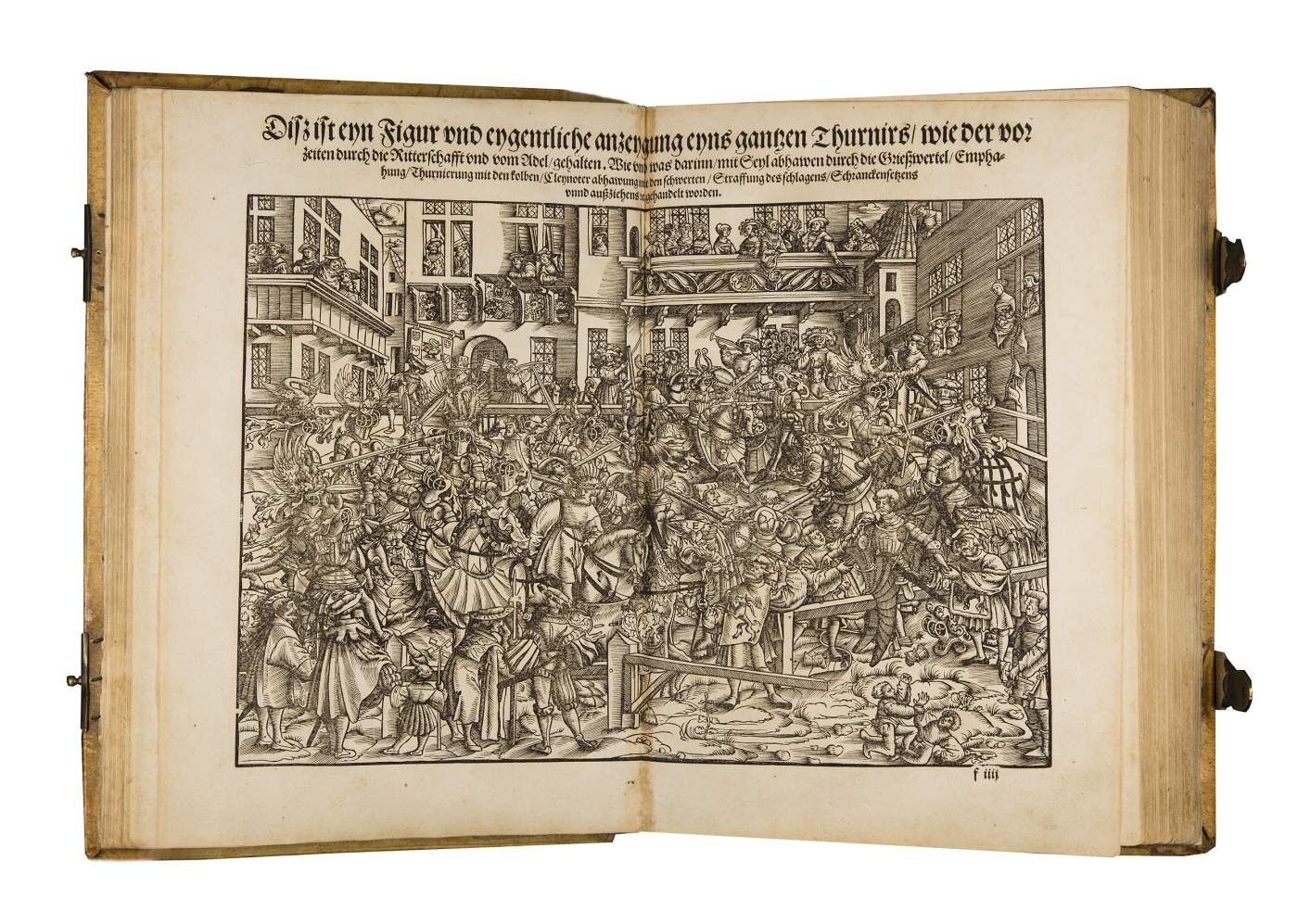 Close
1
/
3



Turnierbuch - Book of Tournament
Simmern
,
Hieronymus Rodler
,
1532
Rüxner's famous 'Book of Tournament', with lavishly illustrated descriptions of thirty-six tournaments, is one of the highlights among illustrated books from 16-century Germany. Full title: 'Anfang, ursprung und herkomen des Thurniers inn Teutscher nation: Wievil Thurnier biß uff den letstenn zu Wormbs : Auch wie unnd an welchen orten die gehalten, und durch was Fürsten, Grauen, Herrn, Ritter und vom Adel, sie iederzeit besucht worden sindt'.
%3Cdiv%20class%3D%22title%22%3E%3Cem%3ETurnierbuch%20-%20Book%20of%20Tournament%3C%2Fem%3E%2C%201532%3C%2Fdiv%3E%0D%3Cdiv%20class%3D%22signed_and_dated%22%3E3%20August%201532%3C%2Fdiv%3E%0D%3Cdiv%20class%3D%22medium%22%3EEarly%20printed%20book%3C%2Fdiv%3E%0D%3Cdiv%20class%3D%22dimensions%22%3E320%20x%20223%20mm%20%E2%80%93%20220%20leaves.%20With%20284%20large%20and%20small%20woodcut%20illustrations.%3C%2Fdiv%3E
The celebrated tournament book
Overview
The first edition of Rüxner's famous 'Book of Tournament' was published in 1530. Rüxner's work met the taste of the time. It was twice reprinted at the Simmern press (1532 and 1533) and from 1566 on several editions by Sigmund Feyerabend appeared in Frankfurt. The copy at hand is the second illustrated edition.
The finely crafted woodcuts are printed from the same blocks used in the first edition of 1530. The number of illustrations is reduced, however, because the cuts with scenes are much less often repeated than in the previous edition. They depict tournaments, presentation and distribution of helmets, award ceremonies, banquets, dancing, and other festivities. The large double-page woodcut illustrates in great detail a spectacular tournament scene.
The first of the tournaments described is dated 938 and said to have been organized by emperor Heinrich I at Magdeburg. Today, it is thougt that at least the first fourteen tournaments in this book were fictional. The last of the tournaments in Rüxner's work is the last imperial tournament ever held at Worms in 1487. Every description contains a vast register of participants, the coat of arms of the town where the tournament occurred, as well as the coats of arms of the convoking duke and the four reeves of the tournament.
The large plate and two full-page coats of arms (Holy Roman Empire and Pfalz-Simmern) bear the initials HH, which have been identified as Hans vom Hunsrück, that is Johann II, Count Palatine and Duke of Simmern (1492-1557). Thus, the designs of the woodcuts may be attributed to the duke.
Back to list