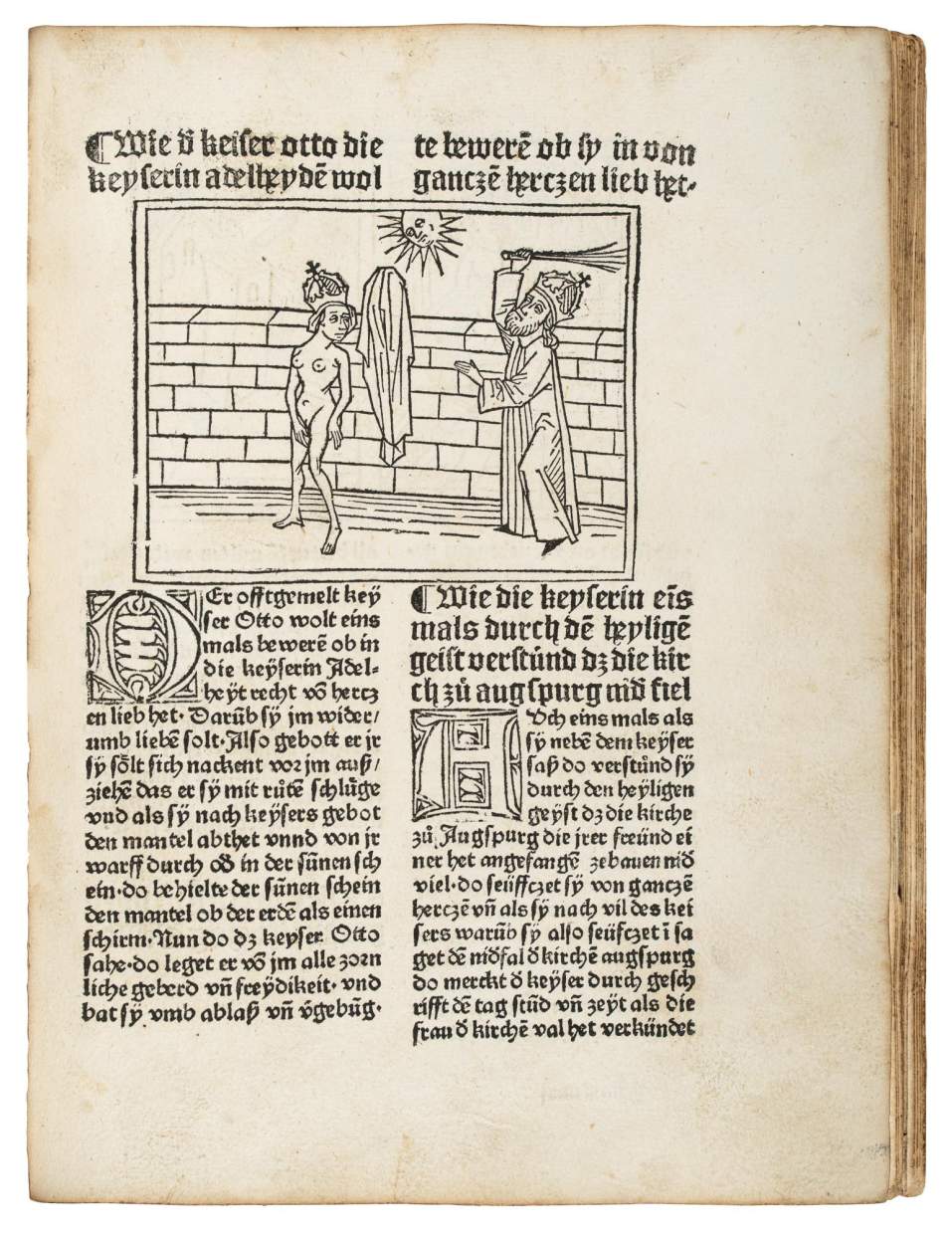 Close
1
/
7







Exciting Voyages of Herzog Ernst
Sorg-Meister
,
Ausgsburg
,
Anton Sorg
,
c. 1485-1486
A collection of three travel tales (second edition of this collection). Full title of this collection: "Das buch sagt von herczog Ernsten. Auch von dem Schildtberger Und von sant Brandon, und von den selczamen wundern so sy erfaren und gesehen habent auf dem moere und auf dem land."
This work is now sold.
%3Cdiv%20class%3D%22artist%22%3E%3Cspan%20class%3D%22artist%22%3E%3Cstrong%3ESorg-Meister%3C%2Fstrong%3E%3C%2Fspan%3E%3C%2Fdiv%3E%0D%3Cdiv%20class%3D%22title%22%3E%3Cem%3EExciting%20Voyages%20of%20Herzog%20Ernst%20%3C%2Fem%3E%2C%20c.%201485-1486%3C%2Fdiv%3E%0D%3Cdiv%20class%3D%22medium%22%3EThree%20incunables%20in%20one%20volume%3C%2Fdiv%3E%0D%3Cdiv%20class%3D%22dimensions%22%3E268%20x%20198%20mm.%20%E2%80%93%2048%2C%2046%2C%2018%20leaves%20%28112%20leaves%20in%20total%29.%20With%2032%20%2C%2016%2C%2019%20woodcuts%20from%2062%20blocks%20by%20the%20Sorg-Master.%3C%2Fdiv%3E%3Cdiv%20class%3D%22price%22%3ESold%3C%2Fdiv%3E
Exciting early travel tales
Overview
This work is now sold.
This extremely rare collection includes three exciting early travel tales: the popular novel Herzog Ernst, Hans Schiltberger's report of his years in the Near East, and St. Brendan's Voyages.
The Herzog Ernst (Duke Ernest) story is based on two historical events: Liudolf's rebellion against his father Otto the Great (953), and the uprising of Duke Ernest II against his stepfather, the Swabian Emperor Konrad II (1027). The anonymous poet combined the events and the characters. In the first part of the book, Ernest comes into open conflict with Emperor Otto and, after five years of war, goes on a pilgrimage. In the second part of the book, Ernst survives numerous adventures on his way to Jerusalem.
Three incunabular editions of this story were printed by the publisher Anton Sorg between 1477 and 1486. All Sorg editions contain nearly the same woodcuts from 30 blocks by the so-called 'Sorg-Meister', quite often omitting a background.
This collection also includes Von dem Schildtberger, the third edition of the earliest authentic report of the Near and Middle East, written by the Bavarian nobleman Hans Schiltberger (born 1380) who left with the army of King Sigismund of Hungary in his crusade against the Turks. The report, which owes much to Mandeville, is known in five manuscripts and three 15th-century editions, followed by at least six 16th-century editions. The incunabular editions were all printed by Sorg. The present edition includes 16 woodcuts printed from 14 blocks.
The third part of this collection consists of the German translation of the Navigatio Sancti Brendani (Voyage of Brendan). The Celtic Brendan became a monk and established monasteries in Ireland and Scotland. A noted traveller, Brendan voyaged to the Hebrides, to western Scotland, perhaps also to Wales and Brittany. Possibly as early as the 8th century, Brendan was immortalized as the hero of a legendary Christian tale of the sea. To illustrate the Voyage in this collection, Sorg used his set of 16 blocks for the editio princeps, but in the present edition left out the cut with Saint Brendan entering earthly paradise. Instead, he used two woodcuts twice and added two blocks, one showing a monster bringing back the thievish companion, the other showing Saint Brendan returning to his convent.
Interested in other works from the workshop of Anton Sorg? Click here.
Back to list