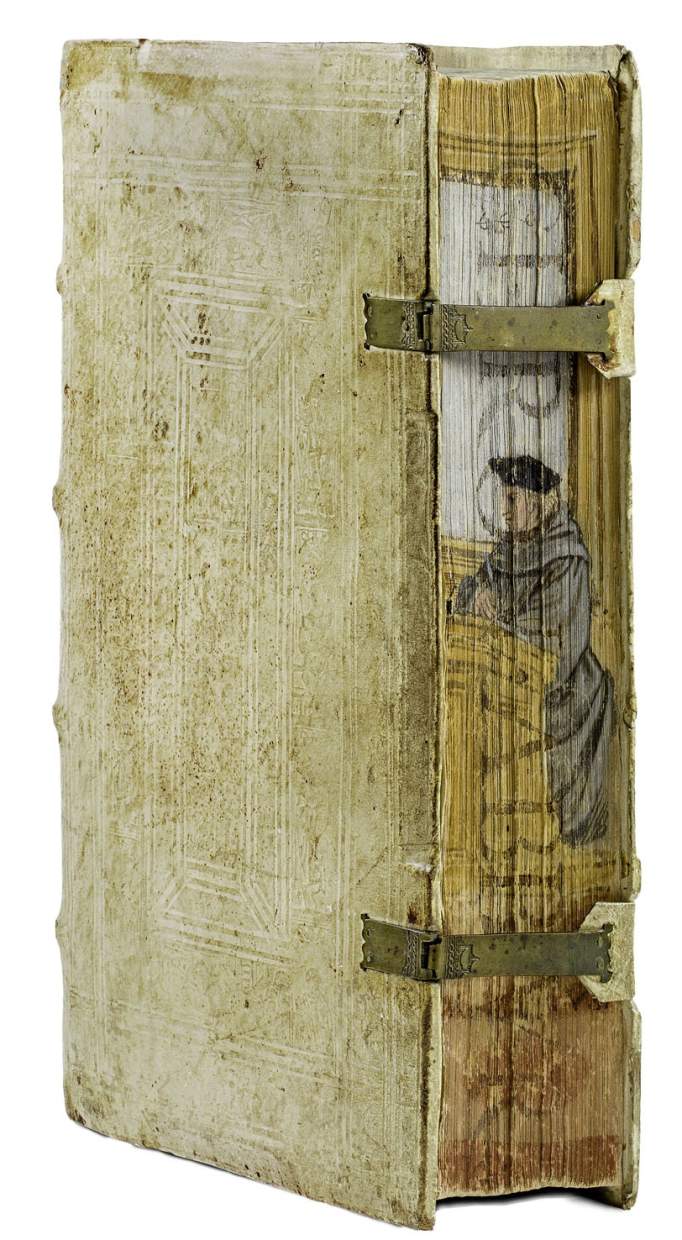 Close
1
/
1

Pillone binding with fore-edge painting
Cesare Vecellio
,
Italy, Belluno
,
c. 1580-1590
This is one of the books of the celebrated Renaissance library of the Pillone family, who had decorated the fore-edges of a large portion of the books with paintings. The painted decoration is the work of Cesare Vecellio (1521-1601), a cousin and pupil of Titian, in whose studio Vecellio worked until Titian's death.
Price € 57'500,- (VAT not included).
%3Cdiv%20class%3D%22artist%22%3E%3Cspan%20class%3D%22artist%22%3E%3Cstrong%3ECesare%20Vecellio%3C%2Fstrong%3E%3C%2Fspan%3E%3C%2Fdiv%3E%0D%3Cdiv%20class%3D%22title%22%3E%3Cem%3EPillone%20binding%20with%20fore-edge%20painting%3C%2Fem%3E%2C%20c.%201580-1590%3C%2Fdiv%3E%0D%3Cdiv%20class%3D%22medium%22%3ETwo%20early%20printed%20books%20together%20in%20a%20pigskin%20binding%20with%20fore-edge%20painting%3C%2Fdiv%3E%0D%3Cdiv%20class%3D%22dimensions%22%3E307%20x%20208%20mm.%20%E2%80%93%20536%20and%20392%20pages%2C%20with%20numerous%20woodcuts.%20%3C%2Fdiv%3E
From the celebrated Pillone library, with fore-edge painting by Cesare Vecellio
Overview
The famous library of the Pillone family at Villa Casteldardo outside Belluno was primarily formed by the father, Antonio (1464-1533), and his son, Odorico (1503-94), the former a soldier and diplomat, the latter a learned jurist. Sometime after 1550, Odorico acquired en bloc the fine library of Bonaccorso Grino (kinsman of his brother-in-law Paolo Emilio), which had been gathered at Schloss Burtenbach, near Augsburg, where Bonaccorso was in imperial service. The present book - in a German blind-stamped pigskin binding - comes from this collection.
In the 1580s Odorico Pillone (or possibly his son Giorgio) commissioned Cesare Vecellio to decorate the fore-edges of the 172 best books in the library with paintings related to the contents. Here Vecellio added the learned author as a scholar in a monk's habit, writing at his desk. The letters mention: 'Chroni(c)a Burchar'.
The Pillone books remained together until 1874 when the library was sold. The decorated volumes were then bought en bloc by Sir Thomas Brooke (1830-1908) and remained in his family until they were acquired and finally dispersed by Pierre Berès in 1957.
The codex contains two works: 1. Burchardus of Ursberg, Chronicum, continens historiam rerum memorabilium … [Kaspar Hedio], Paraleipomena ... annexa. Strasbourg: Crato Mylius, September 1540. Fourth edition. – 2. Pope Clement I, Recognitionum libros X, transl. by Rufinus of Aquileia, ed. by Johannes Sichard. Basel: Johannes Bebel, 1536. Second edition.
Burchard's universal chronicle was originally composed in the early 13th century when he was provost of Ursperg Abbey in Bavaria. The work glorified the reigns of emperors from Roman times up to Frederick Barbarossa. It is also an interesting source for early imperial German history in which Burchard (d. c. 1231) often sided with imperial over papal authority. Conrad of Lichtenau, Burchard's successor at Ursperg, continued the text that was first printed in Augsburg in 1472; a Strasbourg edition in 1537 was supplemented by Kaspar Hedio recording contemporary history from a Reformation point of view, while Philipp Melanchthon wrote the prefatory dedication. The present 1540 edition is a reprint of the one published in 1537, illustrated with numerous white-on-black woodcut medallion portraits of emperors, kings and other great rulers. The volume offers great material for educational purposes: it is testimony to German and Italian (book) history, painting and engraving, the Middle Ages, the Renaissance, Catholicism and the Reformation.
Back to list