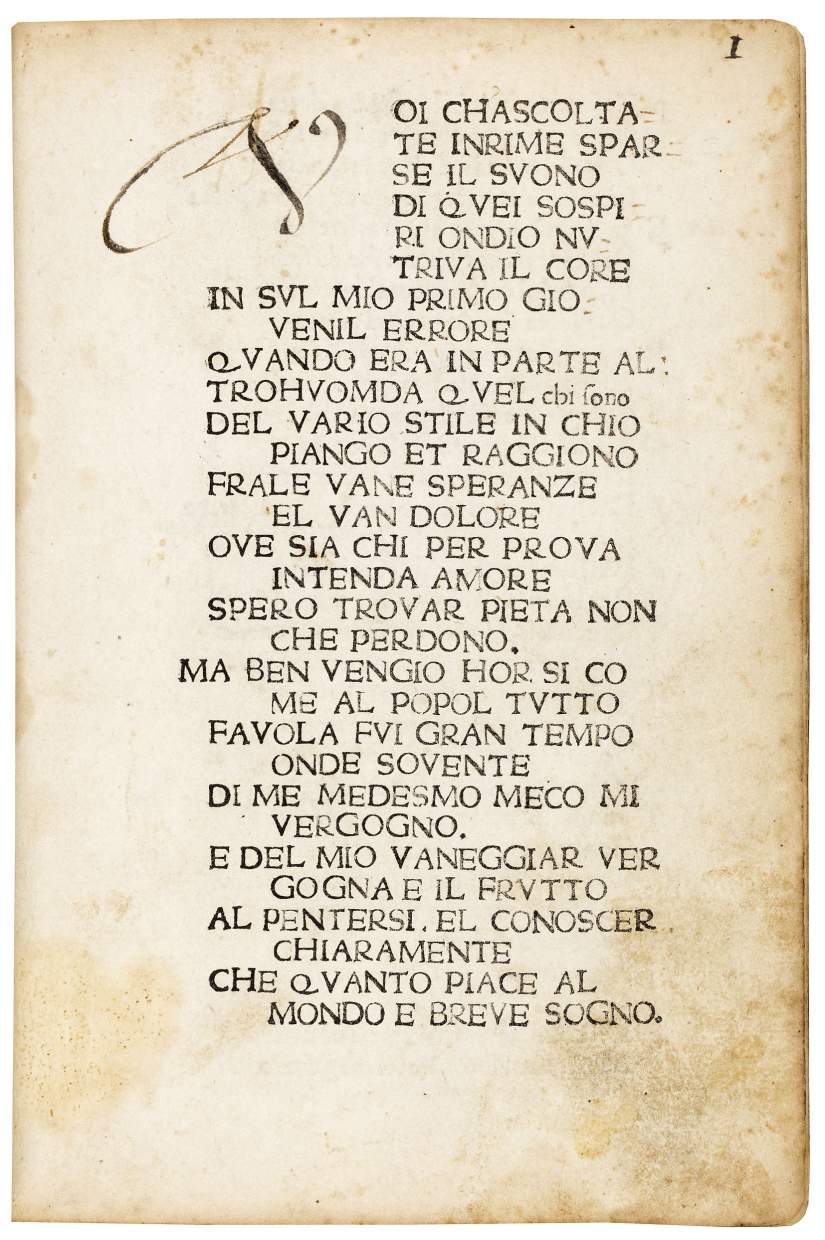 Close
1
/
2


Canzoniere et Trionfi
Italy, Sant'Orso
,
Leonardus Achates de Basilea
,
1474
Petrarch's poetry in Italian, the Canzoniere and the Trionfi count among the most celebrated and influential works in western literature. In the present edition it is combined with the brief biography by Leonardo Bruni that helped to spread the poet's fame and reputation.
Price CHF 75'000,- (VAT not included).
%3Cdiv%20class%3D%22title%22%3E%3Cem%3ECanzoniere%20et%20Trionfi%3C%2Fem%3E%2C%201474%3C%2Fdiv%3E%0D%3Cdiv%20class%3D%22medium%22%3EIncunable.%20%E2%80%93%20Second%20edition%20of%20this%20version%3B%20the%20seventh%20edition%20in%20total.%20%3C%2Fdiv%3E%0D%3Cdiv%20class%3D%22dimensions%22%3E203%20x%20138%20mm.%20%E2%80%93%20174%20leaves.%3C%2Fdiv%3E
Petrarch's 'Book of Songs', based on the 'libro d'autore'
Overview
Petrarch (Francesco Petrarca, 1304-1374) is considered one of the greatest love poets of world literature. Referred to by Petrarch himself as Rerum vulgarium fragmenta, and in his opening words called "rime sparse" (scattered rhymes), the collection of 366 poems - mostly sonnets - was called Il Canzoniere (Book of Songs) since the Renaissance. Immortalising the poet's love for the unattainable Laura, this cycle established the sonnet form and became the basis for the development of lyric poetry throughout Renaissance Europe.
Petrarch composed, selected and reordered the Canzoniere over a period of four decades, beginning shortly after 1327 until his very last years. Around 1366, he began a new manuscript intended as a fair copy of this work. He completed the manuscript until 1374, first with the assistance of a scribe, then in his own hand. This final copy (now in the Vatican Library, Vat. Lat. 3195) is regarded as the deliberately designed libro d'autore, representing Petrarch's original concept of his book as a whole: structure and arrangement of the text, mise en page, notation etc. This definitive personal manuscript was the basis and model of the edition printed in 1472 by Bartolomeo da Valdezocco in Padua. It is thus the first edition thoroughly reflecting Petrarch's intentions, a landmark and the most important of the 15th-century editions in terms of the philology of the text. The present edition is a reprint of this edition.
The manuscript Vat. Lat. 3195 was used again, not before 1501, by Pietro Bembo for the fundamental Aldine Petrarch edition that canonized Petrarch as one of the classics of modern Italian literature. The present edition of 1474 is thus one of the very few and very rare earlier examples that closely represent Petrarch's vernacular poetry testimonies in print.
Back to list