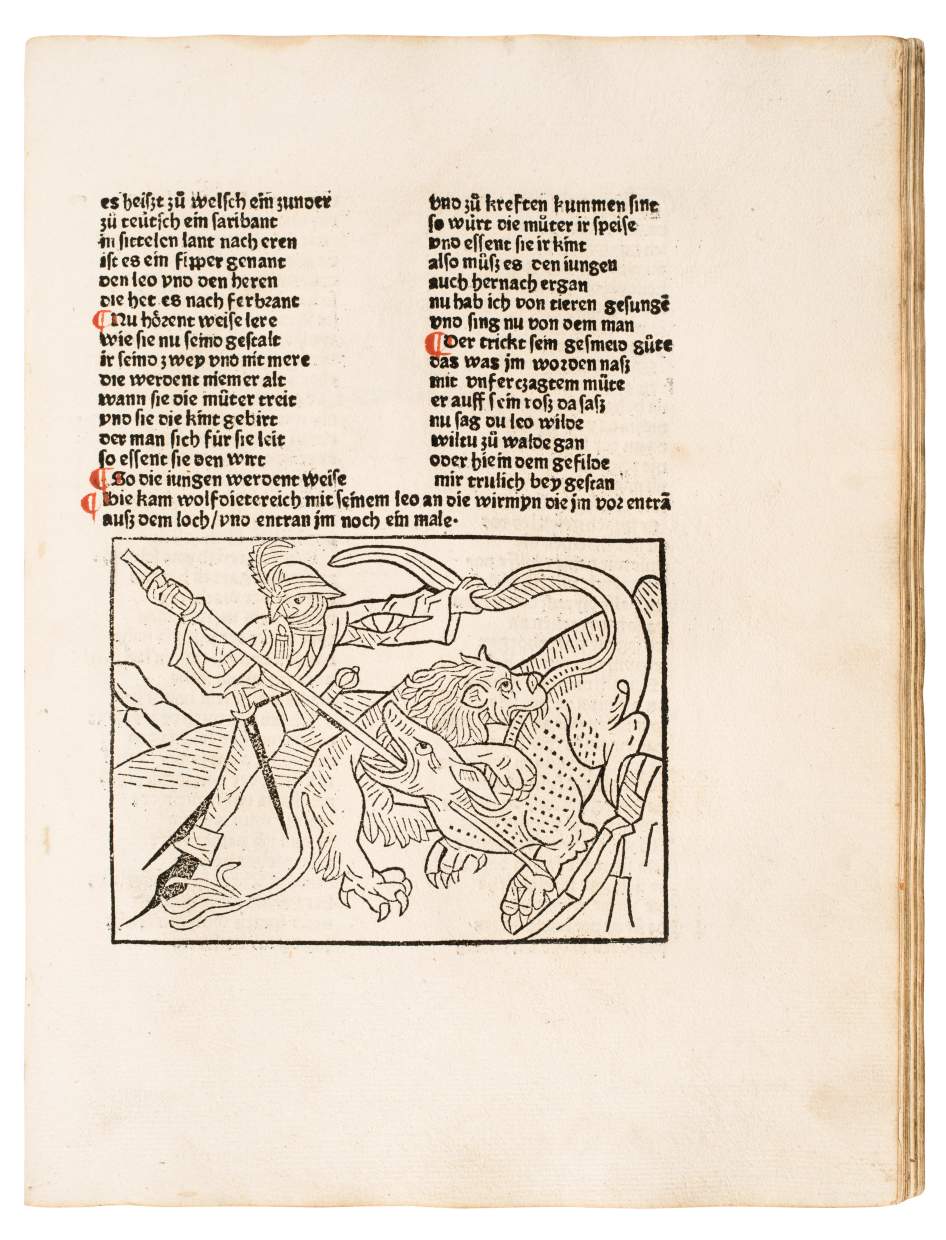 Close
1
/
6






Book of Heroes
Strasbourg
,
Johann Prüss
,
c. 1479
First edition. "Hie fahet an der helden buch, das man nennet den wolfdieterich (…) Auch sagt es von dem rosengarten." The Heldenbuch (Book of Heroes) is a collection of Middle High German epic poetry from the second half of the 13th century, some related to the Nibelungenlied.
%3Cdiv%20class%3D%22title%22%3E%3Cem%3EBook%20of%20Heroes%3C%2Fem%3E%2C%20c.%201479%3C%2Fdiv%3E%0D%3Cdiv%20class%3D%22medium%22%3EIncunable%3C%2Fdiv%3E%0D%3Cdiv%20class%3D%22dimensions%22%3E290%20x%20205%20mm.%20%E2%80%93%20275%20leaves.%20Three%20painted%20initials%2C%20230%20woodcut%20illustrations%20from%20156%20blocks%2C%20of%20which%20six%20are%20full-page.%3C%2Fdiv%3E%3Cdiv%20class%3D%22price%22%3ESold%3C%2Fdiv%3E
Great medieval German heroes and heroines
Overview
This work is now sold.
The individual narratives dealing with the heroes of the Germanic tribes during the Migration Period belong to two cycles. The first, probably of Franconian origin, includes several long, popular romances, notably those about the heroes Ortnit, King of Lombardy; Hugdietrich, Emperor of Constantinople, and his son Wolfdietrich, who sets off to fight the Dragon and gains Ortnit's widow as his wife. The other cycle deals with the Ostrogothic sagas of the tyrannical King Ermenrich, Etzel/Attila, and Dietrich of Bern (i.e. Verona), apparently derived from King Theodoric the Great, who reigned 493-526. The chief romances of this cycle are Biterolf und Dietlieb, Der große Rosengarten zu Worms, and Der kleine Rosengarten und Laurin, which tells of heroes fighting the giants and dwarfs with their magical King Laurin.
The woodcuts were only used for this edition, and most of them belong to the finest examples of the early Strasbourg school of woodcutting. The compositions are widely varied, the large gestures are expressive, and the gazes of each of the figures are emphasised by large black pupils. This first edition is of legendary rarity: only ten more or less complete copies are extant.
Read more about this book in our Spotlight.
Back to list