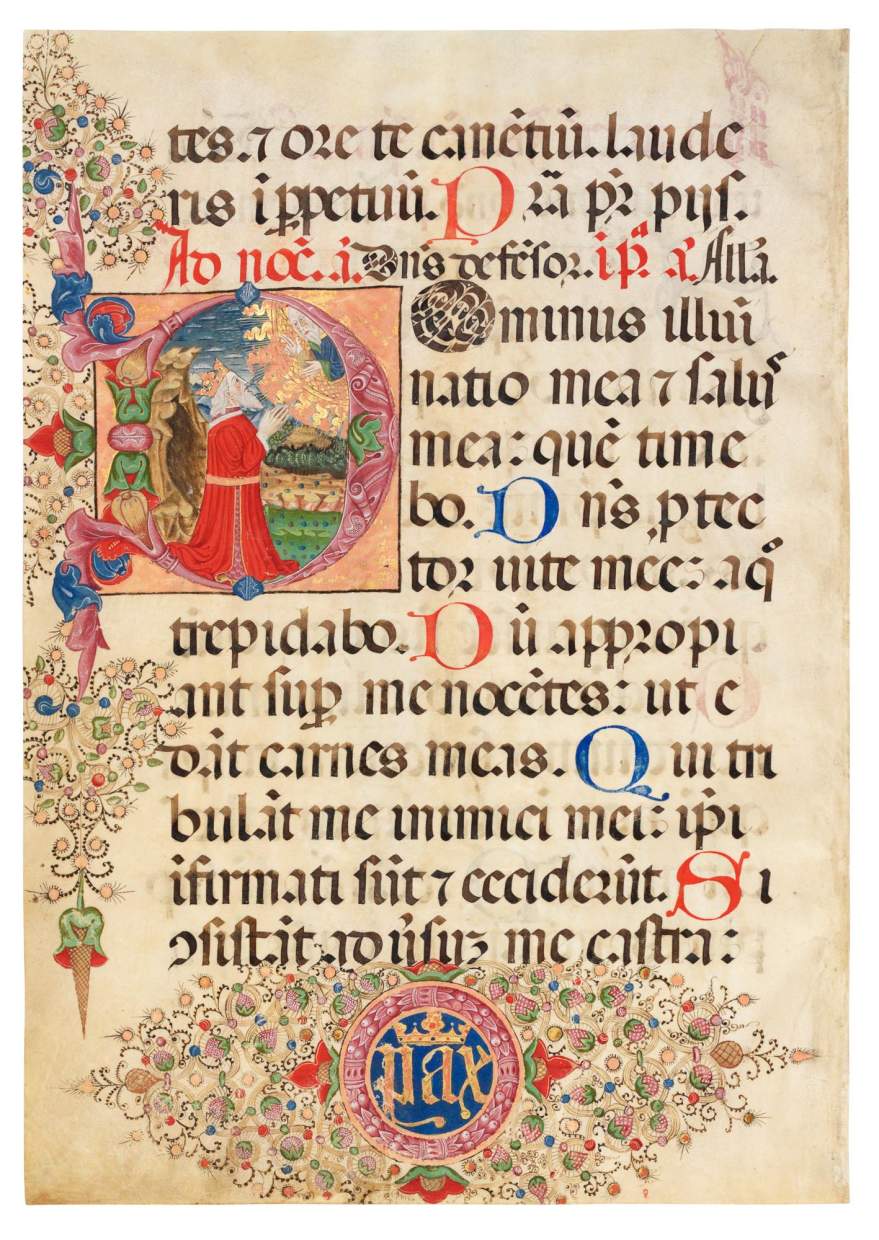 Close
1
/
1

David kneeling in prayer before God the Father
A Lombard Artist
,
Italy, Lombardy
,
c. 1460-70
One of seven known companion leaves, this leaf contains Psalm 26: 'Dominus illuminatio mea et salus mea...'
CHF 14'000 (VAT not included)
%3Cdiv%20class%3D%22artist%22%3E%3Cspan%20class%3D%22artist%22%3E%3Cstrong%3EA%20Lombard%20Artist%3C/strong%3E%3C/span%3E%3C/div%3E%0D%3Cdiv%20class%3D%22title%22%3E%3Cem%3EDavid%20kneeling%20in%20prayer%20before%20God%20the%20Father%3C/em%3E%2C%20c.%201460-70%3C/div%3E%0D%3Cdiv%20class%3D%22medium%22%3ETempera%20and%20burnished%20gold%20on%20parchment.%3C/div%3E%0D%3Cdiv%20class%3D%22dimensions%22%3E520%20x%20270%20mm%3C/div%3E
From a Psalter made for the Visconti Family in Milan
Overview
David kneels in a rocky landscape before a cave and looks up to the Almighty in an aureole. This style, which may be characterized as still largely late Gothic, continued almost to the end of the century, its main representatives being the so-called Master of the Fondi Giallini and the Master of Laura Bossi.
This leaf is likely from a Psalter created at the Franciscan convent of S. Angelo in Milan, and contains several symbols alluding to the patronage of the the family of Filippo Maria Visconti, Duke of Milan from 1412 to 1447. The dazzling "Visconti-sun", for instance, with its stylized meandering rays and the crown above the device 'pax' in the bas-de-page, offers a clue to its provenance. This miniature could be part of the series of donations of liturgical books made by the Visconti family to the S. Angelo convent.
Back to list