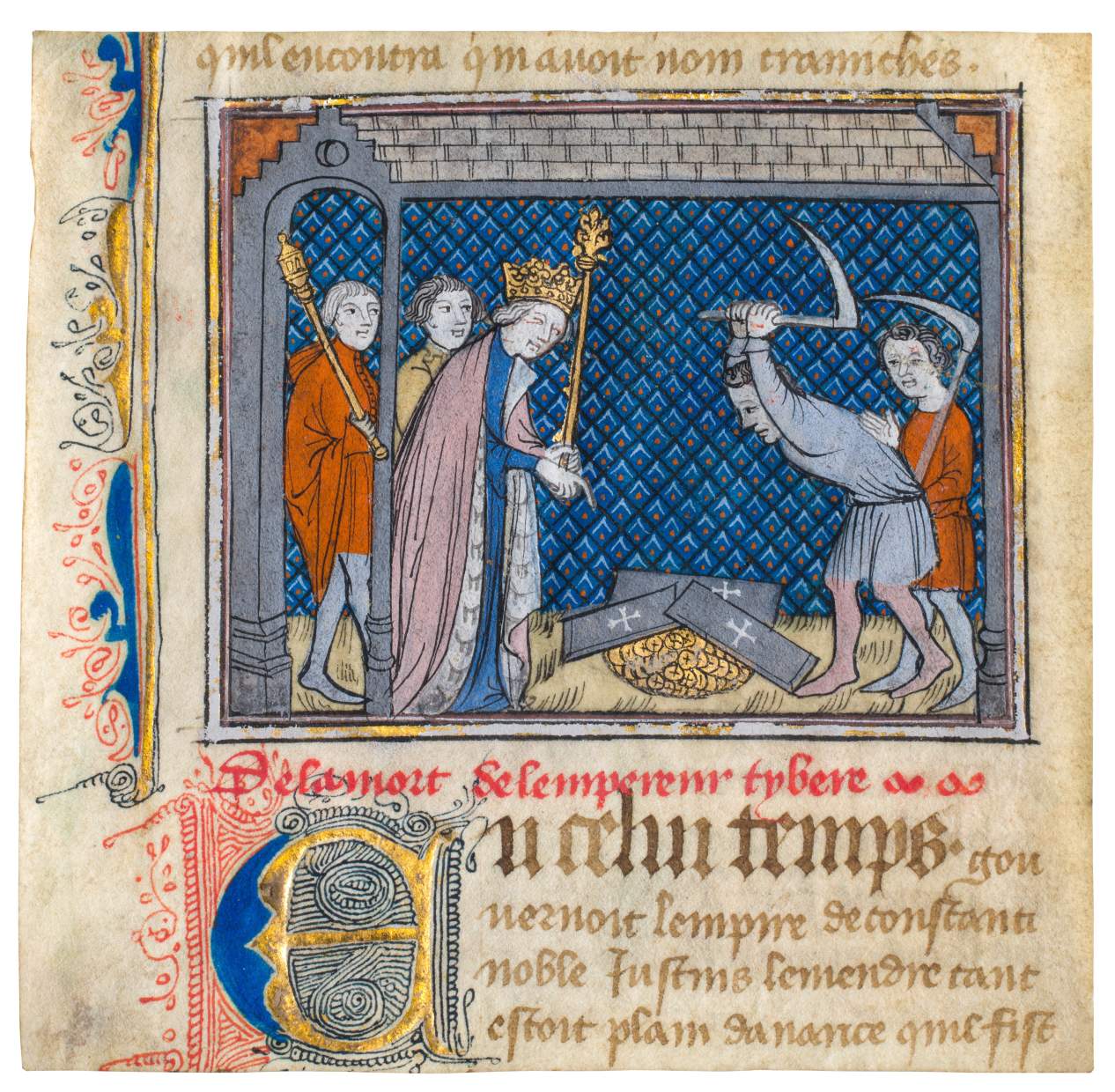 Close
1
/
1

Emperor Tiberius finds God-given Treasure
Perrin Remier
,
France, Paris
,
c. 1400-1410
One of nine miniatures from a copy of the 'Grandes Chronicles de France' illuminated by Perrin Remiet, the parent manuscript of which is yet to be identified.
25'000.00 EUR (VAT not included)
%3Cdiv%20class%3D%22artist%22%3E%3Cspan%20class%3D%22artist%22%3E%3Cstrong%3EPerrin%20Remier%3C/strong%3E%3C/span%3E%3C/div%3E%0D%3Cdiv%20class%3D%22title%22%3E%3Cem%3EEmperor%20Tiberius%20finds%20God-given%20Treasure%3C/em%3E%2C%20c.%201400-1410%3C/div%3E%0D%3Cdiv%20class%3D%22medium%22%3EIlluminated%20miniature%20in%20dark%20and%20light%20blue%2C%20bright%20red%2C%20burnt%20orange%2C%20and%20yellow%2C%20with%20gold%20leaf%20details%20and%20gold%20frame.%3C/div%3E%0D%3Cdiv%20class%3D%22dimensions%22%3ECutting%3A%20114%20x%20116%20mm%3B%20miniature%3A%2071%20x%2090%20mm.%3C/div%3E
From the official history of the French Kings, a glimpse at Tiberius' reign
Overview
The story behind this fabulous miniature is as follows: the Byzantine Emperor Tiberius II (r. 574-582), according to the Grandes Chroniques de France, discovered slabs of marble making up the palace floor, marked with the sign of the True Cross. Deciding that having the Cross underfoot was somewhat sacreligious, he ordered for the stones to be taken up - revealing hidden treasure beneath. Tiberius knew that this treasure had been deposited there by the Lord so that it might be given to the poor once unearthed.
This miniature would have accompanied the corresponding text as a helpful and delightfully animated visual aid. It shows a workman, his pickaxe raised, and the Emperor himself gazing down upon the miraculous discovery. The illuminator of our miniature, Perrin Remiet (fl. 1383-1415) is surprisingly well-recorded in both Parisian medieval archival records and in notes within contemporary illuminated manuscripts. His style looks back to the court style of works produced for Charles V, with figures in demi-grisaille with large, deep-set eyes and fleshy faces.
Back to list