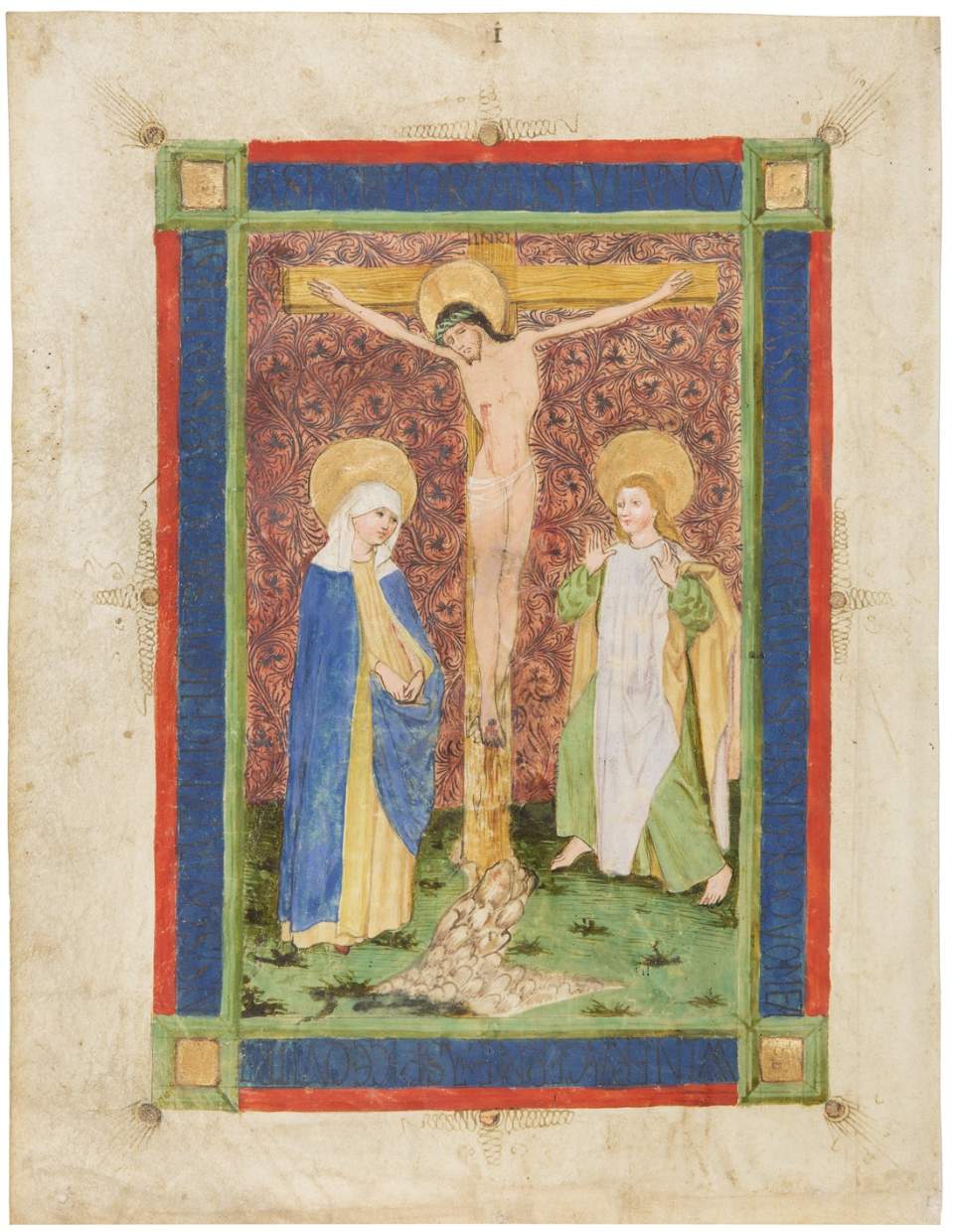 Close
1
/
1

Crucifixion with Mary and St. John
possibly by Johannes Bämler or one of his collaborators
,
South Germany or Austria
,
c. 1460
Full-page miniature on leaf from Canon of an Augsburg Missal
%3Cdiv%20class%3D%22artist%22%3E%3Cspan%20class%3D%22artist%22%3E%3Cstrong%3Epossibly%20by%20Johannes%20B%C3%A4mler%20or%20one%20of%20his%20collaborators%3C%2Fstrong%3E%3C%2Fspan%3E%3C%2Fdiv%3E%0D%3Cdiv%20class%3D%22title%22%3E%3Cem%3ECrucifixion%20with%20Mary%20and%20St.%20John%3C%2Fem%3E%2C%20c.%201460%3C%2Fdiv%3E%0D%3Cdiv%20class%3D%22medium%22%3EFull-page%20miniature%20on%20vellum%20from%20a%20Missal%2C%20with%20gouache%2C%20and%20gold.%20%3C%2Fdiv%3E%0D%3Cdiv%20class%3D%22dimensions%22%3ELeaf%3A%20345%20x%20270%20mm.%20Miniature%3A%20245%20x%20190%20mm.%3C%2Fdiv%3E
You who pass see how you cause me grief. I have suffered thus for you; your life has injured me.
Overview
In this solemn leaf from a Missal, we see Mary and St. John at the foot of the Cross, with a natural landscape in the foreground and an abstract terracotta background, ornamented with silver feather tendrils. In the second half of the 15th-century, a large group of Missals (the 'Augsburg-Salzburg' Missals) were mass-produced by scribes and painters in Augsburg, who also commuted to South Germany and Augsburg to do the same. The background design here, though it recalls Bohemian paintings, also can be found in a Missal from the same group as a Missal for the diocese of Passau.
The Missal for Passau is ascribed to the Augsburg artist Johannes Bämler, a scribe and bookbinder with a huge catalogue of work by his own hand or that of his workshop. He later was a printer of incunables.
Back to list