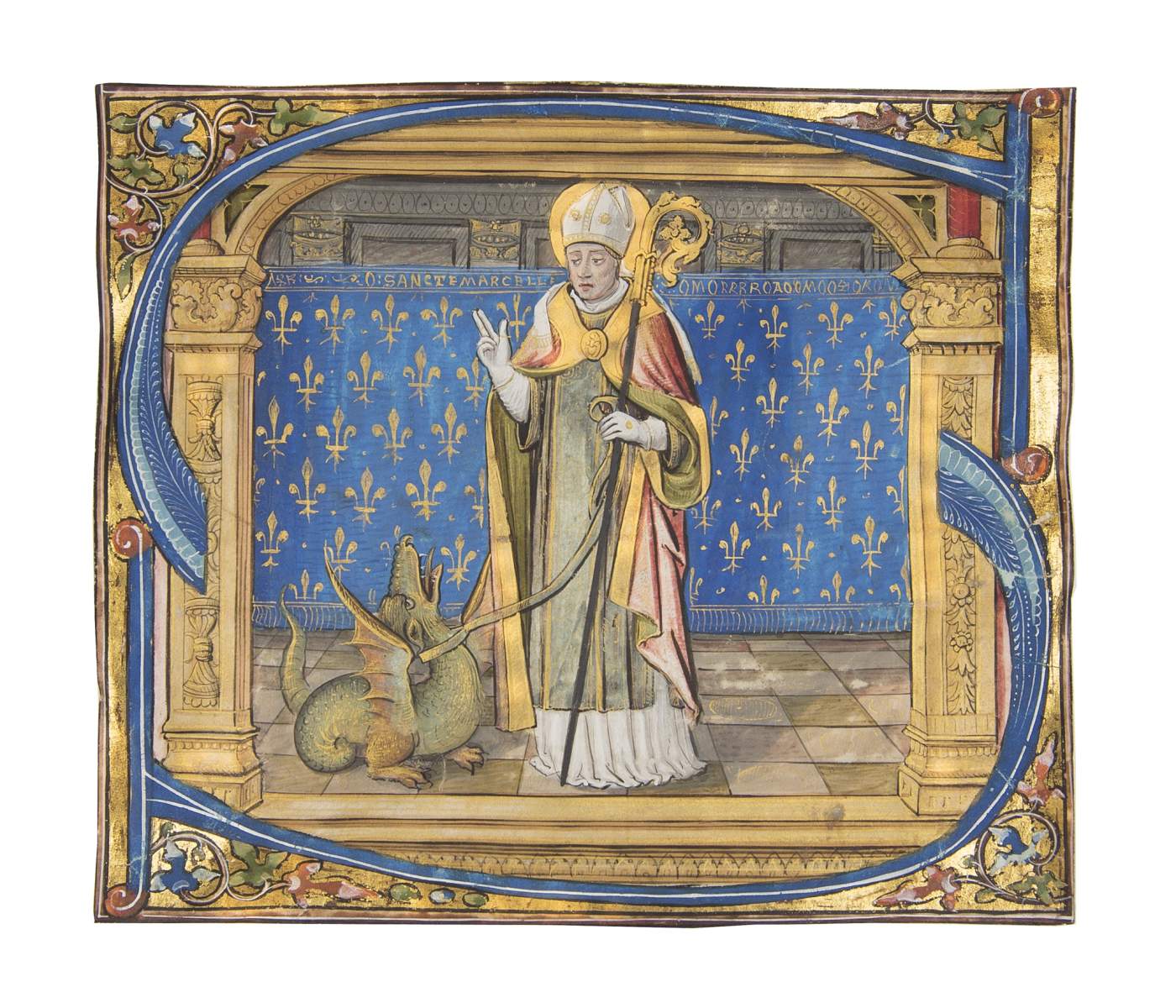 Close
1
/
1

From the royal Gradual of King Louis XII – Saint Marcel and his Dragon
Parisian artist from the circle of Jean Pichore
,
France, Paris
,
c. 1499-1500
This initial was part of the Gradual of King Louis XII of France (r. 1498-1515) and his wife Anne of Brittany (d. 1514), commissioned in the early years of his reign from several illuminators active in Paris, most likely for the Sainte-Chapelle of Paris.
%3Cdiv%20class%3D%22artist%22%3E%3Cspan%20class%3D%22artist%22%3E%3Cstrong%3EParisian%20artist%20from%20the%20circle%20of%20Jean%20Pichore%3C%2Fstrong%3E%3C%2Fspan%3E%3C%2Fdiv%3E%0D%3Cdiv%20class%3D%22title%22%3E%3Cem%3EFrom%20the%20royal%20Gradual%20of%20King%20Louis%20XII%20%E2%80%93%20Saint%20Marcel%20and%20his%20Dragon%3C%2Fem%3E%2C%20c.%201499-1500%3C%2Fdiv%3E%0D%3Cdiv%20class%3D%22medium%22%3EIlluminated%20vellum%20from%20a%20Gradual%2C%20one%20stave%20fully%20visible%20showing%20four-lined%20red%20staves%2C%20rastrum%3A%2042%20mm%3B%20Gothic%20bookhand%20%28textura%29%20and%20musical%20notation%20in%20black%2C%20rubrics%20in%20red.%3C%2Fdiv%3E%0D%3Cdiv%20class%3D%22dimensions%22%3E160%20x%20186%20mm.%3C%2Fdiv%3E%3Cdiv%20class%3D%22price%22%3ESold%3C%2Fdiv%3E
Marcel - the saint who fought and tamed the dragon
Overview
This work is now sold.
This miniature comes from a large royal Gradual that was produced for King Louis XII and his wife Anne de Bretagne on the occasion of their marriage c. 1499 by the prolific workshop of Jean Pichore and a group of his regular collaborators. It was probably taken apart around 1840. Two entire leaves of this manuscript have come down to us, one of which apparently almost in the original size. Furthermore, seventeen historiated initials – including the one at hand – of various sizes, painted by different artists, and in addition, some fragments of border strips and decorative initials.
Pichore himself was responsible for some of the miniatures from the parent manuscript. Our master's style is very close to Pichore's illuminations. He has a predilection for decisive, yet delicate, contours outlining garments, draperies, and facial features, and he models the objects and figures with tiny, densely set brushstrokes in different shades of the basic colour.
This marvellous miniature features Saint Marcel, identified not only by his dragon companion but also the faint inscription in the blue cloth of honour, ornamented with fleur-de-lys, behind. Marcel was supposedly the ninth bishop of Paris, now one of Paris' patron saints.
Details of the life of Marcel (c. 390 - 436) are vague, but his miracles are renowned: for example, he was asked to weigh a hot iron staff and did so without burning himself. As well as this, he turned water from the river Seine into wine, and, most spectacularly, he banished a dragon from the city of Paris. After defeating the beast, who was feeding on the body of a dead adulteress, Marcel tamed the creature and led it away. Here we see it looking submissively up at him, clearly no longer a risk to the people of Paris.
This miniature, impressively large and wonderfully executed, is a new and as yet unknown addition to the corpus of fragments from an important royal commission.
Back to list