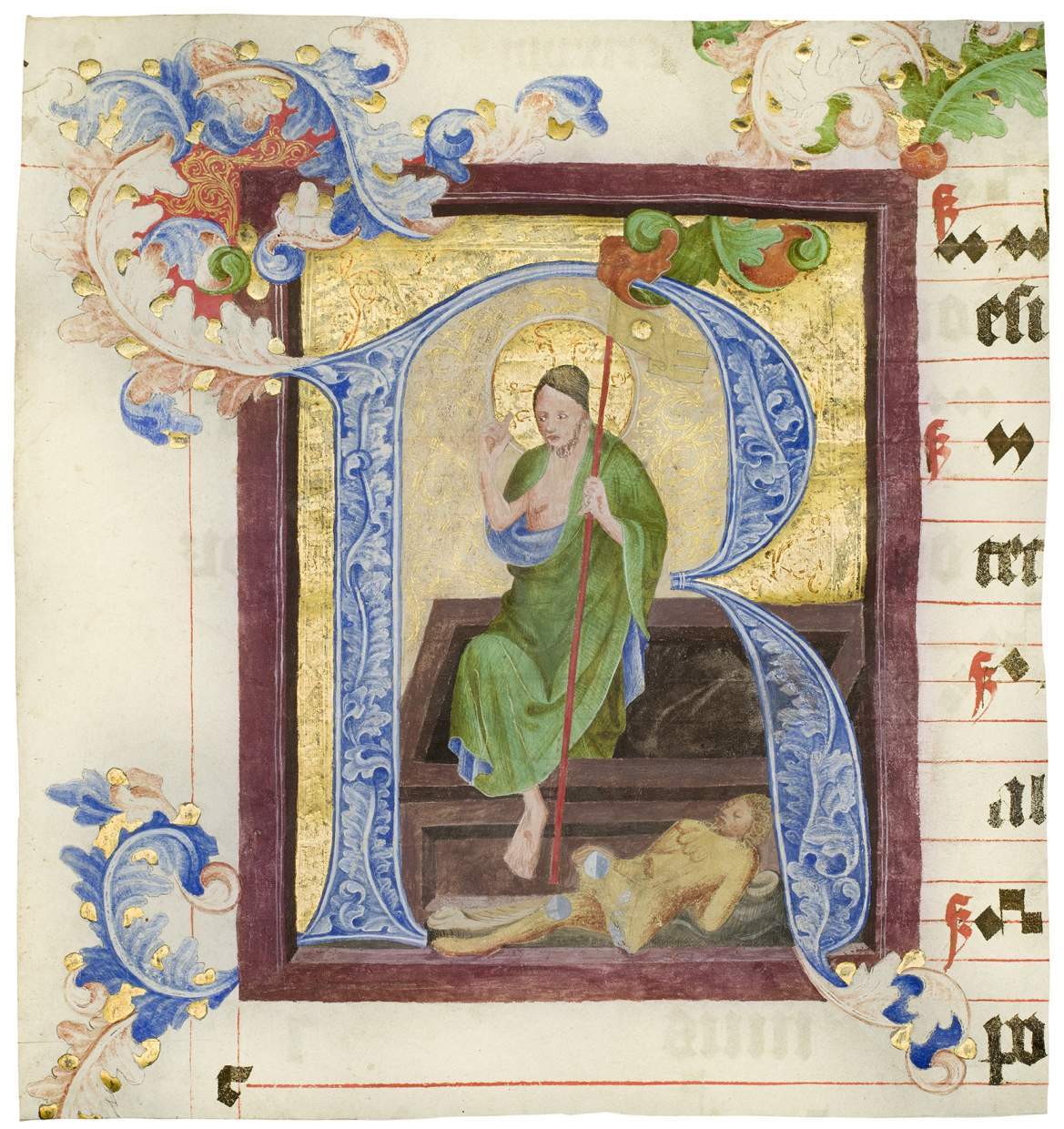 Close
1
/
1

Bohemian Resurrection
The present large historiated initial 'R' contains a stunning depiction of the Resurrection of Christ. This miniature is a cutting from an illuminated Gradual that was made in Prague around 1390.
CHF 28'000,- (VAT not included).
%3Cdiv%20class%3D%22title%22%3E%3Cem%3EBohemian%20Resurrection%3C/em%3E%2C%20c.%201390%3C/div%3E%0D%3Cdiv%20class%3D%22medium%22%3EMiniature.%20Tempera%20and%20gold%20on%20vellum.%3C/div%3E%0D%3Cdiv%20class%3D%22dimensions%22%3ESheet%3A%20260%20x%20232%20mm%2C%20initial%3A%20c.%20190%20x%20150%20mm.%3C/div%3E
Exquisite and sophisticated miniature from Bohemia
Overview
The miniature at hand is a cutting from an illuminated Gradual. The text is the Introit for Easter Sunday mass: Resurrexi et adhuc tecum (I arose, and am still with Thee). The diamond shaped musical notes are German-Gothic and quite common in the Bohemian crown land.
An illusionistic, three-dimensional, painted picture frame in a burgundy hue surrounds this large blue initial R. White acanthus leaves provide structure and vivacity to the letter's form. It is positioned on a burnished gold ground, embellished with delicate hallmarked patterns and with tendrils sometimes highlighted in red. From the frame as well as from the letter's body emanate opulent and colourful acanthus leaves in red, blue, green, light pink, and white, decorated with large dots in solid gold that lend the arrangement an exquisite and sophisticated appearance.
Christ is draped in a bright green cape that is lined in blue. Emerging from a massive brown sarcophagus, he nearly steps on the sentinel who sleeps in front of the coffin, his outstretched body slightly overlapping the frame. Christ's right hand rises in blessing; his left hand holds the flag.
Back to list