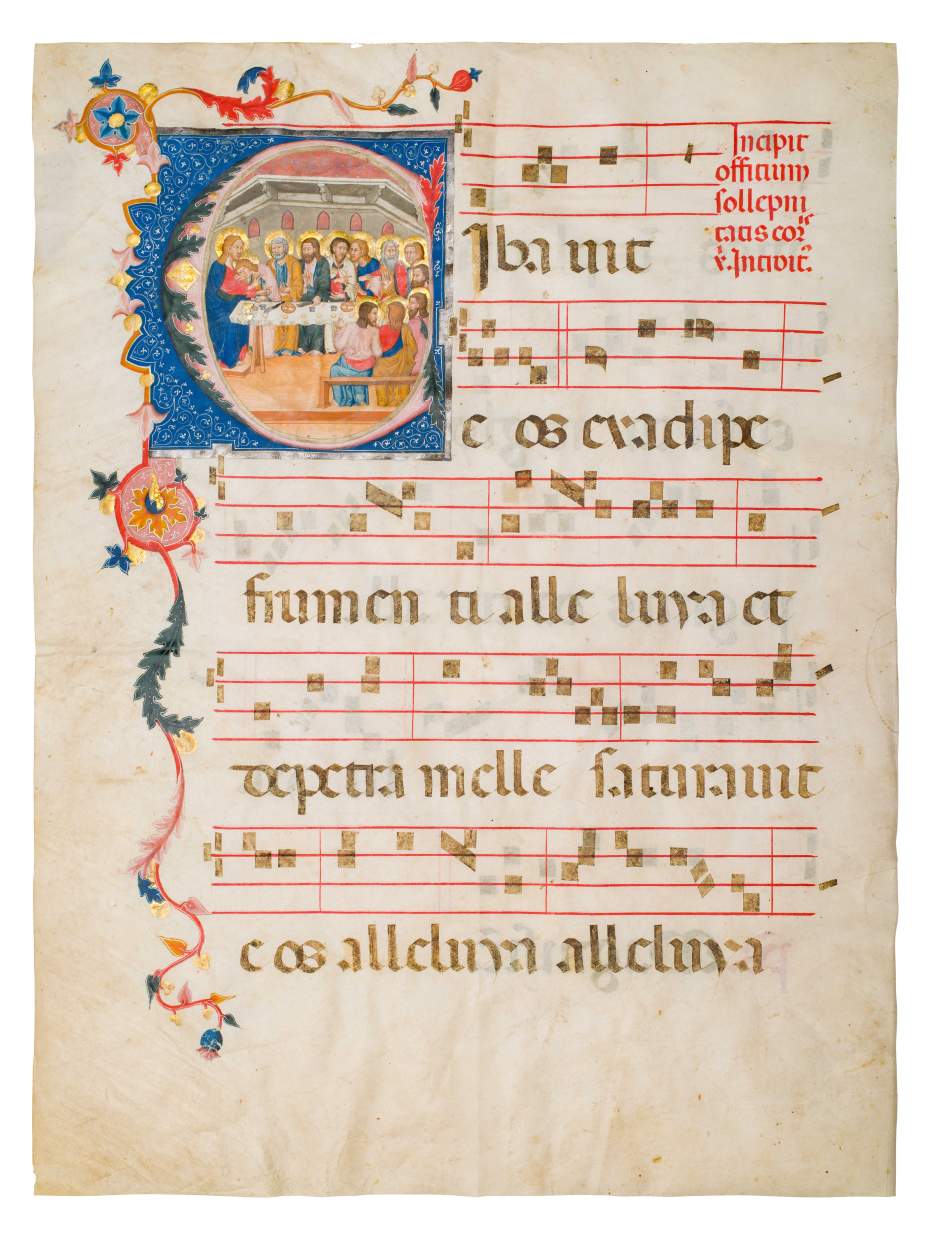 Close
1
/
1

Beautiful and inventive Last Supper
Vanni di Baldolo or the Master of the Matricole dei Notai
,
Italy, Perugia
,
c. 1330-1340
Among the best works of Vanni di Baldolo's workshop, this leaf's delicate, emotionally poignant Last Supper in an initial 'C' opens the Feast of Corpus Christi Mass.
Price CHF 95'000,- (VAT not included).
%3Cdiv%20class%3D%22artist%22%3E%3Cspan%20class%3D%22artist%22%3E%3Cstrong%3EVanni%20di%20Baldolo%20or%20the%20Master%20of%20the%20Matricole%20dei%20Notai%3C/strong%3E%3C/span%3E%3C/div%3E%0D%3Cdiv%20class%3D%22title%22%3E%3Cem%3EBeautiful%20and%20inventive%20Last%20Supper%3C/em%3E%2C%20c.%201330-1340%3C/div%3E%0D%3Cdiv%20class%3D%22medium%22%3EMiniature.%20Tempera%2C%20ink%20and%20gold%20on%20vellum.%3Cbr%20/%3E%0A%3C/div%3E%0D%3Cdiv%20class%3D%22dimensions%22%3ELeaf%3A%20517%20x%20385%20mm%2C%20initial%3A%20150%20x%20155%20mm.%3C/div%3E
One of the best works of Vanni di Baldolo's workshop
Overview
This leaf was originally a part of a Gradual that was likely made for Perugia's San Lorenzo Cathedral. Only two sister leaves were previously known: one in the Victoria and Albert Museum and another in a Swiss private collection. The original manuscript consisted of the chants recited during Mass. Its text belongs to the Sacrum Convivium and is attributed to Thomas Aquinas. Written in Latin, the text on this leaf opens the introit for the mass of the feast of Corpus Christi.
The historiated initial C shows Christ and his disciples at the Last Supper. Seated on benches, eleven apostles converse with Christ, who sits at the head of the table, tenderly bearing the sleeping John on his chest. Judas apparently has already left the table, and there is a slight but tangible commotion among the banqueting men.

The whole scene conveys the painter's striving for a spirited but dignified atmosphere. Here we are witness to a crucial turning point in the Saviour's life: the dice are cast and the group seems to realize that this peaceful moment together will be their last. The attempted realism of the scene is underlined by the efforts to create a perspective view of the interior, which is typical of Italian early 14th-century painting.

The modernism of the scene in the letter's bowl is counteracted by the initial's surrounding ornament, which remains indebted to the Gothic stylistic idiom. The style of this leaf can indubitably be ascribed to Vanni di Baldolo from Perugia. The discovery of this leaf rounds off our knowledge of an artist (and his workshop) who is still causing confusion among art historians because of his rather incongruous oeuvre. This leaf, however, belongs to the best works of this atelier. It is an all the more singular discovery because the Last Supper is quite a rare subject, in this instance demonstrating not only the artistic excellence of this supreme illuminator, but also his emotional perception.
Back to list