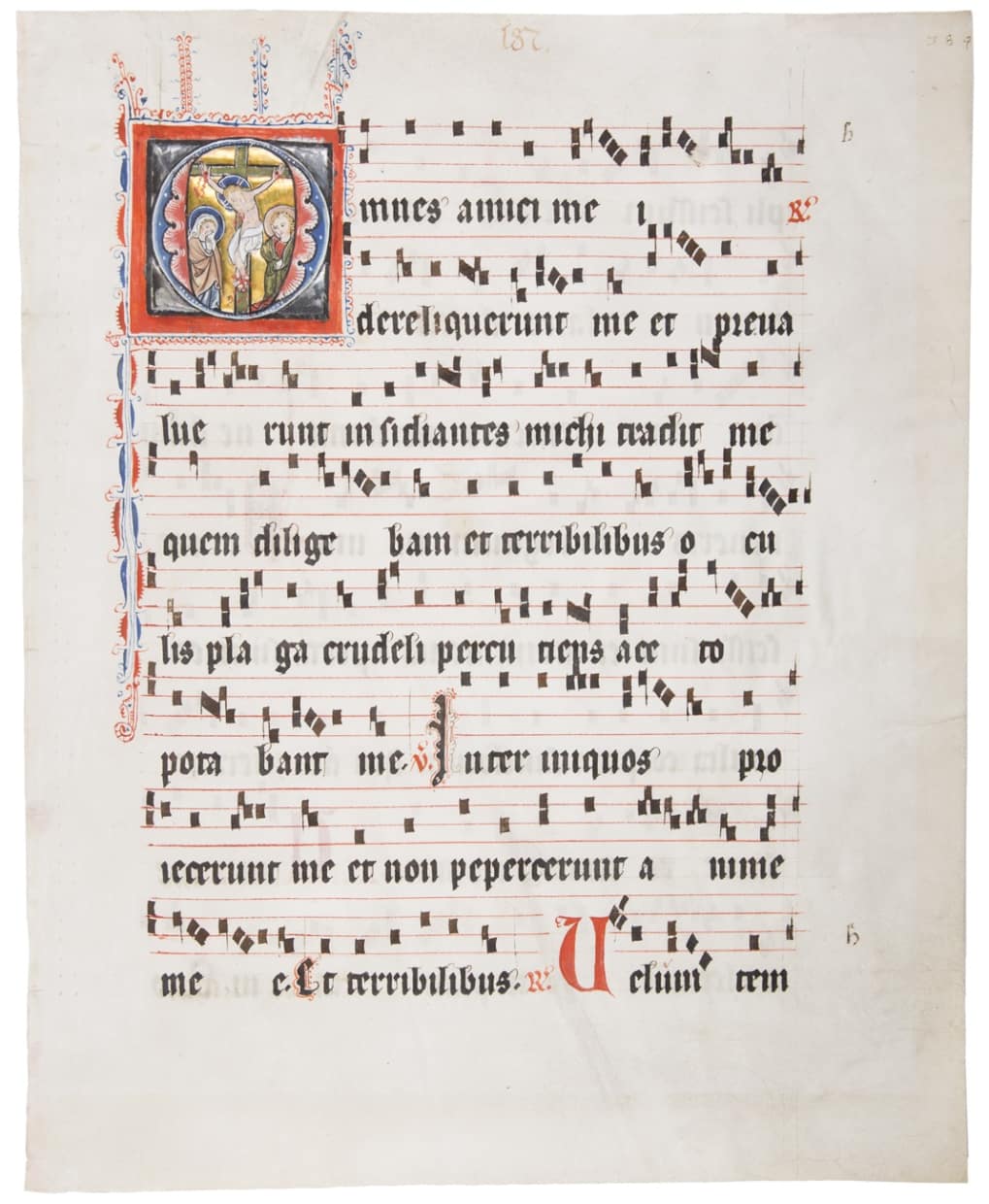 Close
1
/
2


Crucifixion
Germany, Regensburg
,
c. 1310
Historiated initial O on a single leaf from an Antiphonal. The Regensburg style of painting of this period is characterized by a naïve, lively charm. The chant is the first response for the first nocturne recited during Matins at Good Friday.
%3Cdiv%20class%3D%22title%22%3E%3Cem%3ECrucifixion%3C/em%3E%2C%20c.%201310%3C/div%3E%0D%3Cdiv%20class%3D%22medium%22%3EMiniature.%20Tempera%2C%20gold%2C%20and%20silver%20on%20vellum.%3C/div%3E%0D%3Cdiv%20class%3D%22dimensions%22%3ELeaf%3A%20453%20x%20366%20mm.%20Initial%3A%2078%20x%2081%20mm.%3C/div%3E
Overview
This enchanting leaf belonged to a well-known Antiphonal made for the nuns of the Dominican convent of the Holy Cross in Regensburg in the early 14th century. This was the oldest female community of that order in Germany. A set of choir books would be an imperative acquisition for a new establishment. Generously funded by bishops and private sponsors, the convent enjoyed financial prosperity, which enabled the commission of expensive manuscripts.
The blue letter O fills the black square frame to set the stage for the Crucifixion. The illuminator was quite successful in fitting a comprehensive, emotional scene into a small space through the articulation of the figures' gestures: one feels the sadness of the Virgin clasping her hands and St. John putting a hand to his cheek. The proportions and sweet faces lend this initial an innocent air. The figures have delicately drawn faces with gently red-dabbed cheeks. The application of colour juxtaposed with strong black contouring lines is reminiscent of stained glass.
Back to list