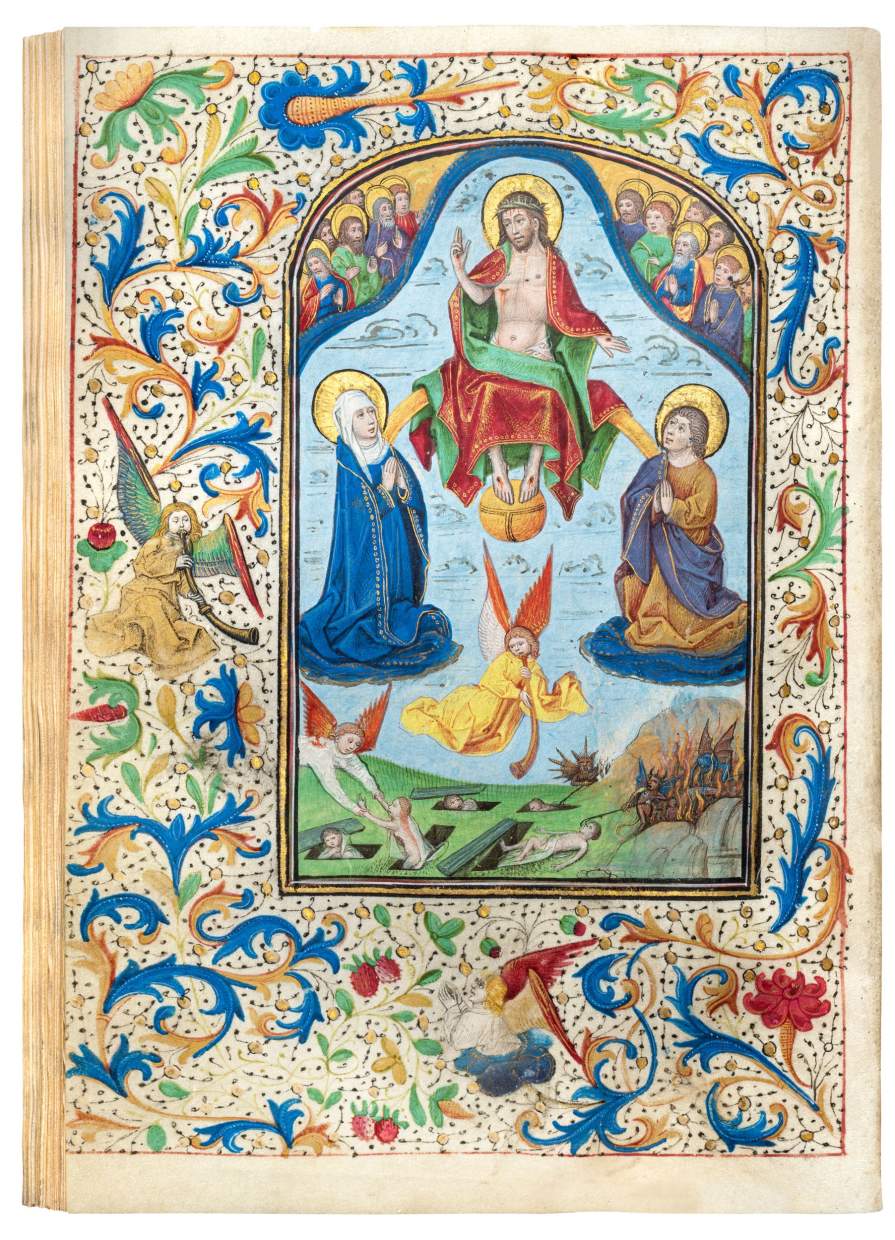 Close
1
/
13













The Vrelant Hours
Willem Vrelant
,
Bruges, Flanders
,
c. 1465- 1470
This stunning Book of Hours arises as a new discovery, adding to the corpus of manuscripts attributed to Willem Vrelant. A successful and highly esteemed court painter for Philip the Good of Burgundy, Vrelant also enjoyed popularity in Spain and Portugal. Due to several comparisons to undisputed works of his, this manuscript could very well have been made by Vrelant himself.
Price: 395'000,- CHF (not including VAT)
%3Cdiv%20class%3D%22artist%22%3E%3Cspan%20class%3D%22artist%22%3E%3Cstrong%3EWillem%20Vrelant%3C/strong%3E%3C/span%3E%3C/div%3E%0D%3Cdiv%20class%3D%22title%22%3E%3Cem%3EThe%20Vrelant%20Hours%3C/em%3E%2C%20c.%201465-%201470%3C/div%3E%0D%3Cdiv%20class%3D%22medium%22%3EIlluminated%20manuscript%20in%20Latin%20and%20French%20on%20Vellum%20%3C/div%3E%0D%3Cdiv%20class%3D%22dimensions%22%3E168%20x%20115%20mm.%20189%20leaves%2C%20complete%2C%20ruled%20for%2018%20lines.%3C/div%3E
A superb addition to the attributed works of Willem Vrelant
Overview
This manuscript is a superb example of the work of renowned illuminator, Willem Vrelant, who dominated Bruges' book art during the third quarter of the 15th century. In 1449, an illuminator from Vreeland named Willem Backer obtained citizenship in Utrecht. One year later, he can be traced to the same city, decorating a major part of the extravagant Book of Hours for William of Montfort. In 1454, he joined the book maker's guild of St. John the Evangelist in Bruges and was incredibly popular during his active time there from c. 1450-1481. His fame spread as far as Spain and Portugal, where Elizabeth of Aragon, Queen of Portugal (1470-1498) was one of his great admirers. His steadiest patron, however, was Duke Philip the Good of Burgundy. In the Duke's accounts, a payment was made to a certain "Guillaume Wyelant" in July 1468, delivered for sixty miniatures in a Chronicle of Hainaut. Another payment is documented for Ludolph's Vita Christi, part of a miscellany. On 19 June 1481, there is an entry for a memorial service commemorating Vrelant, thus he died in or before that year. Willem Vrelant and his oeuvre have been extremely well documented by Bernard Bousmanne, who mainly lists the artist's works in public collections in his catalogue raisonné. The manuscript at hand is not mentioned there.
Vrelant's style can be found in numerous Books of Hours, but since he employed a great number of assistants and collaborators who were capable of closely imitating his style, the extent of works that are genuinely his own are still subject to scholarly discussion. The miniatures in this Book of Hours, however, are of remarkable quality and are comparable to Vrelant's best works. The fact that the layout of our book consists of numerous historiated initials of high artistic quality likens our manuscript to the Book of Hours for Leonor de la Vega, generally accepted as an undisputed work by the Master. A comparison of the two full- page Crucifixions reveals the closeness in composition and style. In both, the faces are meticulously defined and draperies have sharp folds, often embroidered in gold. These are key features of Vrelant's precise and graphic style. An imposing, expertly rendered cityscape rises in the background beyond a wide river. The alert and somewhat mischievous drolleries and grotesques in the borders relate to the main scene. These marginal figures are magnificent in their details. They are not all by the same hand, however, and were presumably added by a collaborator.
The outstanding miniature of the Salvator Mundi, pasted in at the end of this volume, comes from another manuscript and is a later addition. Christ's handsome portrait given as a half-figure, one hand raised in blessing while the other holds a crystal sphere, is an archetype introduced by Jan van Eyck. It enjoyed great popularity in the following decades and is often found in manuscripts of Vrelant's presumed apprentice, the Master of the Dresden Prayer Book or the Master of the David Scenes.
Back to list