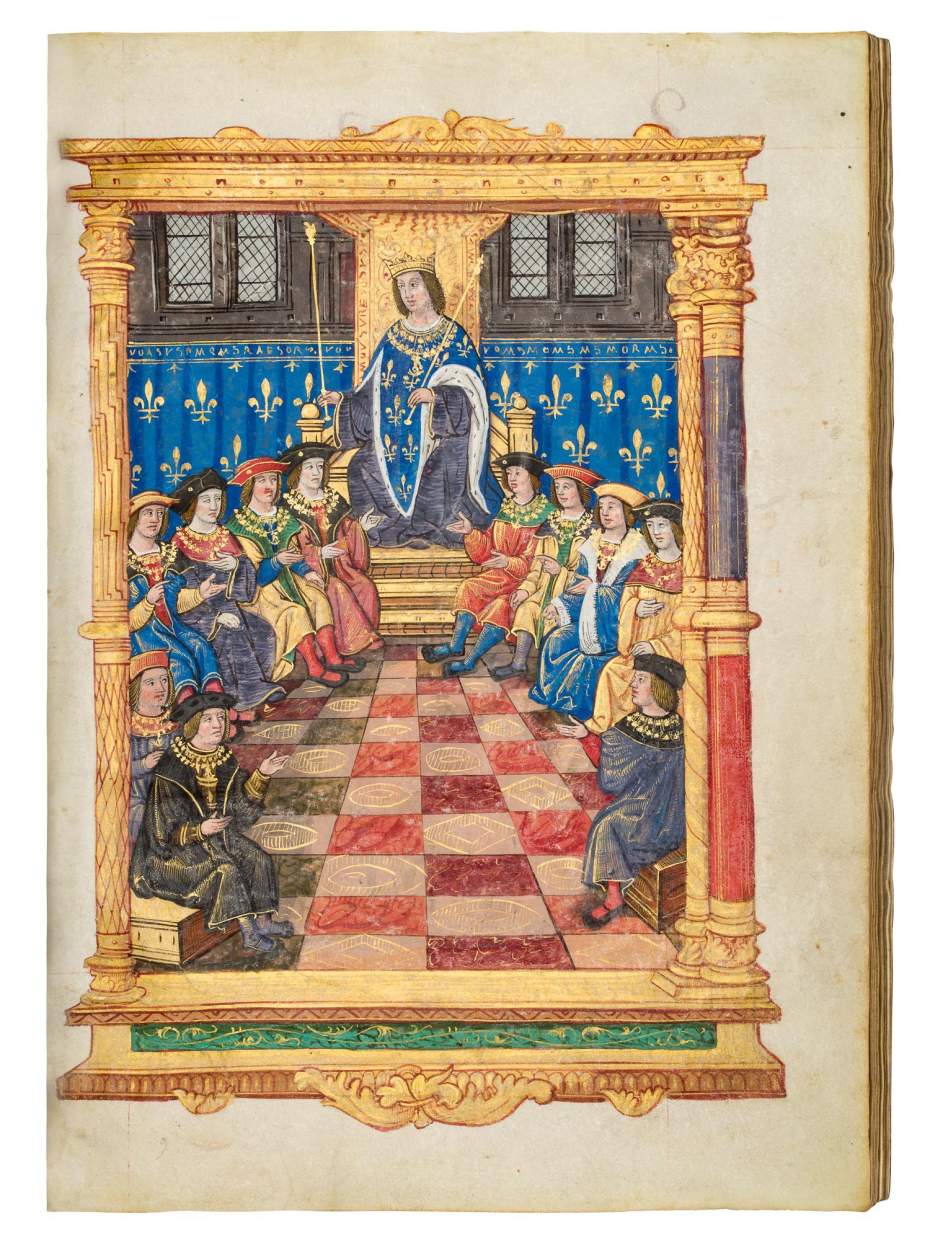 Close
1
/
2


Statutes of the Order of St. Michel
Workshop of Étienne Colaud
,
Paris, France
,
c. 1523 (before 1525)
This exquisite, well-preserved manuscript of the Statutes of the royal chivalric Order of St. Michel is one of the deluxe manuscripts ordered by François Ist, King of France (1494-1547), from the Parisian court painter Étienne Colaud in 1523, for presentation to his loyal knights. This copy was intended for his uncle, René of Savoy.
CHF 145'000,- (VAT not included).
%3Cdiv%20class%3D%22artist%22%3E%3Cspan%20class%3D%22artist%22%3E%3Cstrong%3EWorkshop%20of%20%C3%89tienne%20Colaud%3C%2Fstrong%3E%3C%2Fspan%3E%3C%2Fdiv%3E%0D%3Cdiv%20class%3D%22title%22%3E%3Cem%3EStatutes%20of%20the%20Order%20of%20St.%20Michel%3C%2Fem%3E%2C%20c.%201523%20%28before%201525%29%3C%2Fdiv%3E%0D%3Cdiv%20class%3D%22medium%22%3EIlluminated%20manuscript%20on%20vellum.%3C%2Fdiv%3E%0D%3Cdiv%20class%3D%22dimensions%22%3E253%20x%20182%20mm.%20ii%20%2B%2048%20%2B%20ii%20leaves%2C%20complete.%20Two-line%20illuminated%20initials%20on%20alternating%20red%20and%20blue%20grounds%20throughout%3B%20two%20large%2C%20illuminated%20initials%2C%20one%20full-page%20miniature%20with%20an%20architectural%20border%20facing%20a%20full-page%20coat%20of%20arms%20of%20Ren%C3%A9%20of%20Savoy.%3C%2Fdiv%3E
Extraordinary Royal Commission
Overview
The Order of Saint Michel was founded by Louis XI in 1469 and was a competitive response to the Burgundian Order of the Golden Fleece. Chivalric orders were instituted by monarchs across Europe and inspired by the early military orders from the times of the crusades, such as the Knights Templar. Members in late medieval fraternities were appointed as a reward for faithful service and to ensure continued loyalty. The Archangel Michael was chosen for the French chivalric order because he was seen as the "first knight" who fought the devil, the enemy of mankind.

Interestingly, neither Louis XI nor his two immediate successors – Charles VIII and Louis XII – ever held a general chapter or assembly for the knights. Louis XI is said to have been a despotic and paranoid monarch. In the cases of the two latter kings, the chapter was apparently cancelled due to a lack of funds. Regardless, knights were regularly appointed, but it was not before 1516, under the reign of François I, that the first gathering of the Order was held. The Collar of the Order consists of scallop shells and a pendant with the Archangel Michael.


The full-page miniature depicting Louis XI surrounded by his knights on f. 9v is attributable to Étienne Colaud (active between 1512-1541) and his associates, who adopted the master's distinctive manner perfectly. This style has thus been traditionally known as the "Colaud circle" or "manner of Étienne Colaud" as it is practically impossible to reliably distinguish between the different hands. In recent years, a Book of Hours appeared on the market bearing a most unusual artist's inscription with the atelier's address and a date, imitating the phrasing of imprints and colophons usually found in printed Book of Hours: "Ces presentes Heures a l'usaige de Romme ont esté faicte par Estienne Colaud, enlumineur demourant a Paris en la rue de la Vielle Draperie, près la grant porte du Pallys, devant Sainct Pierre de Aissis. 1512."

As a figure without an œuvre, Colaud's name was long known from several ancient invoices, receipts, etc. – one archival document even stated that he procured a certain sum to have his broken leg set. The above-mentioned date of 1512 is the earliest that narrows down his first documented activity. Some 19th-century scholars accuse Étienne Colaud of having a prim and dry painterly manner, a charge which seems quite undeserved and biased. Naturally, when scholarly standards for book illumination are set by the likes of Jean Fouquet, one would be pressed to find any contemporary French artist that does not seem overly meticulous or donnish in comparison. Étienne Colaud was not only a very talented illuminator, but also a book binder and seller. He is mentioned in some invoices as the entrepreneur who made and delivered (fait et livré) certain listed manuscripts. Apart from shedding a completely new light on the book market at the beginning of the 16th century, such documents also bring a new perspective on the present artist. He was tasked with producing his manuscripts in an efficient way, which is reflected by his choice of motifs that are regularly borrowed from other Parisian workshops, like Jean Pichore's. His painting was, in any case, highly appreciated by the French King François Ist, who ordered at least twelve copies of the Statutes of the Order of St. Michel, for which Colaud and his collaborators provided the frontispieces and very likely all of the secondary decoration.
Colaud's typical style is the result of a shift in aesthetics that was brought about at the very end of the 15th and beginning of the 16th centuries. At that time, book illumination stood in fierce competition with printed illustration and was subject to the new economic rules of profitability. Thus, miniatures became crisper and more graphic in style, showcasing solid contours, sharply delineated colour patches, and vivid, contrasting hues. Late French illumination is hardly distinguishable from coloured woodcuts. Here, our artist uses an abundance of shell gold, especially in such a noble commission but also in his other books, to emphasize his medium's magnificence and preciousness.

f. 8v The manuscript at hand was likely made for René of Savoy, uncle to François Ier and a member of the Order of St. Michel from 1517 until his death in 1525. On a grassy ledge, two standing lions hold René of Savoy's escutcheon, surrounded by the collar of the Order of St. Michel. The baton sinister originally appearing in his crest has been removed. His crest is topped by a winged lion's head.
Back to list