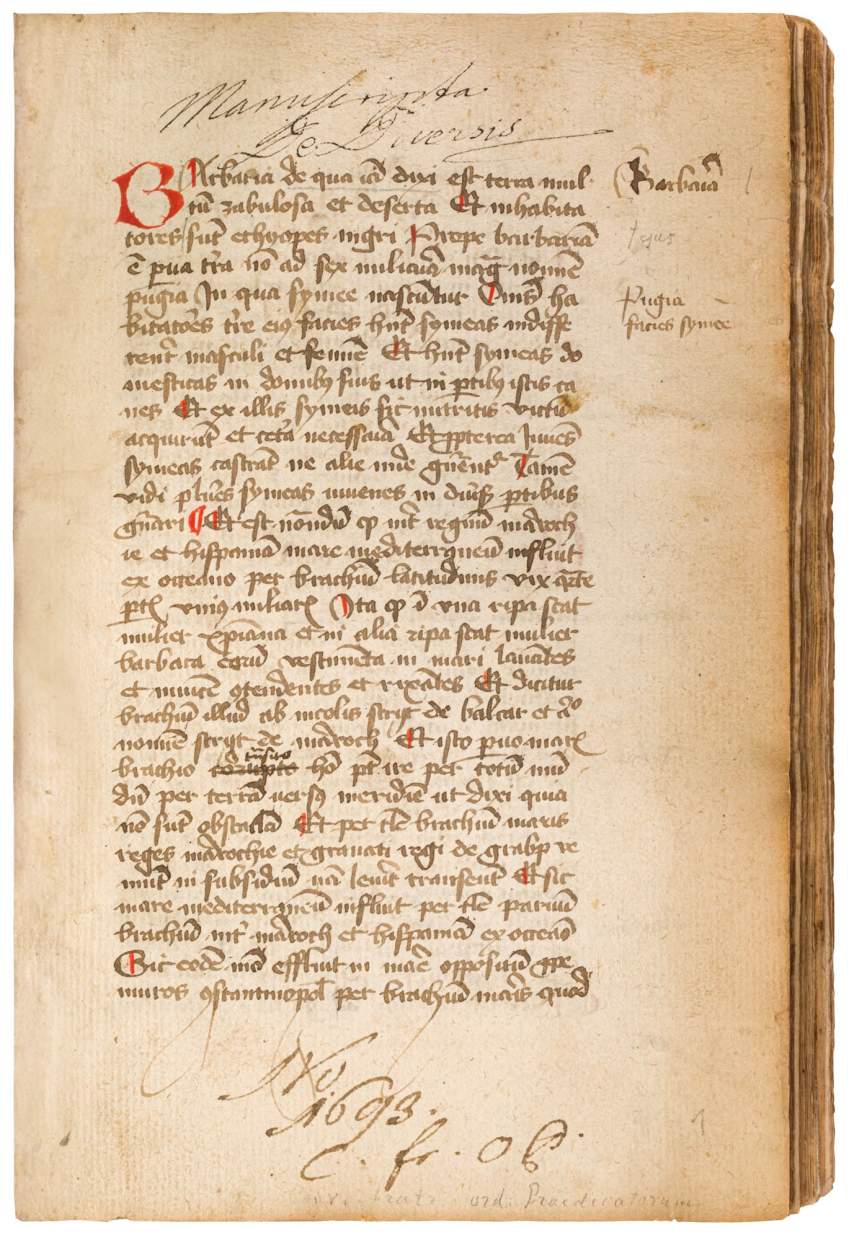 Close
1
/
3



Compendium with unique pilgrim travelouge
Frankfurt/Main (?)
,
1470-80, and 16th c.
This Sammelband contains several pilgrim texts, including Ludolf von Sudheim's De itinere terrae sanctae, and other treatises on the the remedies of Black Death and a recipe for gelatine.
Price available on request
%3Cdiv%20class%3D%22title%22%3E%3Cem%3ECompendium%20with%20unique%20pilgrim%20travelouge%3C/em%3E%2C%201470-80%2C%20and%2016th%20c.%3C/div%3E%0D%3Cdiv%20class%3D%22medium%22%3EManuscript%20on%20paper.%20%3C/div%3E%0D%3Cdiv%20class%3D%22dimensions%22%3Ec.%20210%20x%20140%20mm.%2083%20%28of%20originally%20around%20103%29%20leaves.%3C/div%3E
Perilous Holy Land adventures in unique pilgrim's guide
Overview
This riveting collection of early pilgrim literature has been conveyed in a well-nigh complete copy. The combination of these unusual texts is particularly intriguing and rare. The second text, possibly written by a Franciscan monk from Frankfurt, only survives in this one copy. The volume at hand may have been intended as a pilgrim's guide and a number of blank pages leave room for owner's notes. The manuscript also includes an engaging calendar of edible winter fish, a recipe for gelatine, and remedies for the Black Death.


Filled with fascinating tales of adventurous and often perilous voyages in unknown lands, pilgrim's accounts were highly in demand in the late Middle Ages. A vast number of these travelogues have been "read to shreds" and are gone for good. This compendium had been described in the late 19th century and was long-lost until the present. Luckily, it is still preserved in its original binding.
Back to list