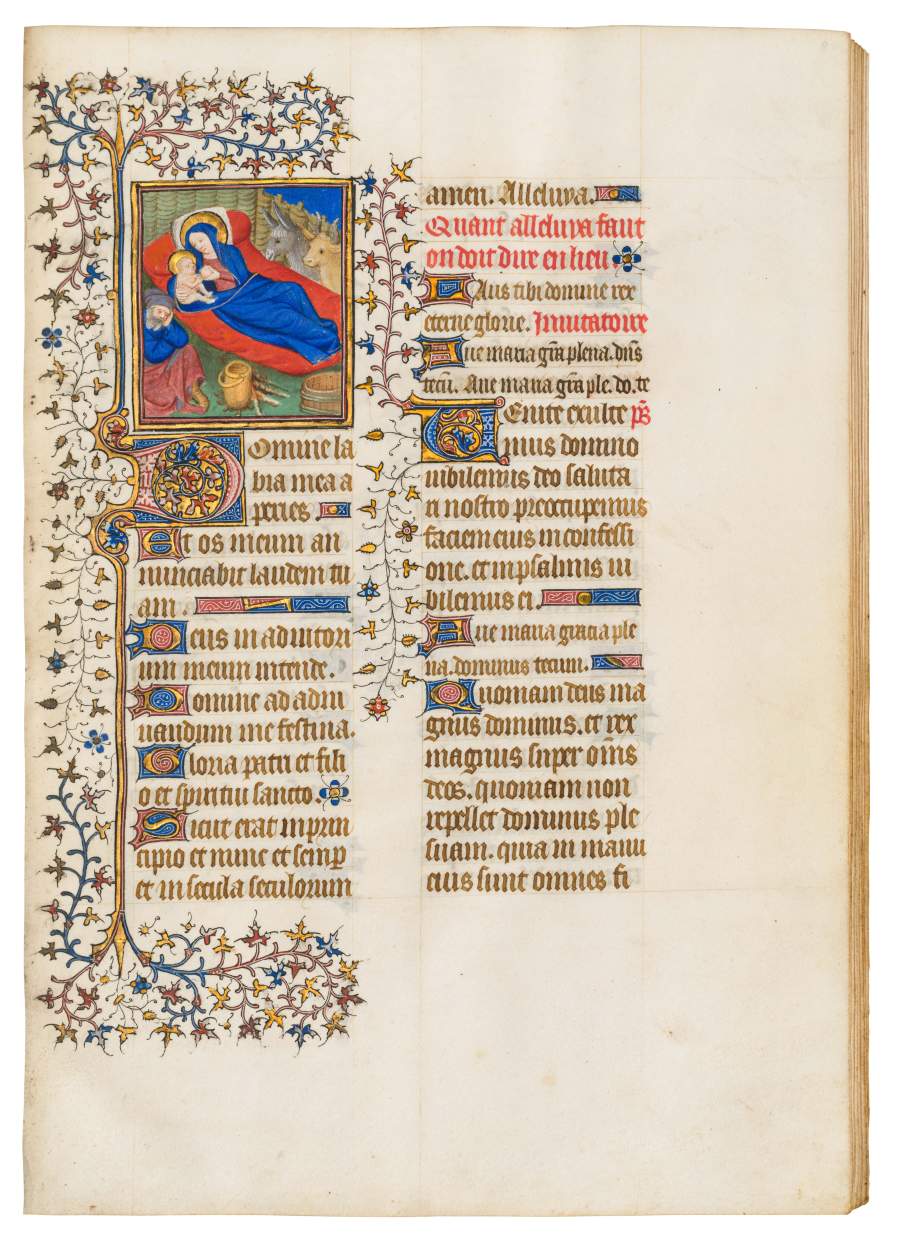 Close
1
/
7







The O'Kelly Hours: a Princely Book
France, Paris
,
c. 1400-1410
This gorgeous illuminated manuscript boasts 3 eight-line high, column-wide miniatures with full ivy leaf borders, by the Virgil Master working at the court of the Duke of Berry.
€ 140,000,- (VAT not included)
%3Cdiv%20class%3D%22title%22%3E%3Cem%3EThe%20O%E2%80%99Kelly%20Hours%3A%20a%20Princely%20Book%20%3C%2Fem%3E%2C%20c.%201400-1410%3C%2Fdiv%3E%0D%3Cdiv%20class%3D%22medium%22%3EManuscript%20in%20Latin%20and%20French%20on%20vellum%3C%2Fdiv%3E%0D%3Cdiv%20class%3D%22dimensions%22%3E243%20x%20170%20mm%2C%2072%20of%2074%20leaves.%203%20eight-line%20high%2C%20column-wide%20miniatures%20with%20full%20ivy%20leaf%20borders.%3C%2Fdiv%3E
A highly unusual early Book of Hours
Overview
From the first decade of the 15th century, this sparkling Book of Hours is quite unusual in its layout. The use of two columns for a Book of Hours is extremely rare in general – indeed, the use of this layout is almost unique to the patronage of the Duke of Berry and his family – and the format here recalls the Hours' forerunner, the Breviary. Moreover, the three fine miniatures in the book at hand corroborate the provenance hypothesis: the present artist was working at the Duke of Berry's court and was named after a Virgil manuscript for Jacques Courau, the Duke's treasurer and maître d'hôtel.
lthough sparingly illustrated, this is a princely manuscript of exceedingly high quality. The Virgil Master's style is quite recognisable in our book. Dainty figures with pale, rosy faces have delicately defined features, round beady eyes, and a fine, bright line to define the bridge of the nose.
Back to list