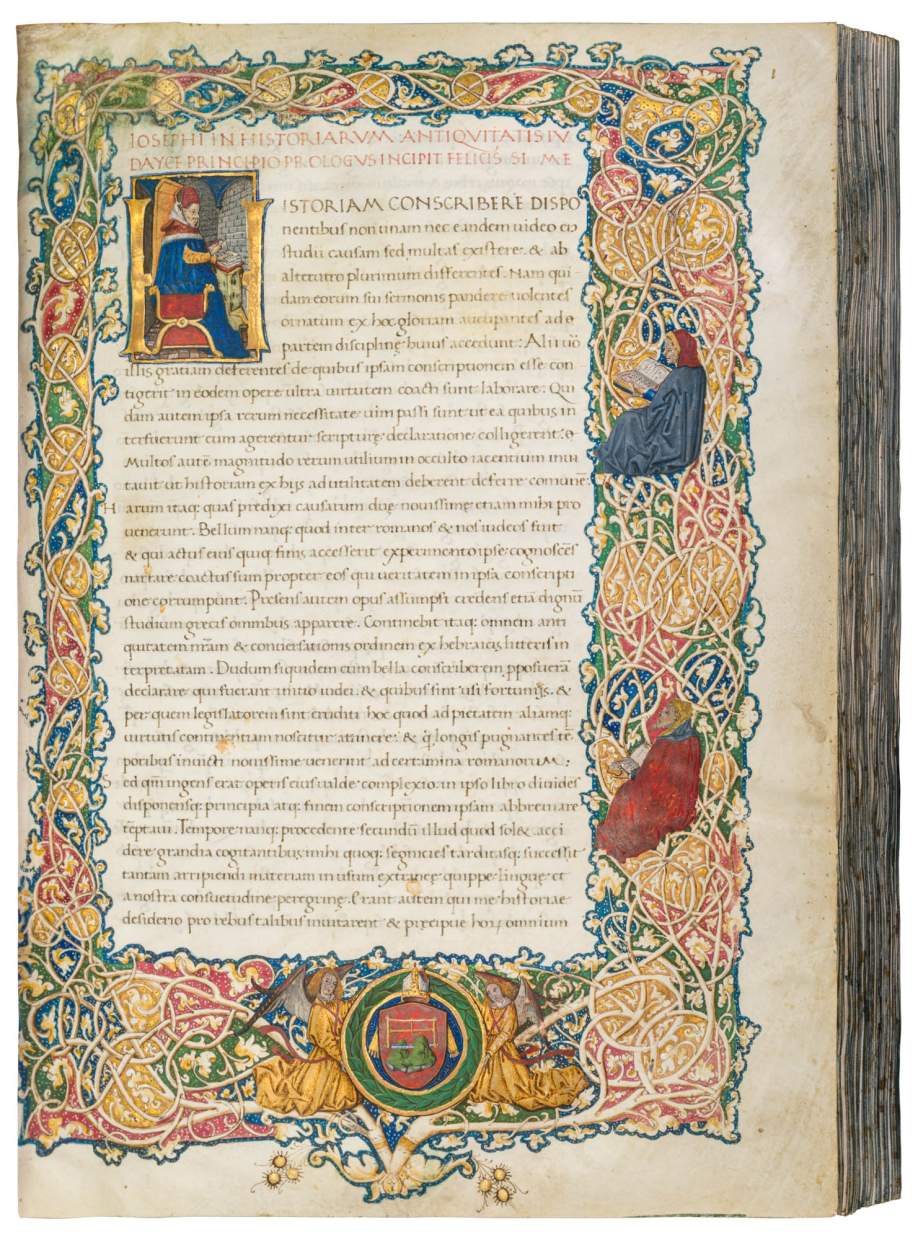 Close
1
/
5





A Popular History of the Jewish People
Neopolitan Workshop
,
Italy, Naples
,
c. 1440-1470
Antiquitates Judaicae. With 1 full-page composition, showing a portrait of the author, and 20 decorative initials, featuring borders in the 'Bianchi girari' technique
CHF 380'000,- (VAT not included)
%3Cdiv%20class%3D%22artist%22%3E%3Cspan%20class%3D%22artist%22%3E%3Cstrong%3ENeopolitan%20Workshop%3C/strong%3E%3C/span%3E%3C/div%3E%0D%3Cdiv%20class%3D%22title%22%3E%3Cem%3EA%20Popular%20History%20of%20the%20Jewish%20People%3C/em%3E%2C%20c.%201440-1470%3C/div%3E%0D%3Cdiv%20class%3D%22medium%22%3EIlluminated%20manuscript%20in%20Latin%20on%20vellum%3C/div%3E%0D%3Cdiv%20class%3D%22dimensions%22%3E360%20x%20255%20mm%3C/div%3E
Important history by a particularly accomplished priest and commander in the Jewish army
Overview
One of the few extra-biblical, non-Christian sources which verifies the historical existence of Jesus of Nazareth, this beautifal manuscript is one of the most important texts of the Middle Ages, and was extremely popular.
Written by Flavius Josephus (Yosef Ben Matityahu, born c. AD 37), an erudite priest who was a commander in the Jewish army and was later a captive of Emperor Vespasian in Rome, the Antiquitates Judaicae documents the history of the world in general, and of the Israelites in particular, beginning with the creation of Adam and Eve and ending with the Jewish-Roman war, in which he personally participated.
The manuscript at hand was likely commissioned by (or for) Bishop Cosme di Montserrat in Vic, Catalonia. The banchi girari style of the illuminated letters, all homogeneous and sticking to a palette of gold, black, green, and pink, was common in Tuscany, but here the shading and loops suggest a Neapolitan origin. Manuscripts of this text are extremely rare, likely because of how readers read and re-read this exciting text.
Read more about this beautiful book in our 2021 publication, Collecting Culture.
Back to list